Baan Dusit Thani, a new collection of restaurants located in the heart of Bangkok, was launched in 2019 in affiliation with the nearby Dusit Thani hotel.
The restaurant complex needed a strong individual identity to distinguish it from the Dusit Thani hotel brand. Located on a historic property in the heart of Silom, Baan Dusit Thani brought together timeless ambience with modern comforts.
Baan Dusit Thani asked Lexicon to help launch its brand, determine an effective marketing strategy, and follow through with impactful videos to raise audience awareness. In addition to general expertise in social media and video production, success with this project required extra study in everything from brand characteristics to food preparation to legal regulations and more.
Every project begins with research, and our initial findings presented a problem: Although happy hour is a big selling point for Baan Dusit Thani, legal boundaries forced us to take special care with what we could show. After calling multiple law offices, Lexicon came to a workable conclusion: All drinks were to be displayed without identifiable labels.
From there, it was just a matter of settling on the right tone and points of emphasis for each of the restaurants within the Baan Dusit Thani name. The restaurants all had their own distinct atmosphere, menu, and decor – meaning they would all need to be presented in their own way, apart from a few well-chosen unifying characteristics to show continuity within the larger brand.
We created monthly calendars detailing each day's social media content, along with original captions for every post. These efforts were designed to attract as much positive customer engagement as possible for the brand. By client request, all content was based around Baan Dusit's people, community, and food. We decided on the following weekly schedule, to ensure that all the key aspects of the experience received attention: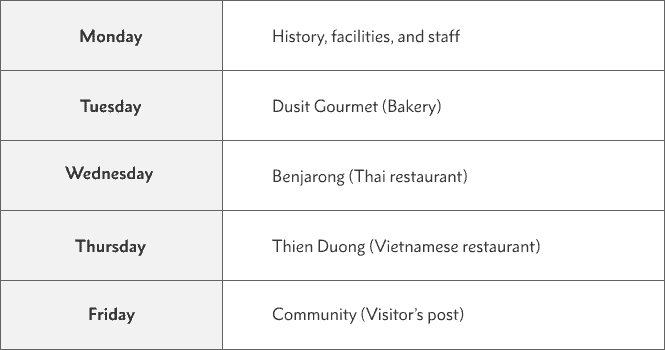 We planned, produced, and edited eight videos which highlighted the unique features of each restaurant. Each video was 3 to 5 minutes in length, and specially designed for publication on the client's social media pages. The videos added depth to the existing social media content, differentiating each venue while building a sensory connection between potential customers and the restaurants themselves.
Even seemingly simple dishes like mango sticky rice drew audience interest, after we filmed its fascinating preparation process.
We produced a total of eight videos to take viewers behind the scenes of Baan Dusit Thani's picturesque property and exquisite cuisine.
Our video for Benjarong received over 18k views on the brand's official Facebook page. The video shows the restaurant's distinctly contemporary style of preparing authentic Thai cuisine. The welcoming environment at Benjarong is also featured prominently, to help familiarize viewers with the comforts of the dining experience.
Lexicon's videos and social media posts each told a strong story to establish the Baan Dusit Thani brand and pique interest in its restaurants. Social media engagement increased significantly, helping raise brand awareness for the entire group of restaurants:


92 posts
(84 photos + 8 videos)