The British Embassy in Bangkok needed an original way to help educate the public about climate change. What they had in mind was a coloring book, with a special twist: The book should convey complex information about energy use, carbon emissions, climate change, and international climate agreements – all in a diverting and easy-to-read format, accompanied by vivid illustrations.
Naturally, the Embassy hired Lexicon to bring this project to life.
Although coloring books ordinarily follow a simple structure, this would be a special case. Given the ambitious nature of the project, the contentious subject matter, and the sheer amount of data needed to give a responsible overview of global and regional climate change, fulfilling the Embassy's vision would require a considerable amount of work.
Lexicon's content team began by carrying out extensive research on current climate change data. The next step was to distill that information and present it in a humorous yet informative manner. After these initial stages were complete, the content team worked alongside our in-house illustrator to tell a compelling story where the visuals and writing complemented each other seamlessly.
To keep our creators organized and on the same page throughout the endeavor, our project manager separated the entire undertaking into detailed individual tasks. These tasks could then be assigned internally using a program called Breeze (the standard project management software at Lexicon):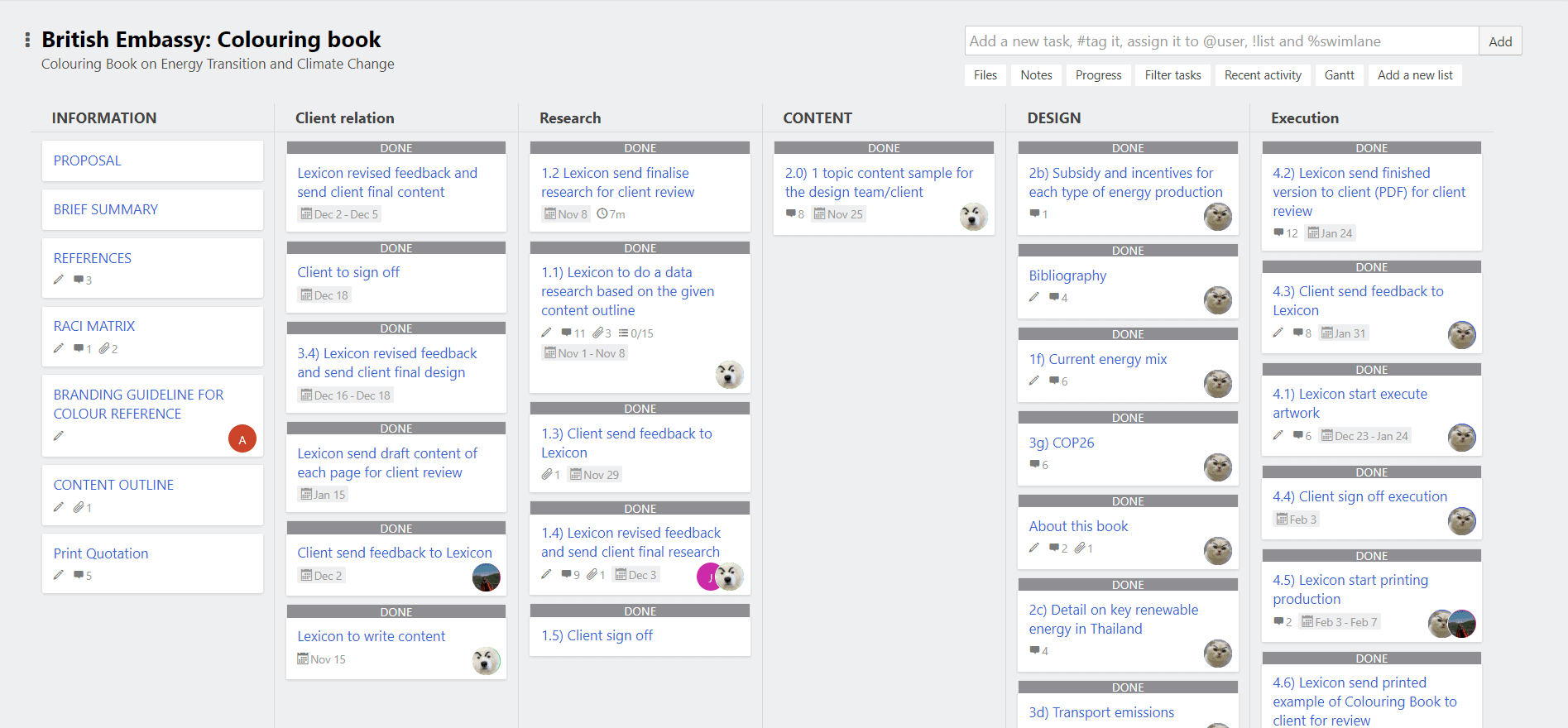 This framework for development allowed us to organize the project into manageable pieces, which are explored in depth below.
As is the case with most meaningful projects, the all-important first step was research. Pertinent information from reliable sources was needed on the following topics:
Global carbon emissions
Emissions by sector
Total emissions from countries in ASEAN
Per capita emissions by ASEAN country 
Increasing global temperature and its negative effects
Carbon footprints of various energy sources
Energy mixes
The current picture of renewable energy in Thailand
Thailand's 2037 goals
Individual and household energy use
Industrial energy use
Transport emissions
What individuals can do to help
What businesses can do to help
International efforts: The Paris Agreement and COP 26
Our content team found valuable information on all of these topics and created a bullet-point outline with hyperlinks to all the sources: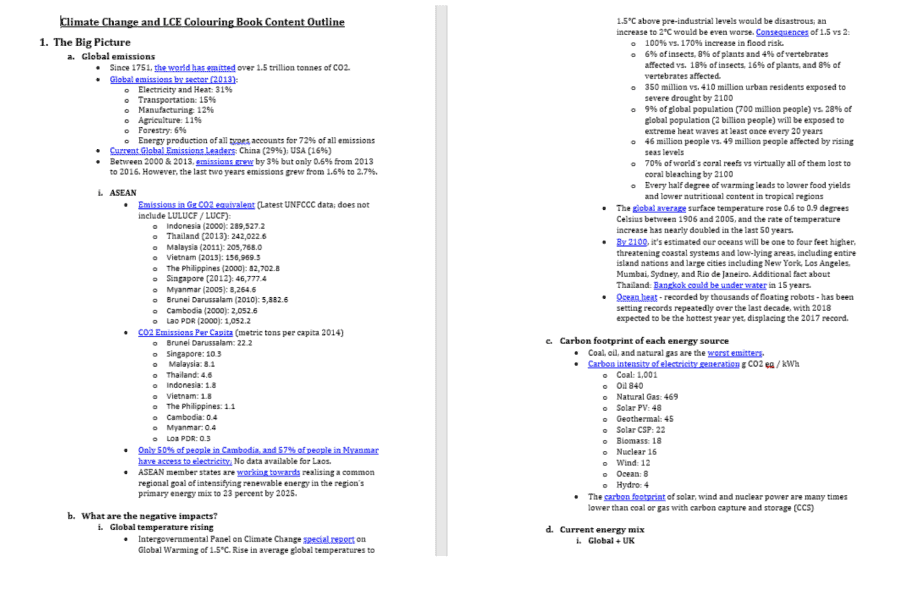 Once the Embassy signed off on all the research, our team started working on the more fun parts of the project.
With an extensive well of research to draw from, the next task from our content writers was to present this information concisely and make it humorous wherever possible. Simple, yes. Easy, no.
Our writers came up with silly and/or clever puns for the headlines, and presented the rest of the information in a clear and simple style.
Working closely with the content team, our illustrator created engaging visuals to accompany the writing. Using her Creative Pen Tablet, she brought the visual content to life with her playful drawing style.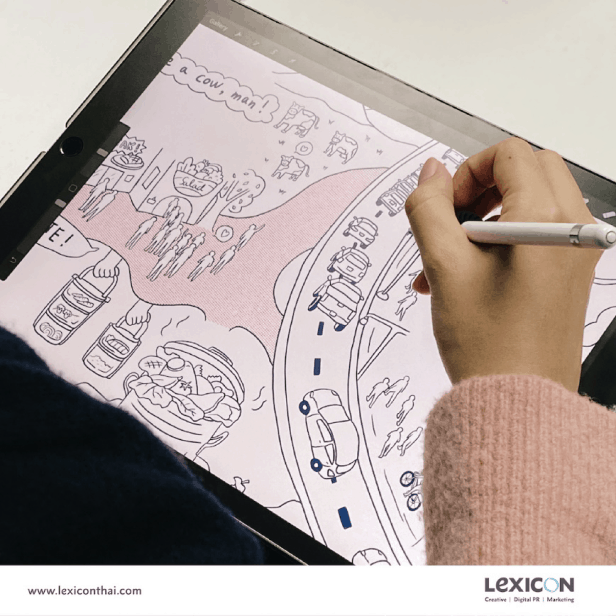 The goal was to have the visuals complement the writing, and vice versa. Here are a few notable pages from the published book:
The British Embassy in Bangkok printed 250 copies of the coloring book, using 100% recycled paper and environmentally friendly ink made from rice bran oil.
The book contains:
– 37 pages
– 20 illustrations
– 41 data points
Readers of all ages will enjoy learning about one of the most consequential issues of our era – and consider their own role in fighting climate change – while having some fun at the same time.