Bangkok, Thailand, June 2022 – Lexicon Business Communications, a leading social media agency in Bangkok, Thailand, recently hosted and produced a first-of-its-kind event: A live edition of the Business Connections Community TV show from the Australian-Thai Chamber of Commerce.
AustCham TV had already been recording monthly episodes at Lexicon's Green Screen Studio & Production Space since January, 2021, but this was the first-ever live recording.
The format for the event drew inspiration from late-night talk shows like The Tonight Show. AustCham Executive Director Brendan Cunningham gave Jimmy Fallon a run for his money as the master of ceremonies and the show was very well received by the studio audience of more than 70 people, which included AustCham members, leading figures of the Bangkok business community, and Lexicon staff.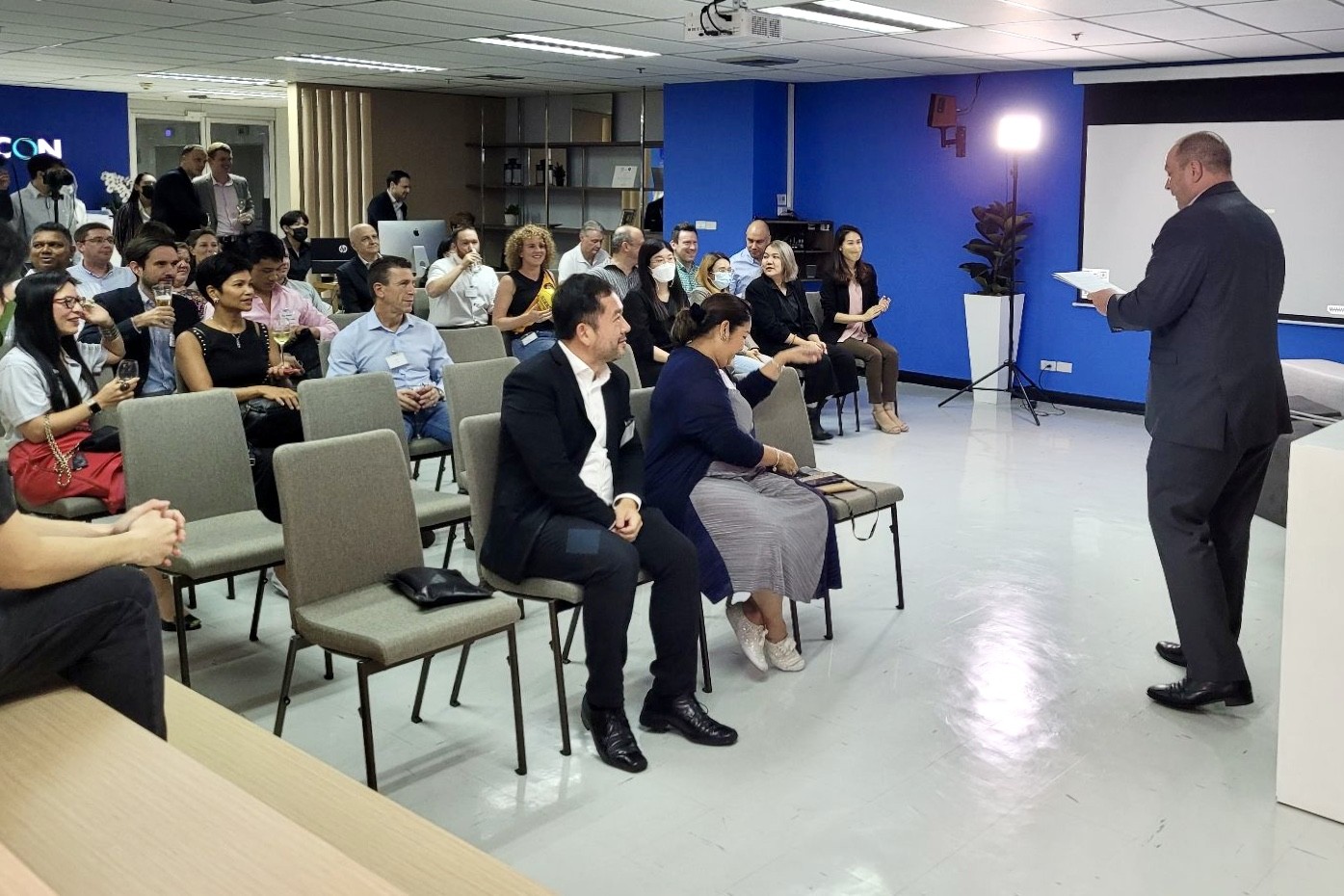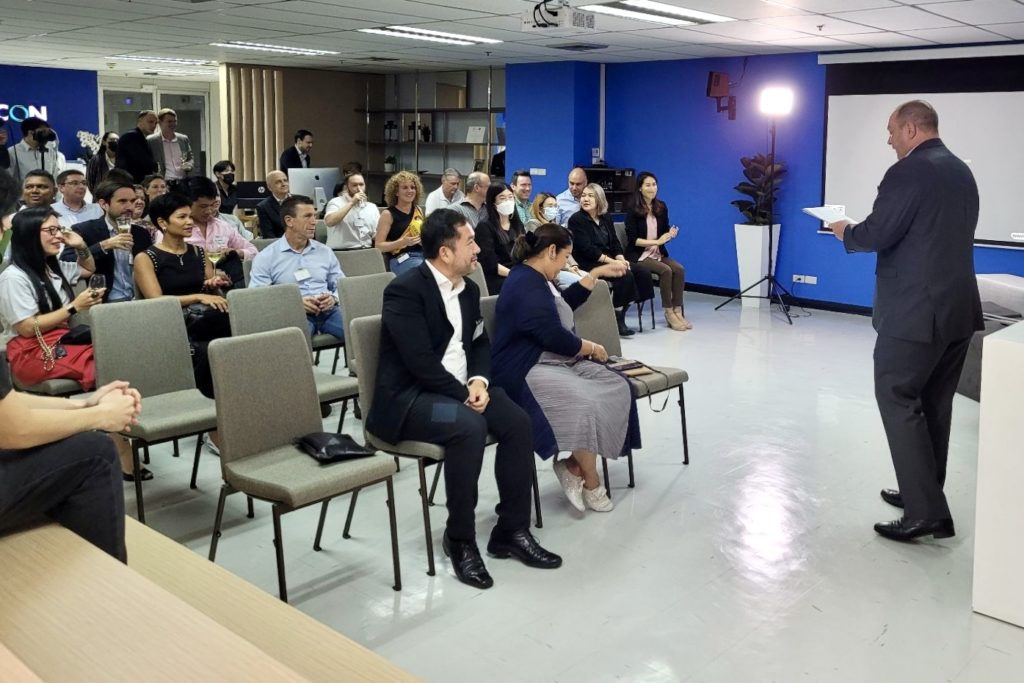 "It was a great experience for me, and I hope the speakers and audience felt the same," said Cunningham. "The event was helped by having a legendary lineup of speakers, an engaging crowd, the super professional film crew at Lexicon Studios, and of course the dynamos we call the AustCham team!"
After his opening monologue, Cunningham interviewed the first guest Ian Pascoe, CEO & Managing Partner of Grant Thornton in Thailand. Pascoe shared several insights on the current state of the Thai economy, and highlighted some upcoming challenges and opportunities for businesses – namely the aging population issue in Thailand, which has not yet received nearly enough attention from either the private sector or the government.
The next guest, Billy Brigham, Customer Development Partner at Pernod Ricard, gave an astute overview of the wine business in Thailand, including consumption rates and taxation issues.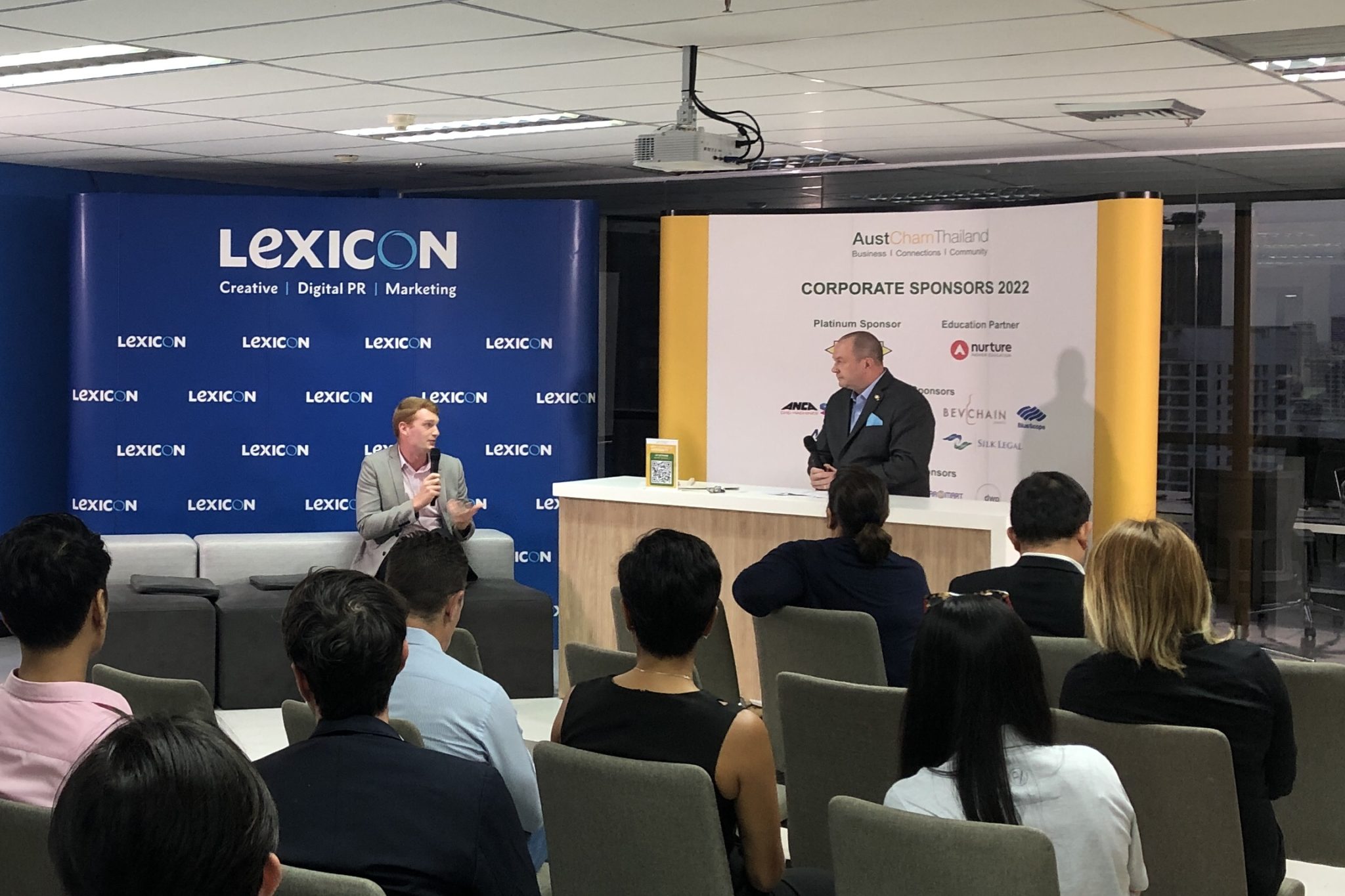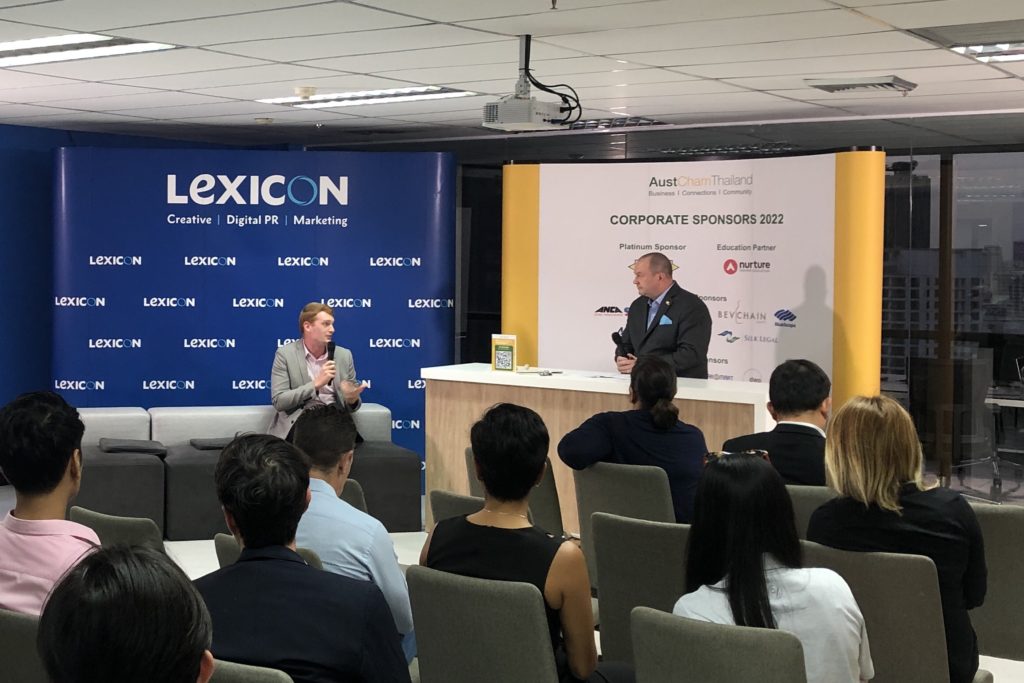 After that, Cunningham welcomed guest speakers from Lexicon: CEO & Founder David Norcross, CTO Maxime Schmitt, and Director of Digital Storytelling Justin St-Denis. The trio talked about how Lexicon plans to hold more events like this in the near future where members of the business community can collaborate and share knowledge, the website design agency in Bangkok's role in building the AustCham website, the effectiveness of personal branding (especially for executives in the B2B sphere), and much more.
"AustCham is really leading the way with this live show, proving that networking events don't always have to follow the standard format; there's room to try bold new things in this area," said Norcross. "It was an honor to be a part of it, especially seeing as this is exactly why we built the Lexicon Event Space – to bring people together and grow stronger as a community."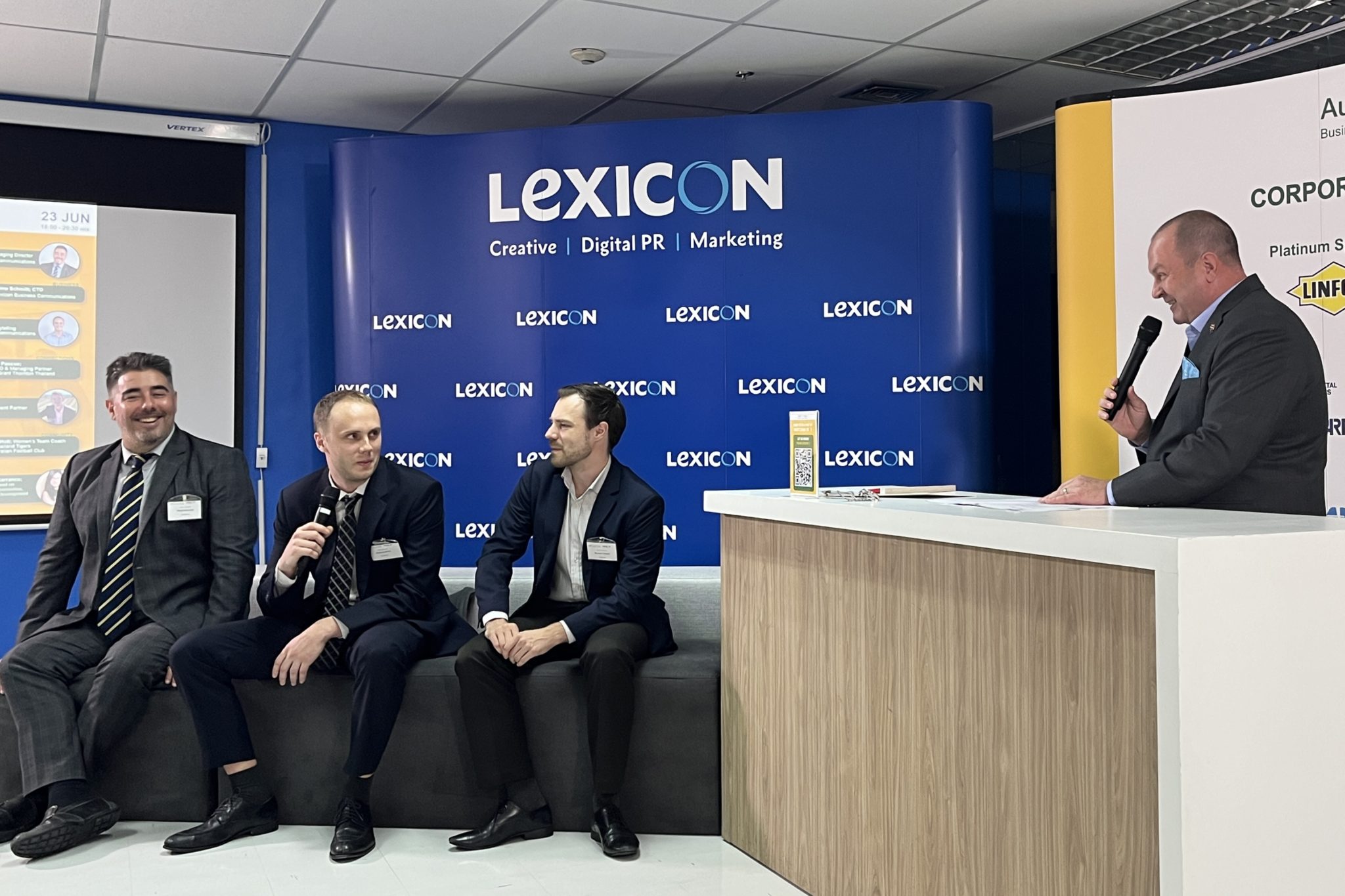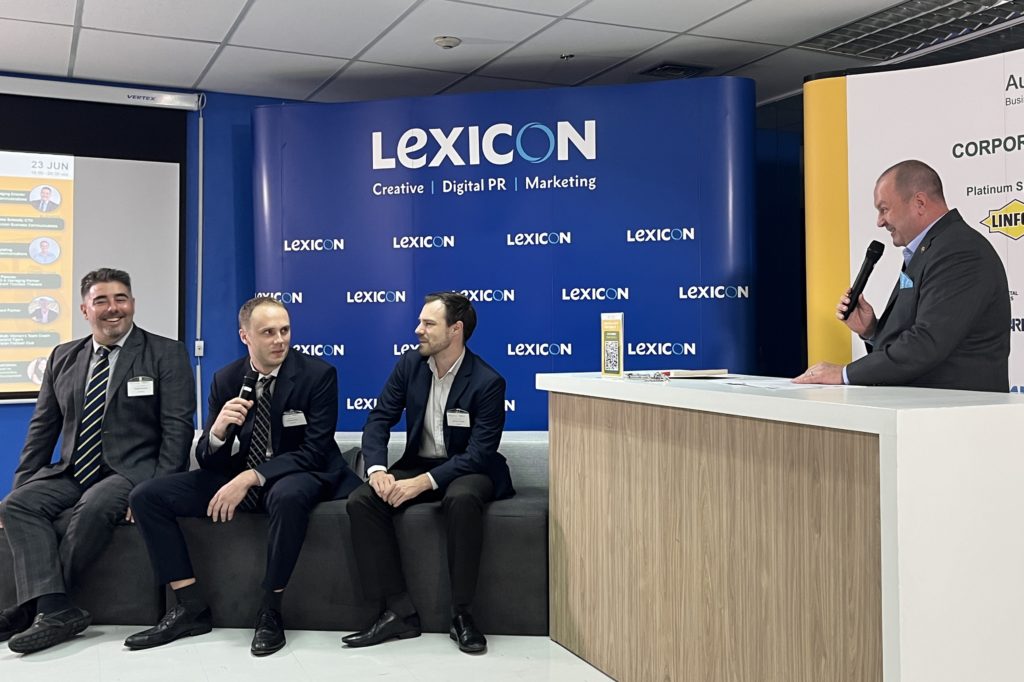 Following the interview, St-Denis – who in his spare time is the Managing Director of RAW Comedy Asia and a leading figure in Bangkok's thriving standup comedy scene – treated the crowd to an uncharacteristically clean 5-minute set. His jokes on Bangkok living, Thai culture, and Covid hospitels were greeted with raucous laughter and applause from the audience.
Last but not least, Cunningham interviewed Kay Holt, Women's Team Coach at Thailand Tigers Australian Football Club, and Juthamas 'Kwan' Carranco, Lead of AustCham's Diversity & Inclusion Committee and Director of Business Development at SO/ Bangkok. Carranco spoke about how diversity and inclusion can be a major source of strength for businesses – particularly those in the hospitality sector. Then, Holt explained how a British woman came to play such a prominent role in an Australian Football club. She and Cunningham even demonstrated some basic footy skills.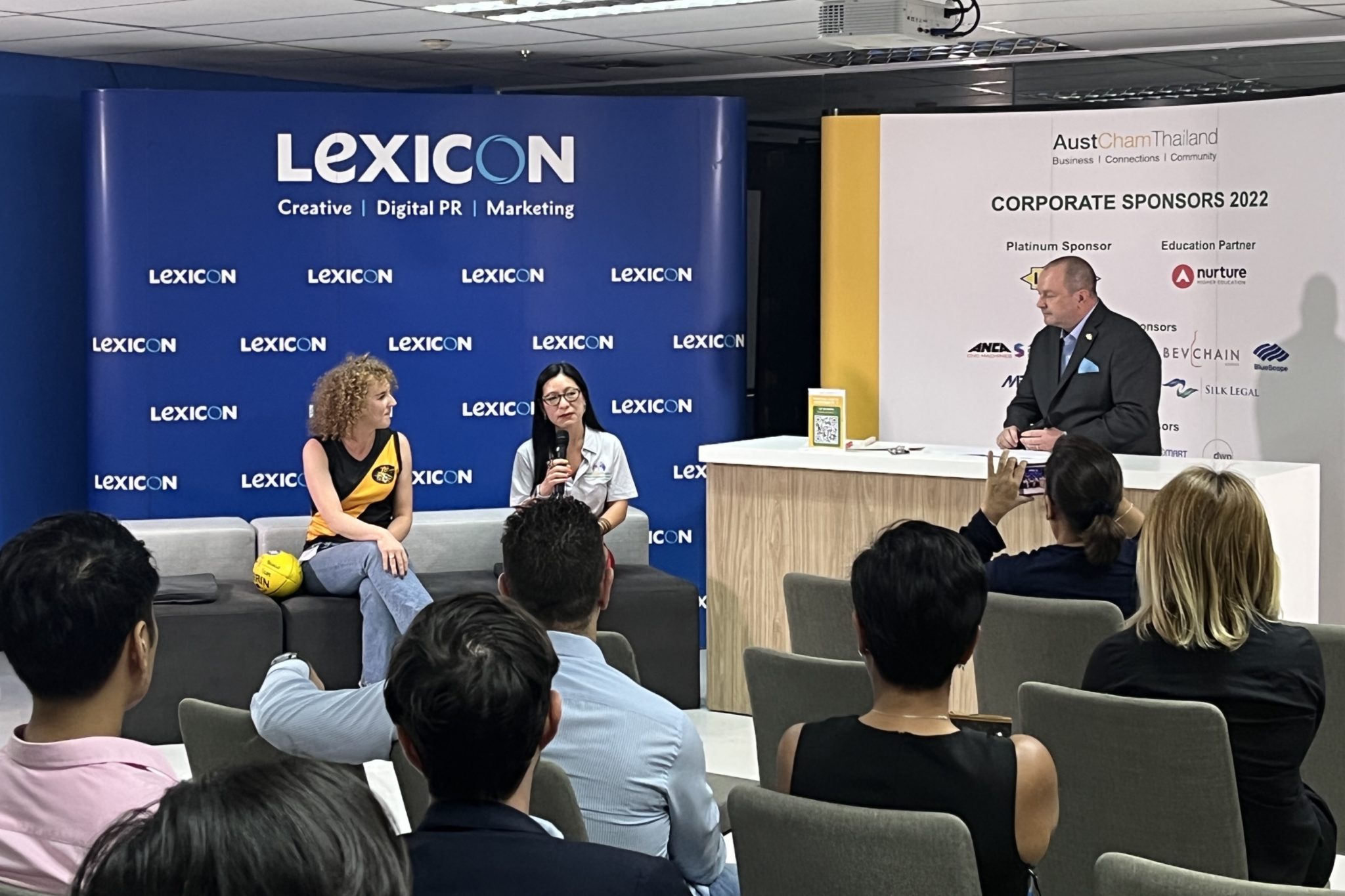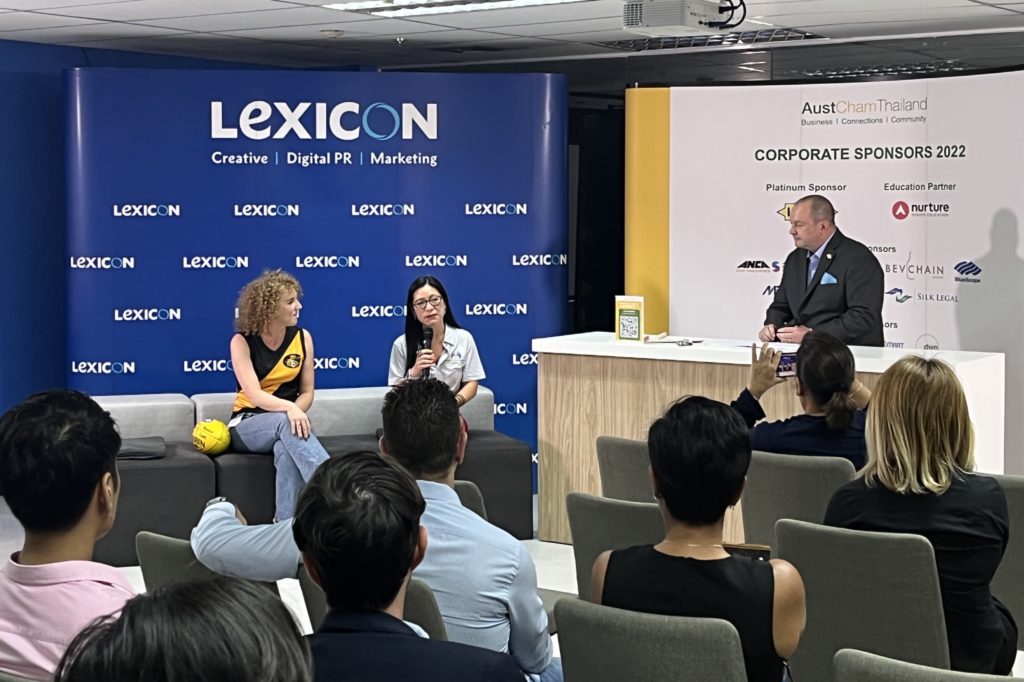 After wrapping up the show, guests were treated to food and drinks and given the chance to mingle and network.
"The event was a resounding success, and it was great to see our vision come to life," said Cunningham. "With the feedback, we'll definitely do a live version again, but we will return to the Lexicon Studio for closed sessions next month. For those who missed the live show, the recording will be out through our social media channels soon."