Web App Development Agency, Bangkok Thailand
Web App Development in Bangkok, Thailand
Lexicon is a boutique web app development agency in Bangkok. Our creative team of UX/UI designers, coders, programmers, graphic designers, animators and copywriters create beautiful on brand websites and web apps for businesses like yours.
Brands choose our web app development agency in Bangkok due to the high levels of personalization that our websites enable. We don't use off-the-shelf templates and craft every page to be unique and completely aligned with your brand identity. 
High quality Progressive web apps and mobile apps on average take a few months to build from scratch; yet our proven process is guaranteed to deliver work by the agreed upon timeline. From art direction through to prototyping, developing a wireframe, creating the content, building the site and testing – everything is done in-house at our website design agency in Bangkok.
Check out below some of the progressive web application development work we've done for companies in Thailand below:
Web applications are one of the most popular digital communications tools of the 2020s. Web apps allow for complex, manual processes to be easily automated – saving money, time and resources in the process.
Web apps are a key part of the digitalization process. Once you've turned your analogue data into digital data – think paperwork into excel – then, you need to use that data to improve your day-to-day operations.
Imagine a simple booking app on your website, a reservation tool integrated with LINE or even a QR reader that's designed to give your customers a unique experience when they visit your physical location. You can see some examples below.
You need to upgrade some of your people and manual processes with technology and developing a web app in Bangkok is an ideal way to solve multiple problems at the same time. Turn your receptionist into a booking app; turn your security guard into an interactive GPS map or adapt LINE so that your account managers can interact better with your employees and customers. 
Digital transformation is revolutionizing your industry. At the same time, your business is growing and adapting constantly. In this context, how do you keep pace with change while scaling your business and keeping payroll expenses under control as knowledge is lost with employee turnover? You need to understand the three stages of digital transformation. Without knowing it, you're probably at stage two: digitalization. This is your chance to automate some of your processes so you can focus on your core business instead.
3 STEPS OF DIGITAL TRANSFORMATION
First is Digitizing – you did this when you moved your paper documents into excel and word.
Second is Digitalizing – automating your processes and making your data work for you.
Digital transformation is a 3-step process. When that's all done, you can begin the process of digital transformation, which is revolutionising your business model at scale.
The Lexicon Tech Lab is on hand to support you with the process of Digitalizing through our Web App Development Agency in Bangkok, Thailand. A custom web app is oftentimes a great way of digitalizing your processes. Our experienced development team creates custom backends that let you manage data in a structured way while providing a clean, on-brand frontend web app for your clients to use in Thailand or anywhere else in the world.
It's a pleasure to work with the Lexicon website team.
Lexicon always produces exceptional storytelling content for us. We have worked with them on web design, content writing, design and animation projects and are delighted with the results.
The Lexicon design team is highly creative and helps to encapsulate our brand in its modern incarnation.
Lexicon's creative video team helps ensure the BCCT story reaches its intended audience online.
Lexicon has helped me to connect better with my target audience on LinkedIn.
If you want to build your brand you must tell your story, and to tell your story, look no farther than David Norcross and his incredibly gifted storytellers at Lexicon. Their professional advice and support are helping me reach the audience I've been looking for.
Lexicon helped us to update our digital marketing strategy and the results have been impressive.
David Norcross and his team at Lexicon got it right away – our vision for the re-design of our quarterly, trade magazine "Voyageur". It now has a clean, sleek look which makes readers want to pick up the magazine and delve in. Besides their wonderful creativity, the team is an absolute delight to work with. I cannot do anything but highly recommend them.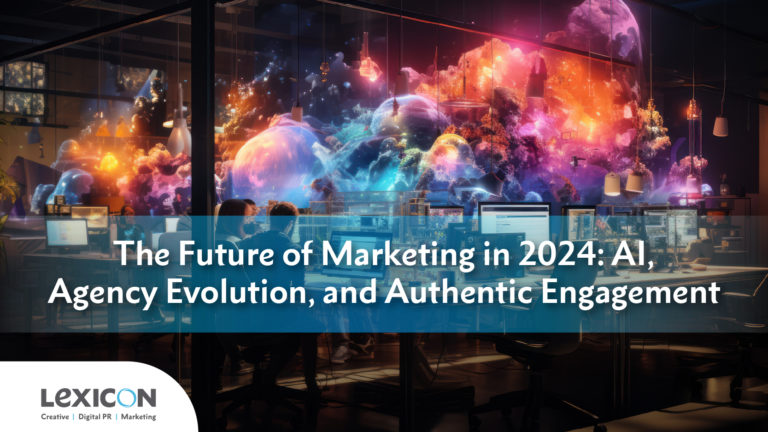 Introduction As we enter 2024, the marketing landscape is in an evolutionary epoch, driven by technological advancements and changing consumer behaviors. This evolution provides for
Read More