The smartphone era began just over a decade ago, while the internet itself only gained a wide audience within the last 25 years. In an age of such rapid technological progress, it is only fair to ask what's next on the horizon.
Through all this progress – and in particular the rise of mobile apps – discussions about the future have a tendency to overlook the potential of the standard website. Yet websites are about to reappear on the scene in a big way, thanks to some remarkable new innovations within the world of IT.
First, a bit of background. Whatever strategy or platform businesses may decide to use in order to connect with their customers, they're going to face competition. Millions of apps are already available on Google Play and the App store. Moreover, as of January 2019, there are up to 1,518,207,412 websites – one site for every five people on Earth.
In such an environment, it becomes even more important to differentiate your own site from the others populating the Web. So today we're listing 5 of the hottest website trends, to help you connect with your audience better than ever before. These include progressive web applications, accelerated mobile pages, voice search optimization, responsive design, and cyber security.
Progressive Web Applications
Progressive web applications (PWAs) use modern website tools to give their users an app-like experience. Created to run on any platform, they are built with web technologies such as JavaScript, CSS and HTML.
PWAs bring a host of benefits, delivering app-quality experiences on desktop and mobile, without the need for users to download and install an actual app from an online store. This easy-access feature could attract greater crowds than an app, because it doesn't force users to commit to a download before sampling the service. Moreover, because PWAs are accessible just like websites, people can share the link with their friends just by copying and pasting the URL.
PWAs allow the opportunity for users to work offline, receive push notifications, and handle requests for access to their hardware. Successful companies like Pinterest have already seen the benefits of the PWA approach; soon after Pinterest rebuilt their mobile site as a PWA, it experienced a 60% hike in core engagements. The company also noticed a 44% increase in user-generated ad revenue from mobile users, with an accompanying 40% increase in time spent.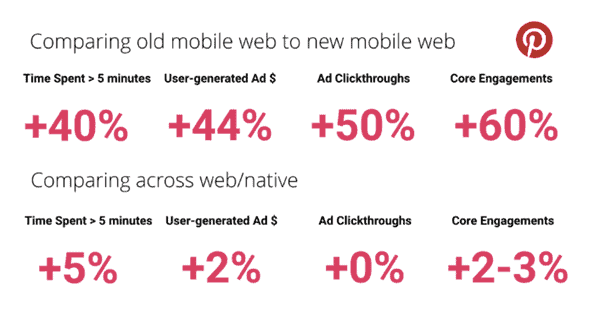 Pinterest's growth in performance metrics, following its adoption of the PWA model
Accelerated Mobile Pages
Accelerated mobile pages (AMPs) were created by Google and Twitter, to increase loading speeds for users browsing on their mobile phones. Think of it as a lightweight website – just the necessities, without all the data-heavy extras.
Websites that use the AMP system will have their information loaded almost instantly. This is no small achievement; research shows that page load time is a make-or-break metric for many users. Indeed, the probability of bounce (users deciding to leave the page right away) increases by 32% when page load times rise from 1 second to just 3 seconds. When load times take 5 seconds, the probability of bounce increases a total of 90%. At 6 seconds, the probability of bounce is 106% higher than at 1 second; and at 10 seconds, the probability of bounce increases 123%.
When users snooze, you lose. It is worth mentioning, though, that AMP systems are created by Google – and therefore rely heavily on Google infrastructure.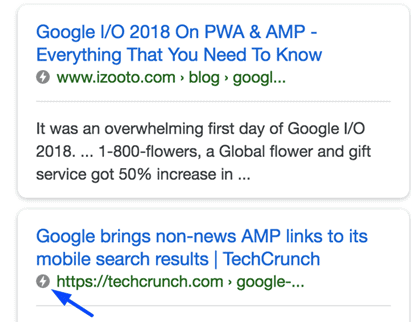 AMPs have a lightning symbol beside their listing on Google's search results, to indicate that the page will load instantly.
Voice SEO
The third hot trend to look out for is voice search engine optimization. Voice SEO involves the use and optimization of keywords and keyword phrases, adapted to voice search. Voice SEO boosts your website's rankings when people a use voice assistant like Siri or Alexa to facilitate their search. In 2018, voice searches made up a reported 20% of Google search queries, 25% of Bing searches and 10% of Baidu queries.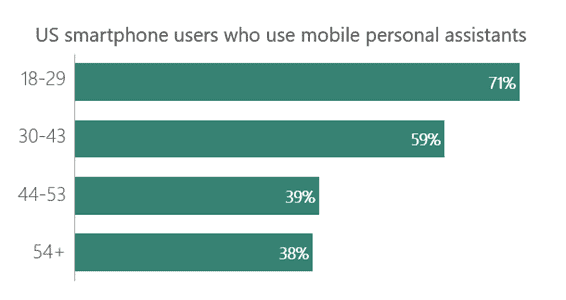 A sensible first step in this process would be for companies to list themselves on Google My Business. Once this is done, voice SEO can help promote the business. Depending on the business, results may be seen relatively quickly; 41% of adults (and 55% of teens) in America use voice search daily, according to recent research. In fact, Google has revealed that 20% of mobile queries are voice searches. Voice search isn't the next big thing – it's already here.
Responsive Web Design
Responsive Web Design (RWD) works the same way for all devices and screen sizes, creating a well-designed and reliable experience for all visitors. Sites featuring RWD make use of a web that can adapt to the layout in which it appears. To achieve this effect, they use a fluid grid concept and flexible images.
The fluid grid concept involves standardizing page element sizes by operating in percentages rather than fixed pixel counts. Under this format, flexible images can easily be adjusted depending on the device and screen size they appear in.
In the present day, with well over half of global internet use being conducted on mobile phones and tablets, such a convenient webpage structure can better serve the needs of your entire customer base. With all the kinds of devices currently being used – Blackberries, iPhones, Androids, Tablets, Netbooks, notebooks, Smart TVs – creating a static web design that will suit each of them can be exhausting if not impossible.
RWD introduces a genuine one-size-fits-all solution, letting your business focus more on content and design, rather than constantly adjusting and testing ever more flexible layout options.
Cyber Security
Cyber security is the practice of protecting systems, networks, and programs from malicious actors that seek to access, change or destroy valuable information. Types of cyber security threats include ransomware, malware, social engineering, and phishing.
Each of these threats alone can derail and entire business. According to Forbes, "The FBI warned that between May 2018 and July 2019, losses from [Business Email Compromise] schemes around the world doubled year-on-year to more than $26 billion."
As criminals learn to conduct ever more sophisticated attacks, cyber security technology is also improving – for those businesses that invest time and effort in cyber security. Better preventive measures can keep your data safe, prevent unauthorized users from entering, improve recovery times after a breach, protect end users, and increase overall consumer confidence.
Cyber security is by no means a new concept, but it is worth highlighting once again as the stakes for businesses have never been higher. With so much valuable data online – belonging to businesses as well as their customers – a secure system is simply essential for success in the modern age.
Taking the Long View
Just six years ago, Amazon had 1,000 robots operating in its warehouses. Now the same company has 45,000 such robots, and the number continues to increase. With markets and technology moving so quickly, businesses can't afford to fall behind the curve – just ask Nokia, Blockbuster, or any other of yesterday's powerhouse companies that missed the boat on big innovations.
In every business cycle, there comes a time when everything old is new again. Websites had their day in the sun, until the iPhone changed the game by ushering in a new era of apps. Yet the sun also rises – and a big part of the coming resurgence will be the direct result of progressive web applications, accelerated mobile pages, voice search optimization, responsive design, and new advances in cyber security.
For more on these innovations, and how Lexicon can help your business stand out among its competitors, contact us today.