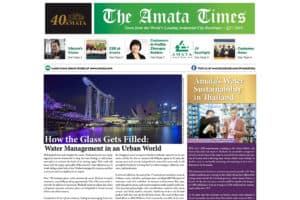 How the Glass Gets Filled: Water Management in an Urban World
With packed cities and a lengthy dry season, Thailand depends on a highly organized network of reservoirs to keep the water flowing, as well as treatment plants to maintain the health of its existing supply. With much talk about both the supply and quality of the country's water infrastructure, it's worth taking a closer look at how Thailand manages this resource, and how it compares with its neighbors in this regard.
Over 100 treatment plants work continuously across Thailand to recycle wastewater, successfully purifying approximately 23% of the water used nationwide. In addition to wastewater, Thailand's treatment plants also collect
and process rainwater, and more plants are being built to further increase efficient use of this resource.
Construction of new plants continues, leading to encouraging future estimates for Thailand's water self-sufficiency. It is hoped that upon completion, Thailand's upgraded water treatment system will provide fully 65% of the country's population with a safe supply of water. These efforts, combined with public education, community participation, and canal cleanup efforts, aim to keep demand manageable, as well as reduce pollution, but there is still much work to be done, with Thailand's lakes and rivers at generally below-average quality and slow to show improvement in matters of cleanliness.
The example of Thailand can be taken as representative of a widespread issue around the globe, as all public health issues, like access to clean water, take on a new importance when large populations live in such close proximity. With
an increase in the size and density of urban populations worldwide coinciding with a similar increase in the frequency of global climate irregularities, many countries in Asia and beyond find themselves experiencing a similar
need to invest heavily in the future of water.
One country showing impressive planning and foresight in this regard is Singapore. That island country has a population density of 7,700 per square kilometer, which is significantly higher than Bangkok, which has 5,300 people per square kilometer. Even though Singapore receives more rain, it has a limited capacity for water storage because it lacks the area necessary for large reservoirs. Yet Singapore maintains a reliable and safe water supply for a fully modern population, and the story of how it achieves this feat is an impressive one.
The first thing to note about Singapore is that it isn't entirely self-reliant. A deal with Malaysia allows it to buy large quantities of cheap Malaysian water until 2061, and this partnership – though sometimes a source of friction between the two countries – has been a big factor in the growth of Singapore, still supplying 40% of the island's water consumption.
But Singapore's water management has been endlessly impressive on its own merits, and by the time its contract with Malaysia expires in 45 years, the country plans to be entirely independent in terms of its water needs. It will accomplish this feat by investing heavily in three strategies: collection, treatment, and desalination.
In terms of collection, the country has 17 reservoirs connected by a network of drains, canals, and other catchment areas, including 8,000 kilometers of waterways, much of it underfoot. As rainwater and wastewater flow separately through the system, each can be treated and made ready for public use. That treatment process begins with microfiltration, continues with reverse osmosis, and finally involves ultraviolet disinfection to leave the finished product both clean and safe for all kinds of uses. The result of these combined efforts is called NEWater, which accounts for over 30% of the country's total water needs and is one of the many achievements that has earned
Singapore its reputation as a highly advanced country for infrastructure.
Singapore's seawater desalination program involves two newly-built desalination plants, and already these combine to produce over 25% of the water the country needs. Moreover, the government has identified five additional coastal sites for future desalination plants, as this method of purifying water is set to become increasingly prevalent as Singapore moves forward.
Keeping water clean and safe is also a question of waste management, and here too, Singapore continues to upgrade its Deep Tunnel Sewerage System, to be further integrated with its water treatment centers so that it can be recycled back into NEWater. Some organizations in Thailand, including Amata, for example, purify wastewater in a similar way.
https://www.amata.com/files/8615/0082/2986/AT-16Q2-MEDIUM.pdf