COVID-19 has shifted countless jobs and lifestyles from the physical to the virtual world. More than ever, people around the globe use the internet to search for information, stay in touch with the world, keep up-to-date with current affairs, and entertain themselves through e-books, music, or video content.
These trends are especially notable when it comes to watching videos online. In our experience as a video production agency in Bangkok, Thailand, video content plays an increasingly large role in audience screen time – analysis which is confirmed by the recent Digital 2022 Report.
Increased video consumption
The Hootsuite / We Are Social report states that more than half (51.5%) of internet users aged 16 to 64 agree that a primary reason they use the internet is to watch videos, TV shows, and movies.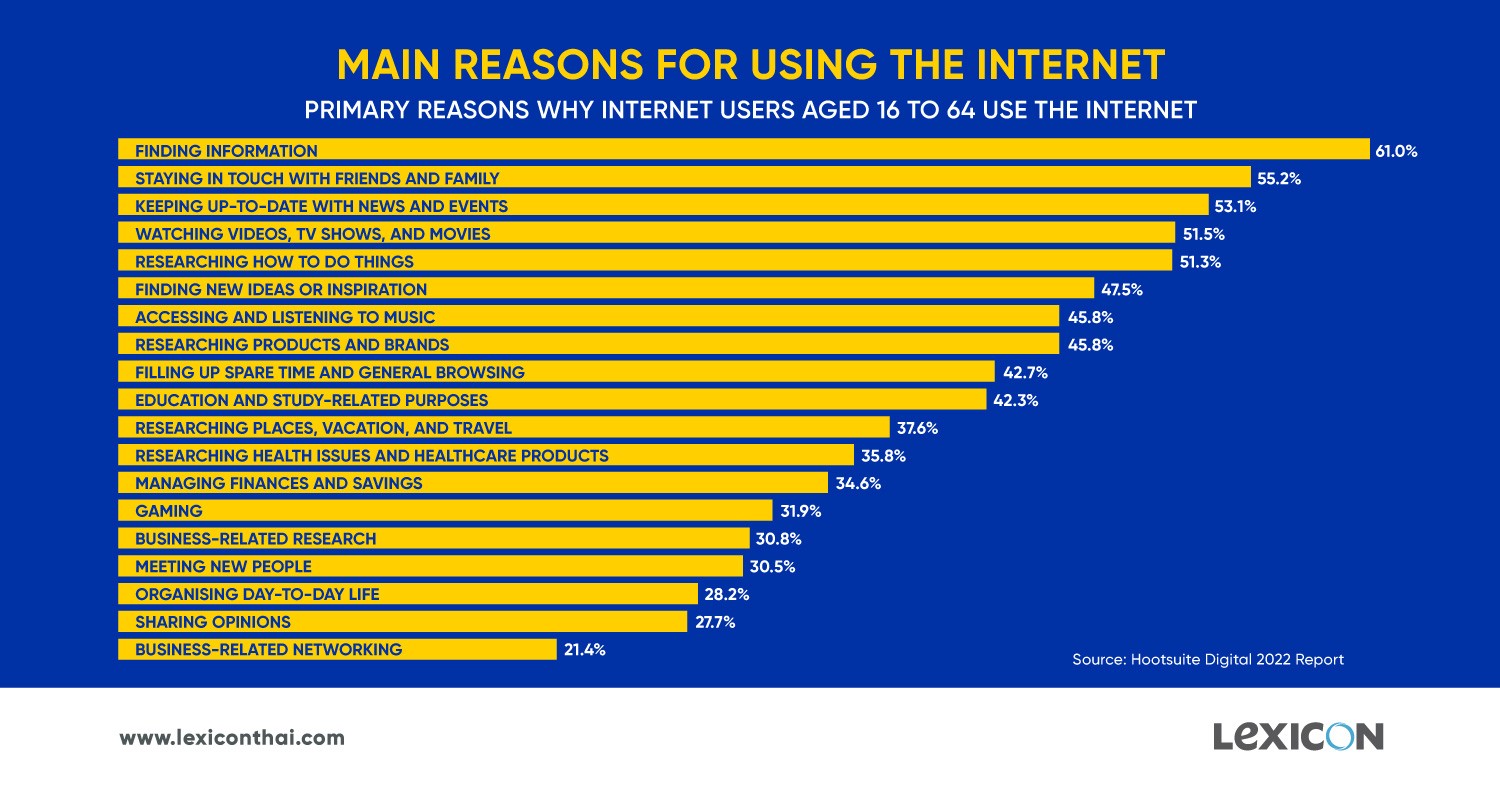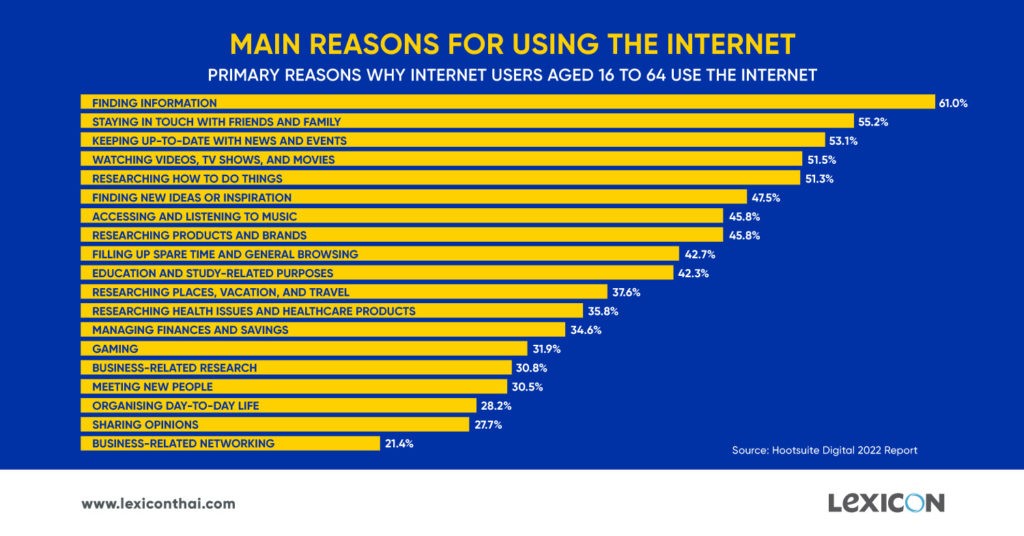 Worldwide content at home
The way many people now see it, there is no need to go to the theater anymore, as entire video libraries are now at our fingertips. With Netflix and its competitors making their shows and movies available anywhere at any time, 97.1% of internet users in Thailand now watch video content via streaming services each month. This percentage is above the world average of 93.5%, showing once again that Thailand is embracing digital trends more quickly than most other countries.
Netflix also stated in its 2021 shareholder report that it has a total of 222 million paid memberships, including 8.3 million new paying subscribers in the last quarter of 2021.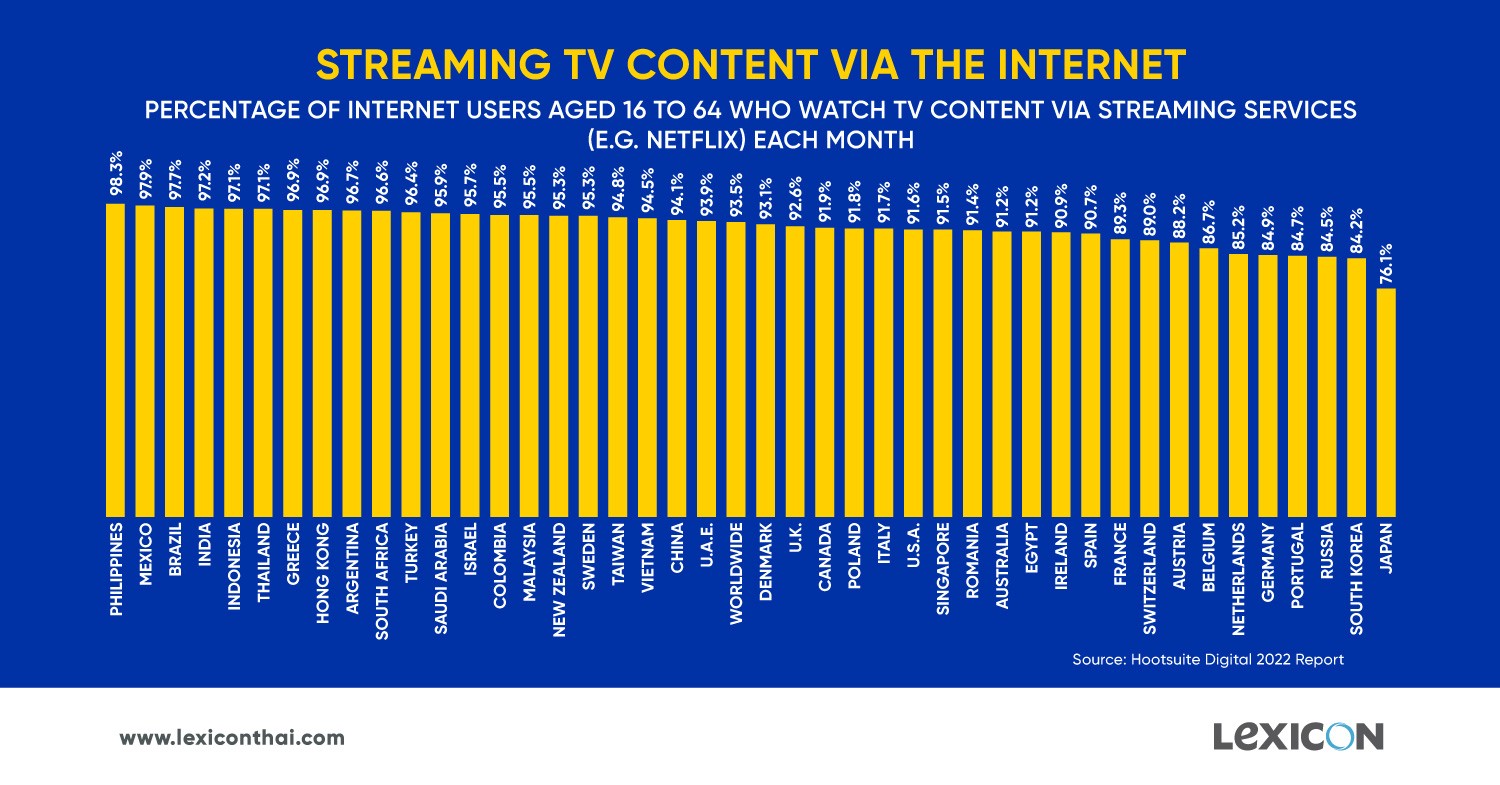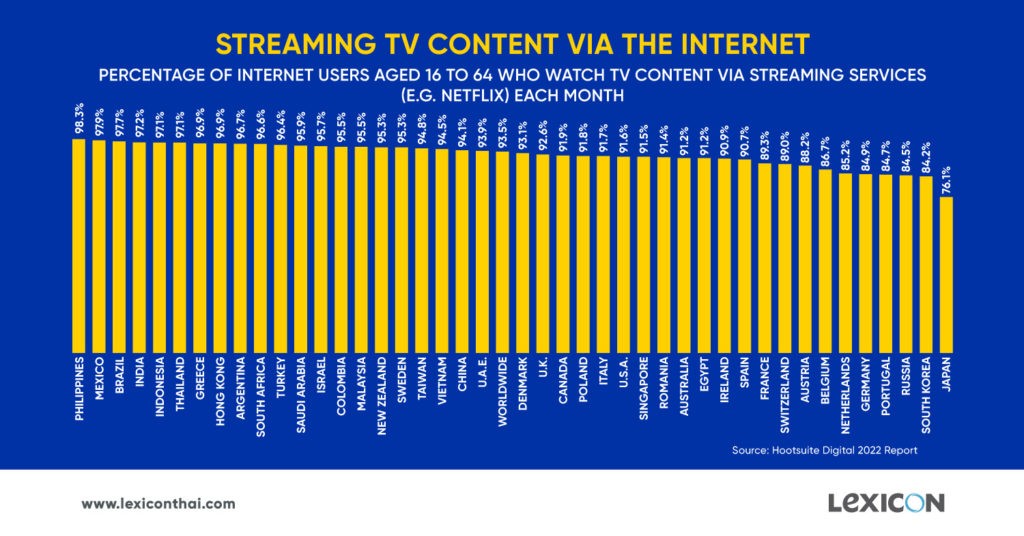 Despite recent bumps in its stock price, Netflix's original content production is also expanding, with the company introducing more producers from other countries including Thailand. Its Thai content includes the movies Ghost Lab, Deep, and The Whole Truth, along with the series Bangkok Breaking.
Meanwhile, other shows demonstrate the potential of locally produced content. Squid Game from South Korea was the most popular show in Netflix's history, showing that language barriers are easily overcome in today's entertainment landscape.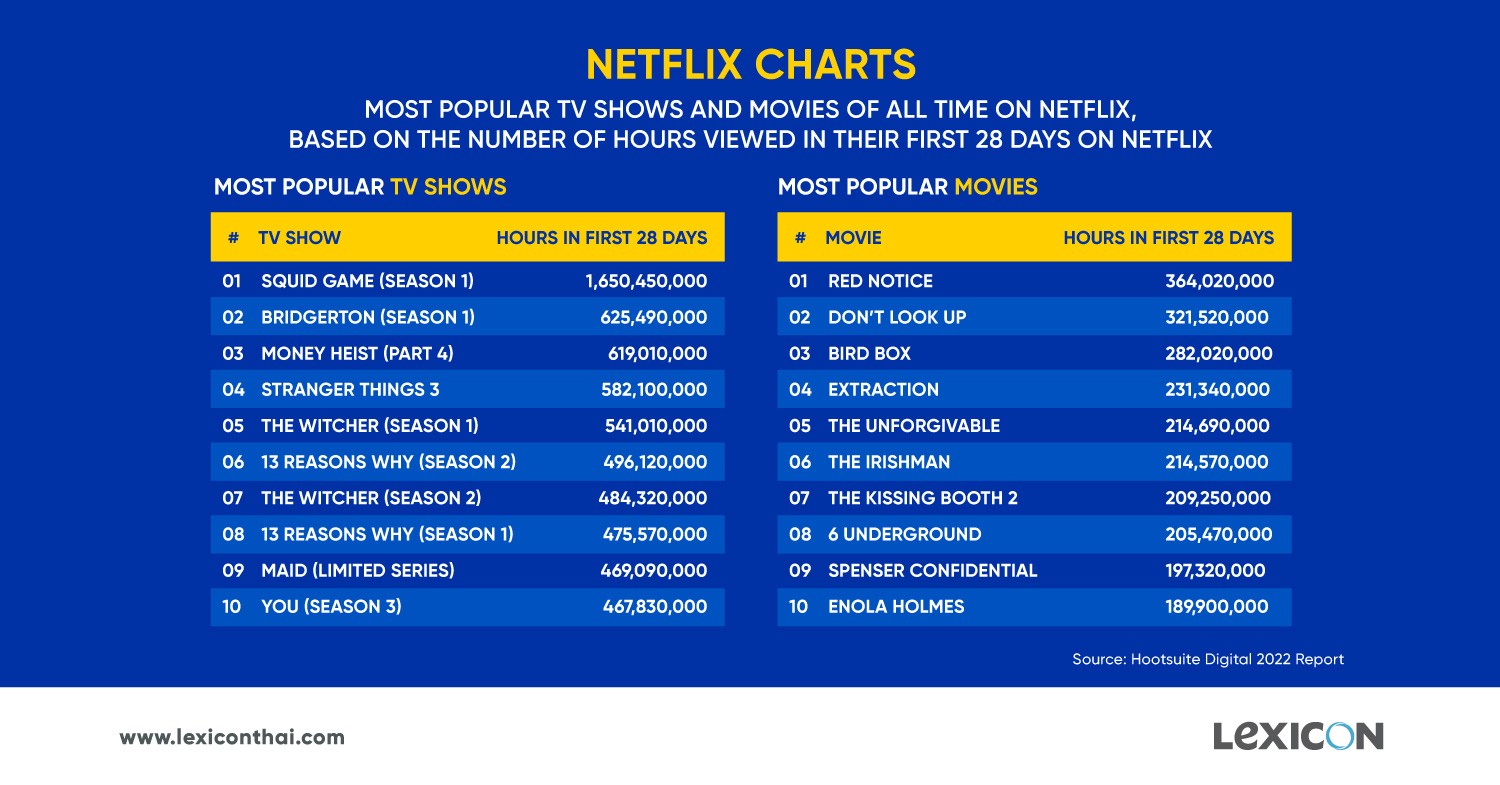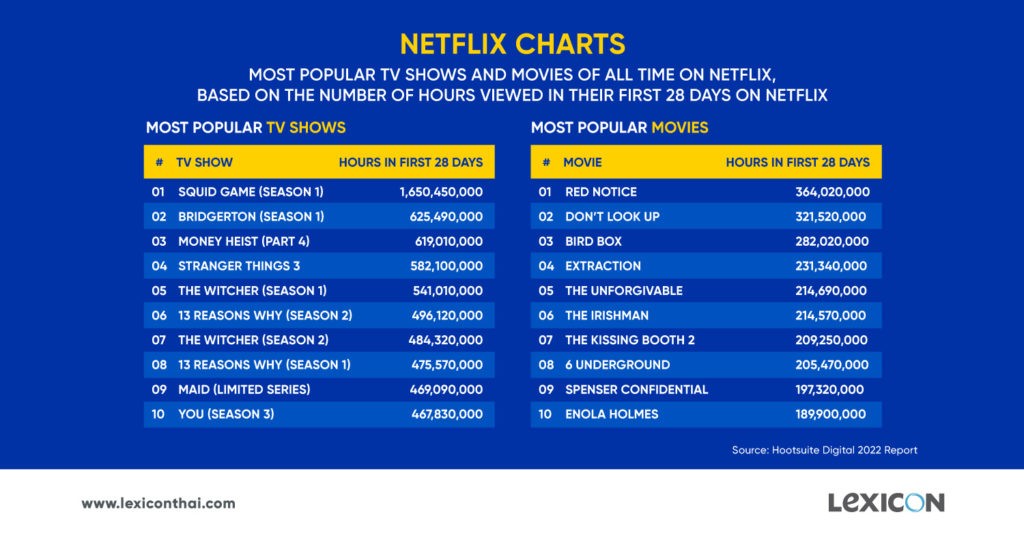 The rise of short-form video
Short-form video has likewise shown an impressive increase. In 2021, TikTok announced that it had reached more than 1 billion active users on the platform every month, and over 3 billion application downloads globally. It is ranked as the world's 6th most used social media platform.
Moreover, TikTok also increased its maximum video length from 1 minute to 3 minutes, enabling increased content variety, which in turn could boost user engagement and overall popularity even further.
Despite TikTok's impressive growth, Facebook (with 2.9 billion users) and YouTube (with 2.5 billion users) remain the world's top two most used social media platforms. In 2021, these companies also officially introduced audiences to Facebook Reels and YouTube Shorts. These launches, along with Instagram Reel, saw rapid gains in popularity as well.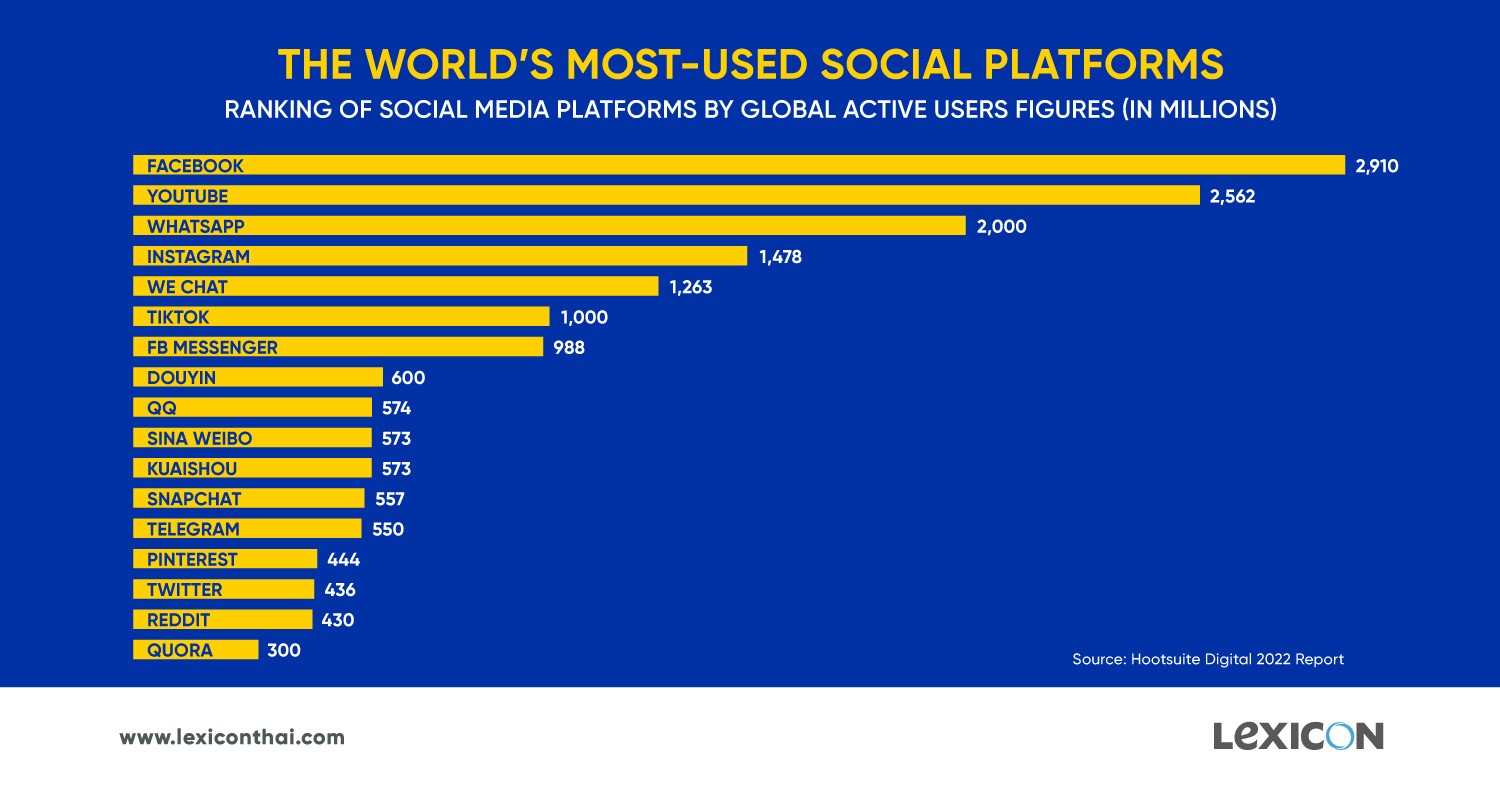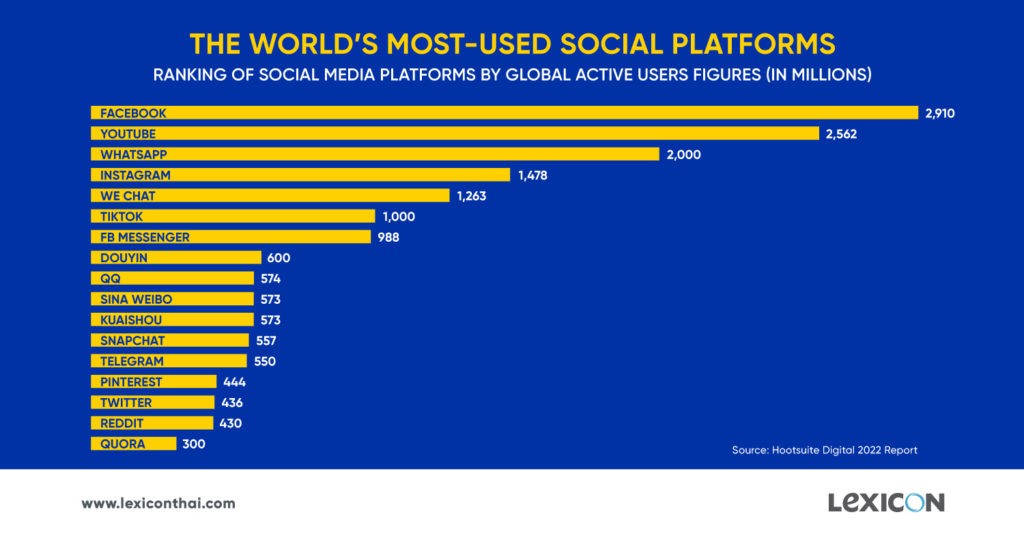 Video – especially short-form videos, can be a powerful and creative way to share content and attract audiences in 2022 and beyond. For ideas and practical expertise in this area, reach out to our leading video production agency in Bangkok, Thailand.