The Lexicon team attended AMCHAM's monthly luncheon on September 26th at St. Regis Bangkok Hotel. The luncheon was aimed at discussing influencer marketing and omnichannel marketing, mainly focusing on activity in Thailand and Southeast Asia. Over 130 guests at the event were all eager to hear and see the experts' perspectives on today's marketing trends, and why influencer marketing is growing to become so prevalent.
George Hartel, Chief Commercial Officer at Supara Group, delivered a very informative presentation on the constant changes happening in the marketing world. His remarks were particularly focused on the popularity of influencers in marketing campaigns and why they have become widespread, in addition to highlighting the importance of omnichannel marketing.
The presentation was followed by a panel discussion between marketing experts – David Norcross, Managing Director of Lexicon; Louie Morante from Procter and Gamble; and George Hartel.
As a major digital marketing agency in Bangkok, Lexicon continually keeps pace with current marketing trends in order to help businesses and other organizations stay relevant in a highly competitive ecosystem. It approaches this task by identifying the best marketing strategies for each client, and executing them with professional precision.
What follows is a summary of the major points raised during the luncheon, along with further background on their significance.
The rise of the KOLs and influencer marketing
In his presentation, Mr. Hartel gave a fascinating perspective on one of the most important aspects of today's marketing campaigns: influencers. Trends toward leveraging influencers or Key Opinion Leaders (KOLs) in marketing are currently on the rise, as companies find this to be a cost-efficient strategy of generating engagement as well as sales for their products.
Mr. Hartel also mentioned that influencers can help businesses achieve great return on investment. In Asia, businesses average a return of $6.50 for every $1 invested in micro-influencers. The KOL method is so cost-effective because it expertly helps brands to reach their target audience through trusted channels.
Indeed, the reach from KOLs involves much more than just getting the audience to "see" brands and products. This delivery method can help audiences feel an emotional connection, through the use of customized messages and captions. In other words, by leveraging influencer marketing, brands can succeed in having audiences relate to them and their products.
Asia has proven itself to be a gold mine for companies which use the influencer marketing approach. The business is now so large and lucrative that a single company specializes in this field, the Chinese startup Ruhnn, raised $125 million on the Nasdaq in its IPO earlier this year.
The value of Ruhnn and its peers comes from how quickly the business of influencer marketing has matured. Influencers in Asia have already mastered the art of bringing constant engagement to their platforms. Through tried-and-true formulas, they are able to keep their fans and followers engaged all day, every day, through every kind of social media channel – Instagram, Facebook, Weibo, YouTube, Twitter, and more.
Simply put, influencer marketing is the current go-to platform for companies to achieve great return on investment, connect to their target audiences on a level they can relate to, and drive social buzz.
Bigger isn't always better
While influencers can work wonders for businesses, success often depends on choosing your influencer wisely. Different levels of influencers can produce different marketing outcomes. Sometimes, having a micro-influencer representing your product can drive better engagement and sales than having a superstar doing so, and vice versa. Companies must therefore be careful at every stage of the process – as they identify the right marketing strategy, choose the right kind of influencer, then execute the plan for optimal results.
Influencers can be mainly divided into five types:
Superstars/celebrities (Over 10 million followers)
Upper-tier influencers (1 to 10 million followers)
Middle-tier influencers (100,000 to a million followers)
Micro-influencer (1,000 to 100,000 followers)
Nano-influencers (up to 1,000 followers)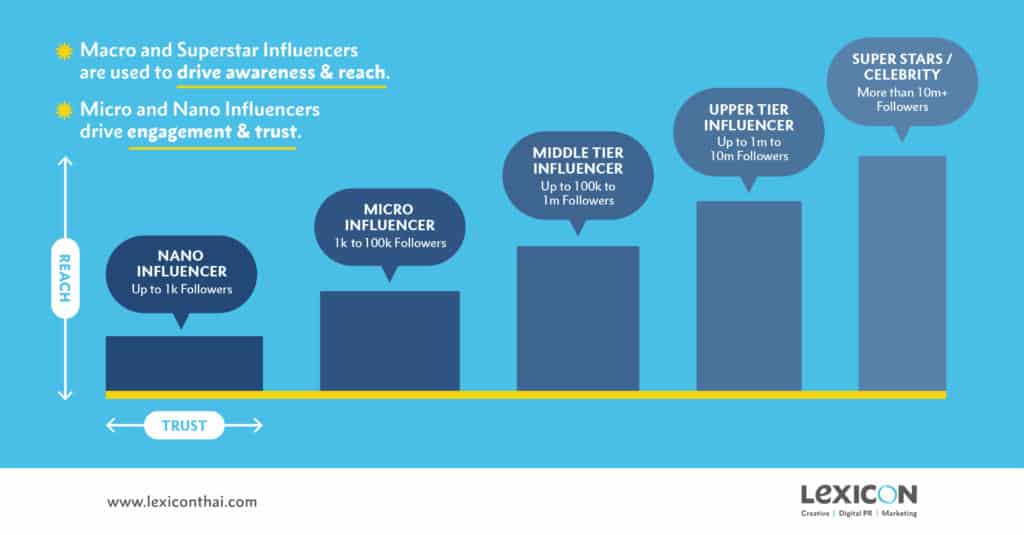 At the top of the influencer ladder, celebrities rather unsurprisingly bring the highest reach and brand awareness. Yet there are downsides to this kind of mass appeal. Superstar influencers are expensive to hire, and tend to be less reliable than the other tiers since they aren't connected to or have much in common with most of your target audience. In short, household names deliver high reach numbers but command the least trust. For established brands that need no introduction, such as Coca-Cola or Nike, celebrities serve their purpose well. For everyone else, lower-tier influencers will carry more weight.
Moving to the bottom, micro and nano influencers do not produce the kinds of reach numbers that their more famous peers are known for, nor are they expensive. However, due to their substantially smaller follower base, these influencers are more likely to have a closer personal relationship with their fans, eventually resulting in a greater level of trust. These influencer categories are also far more likely to include niche experts, whose knowledge and reputation in specific areas of industry or culture can make their recommendations more meaningful. As a result, these tiers tend to be excellent at driving engagement, and are more reliable in comparison to the higher tiers.
As a rule of thumb: If you want to raise awareness of your brand/product, head straight for the celebrities. Superstar brands are a perfect fit for superstar influencers. But if your marketing goal is to drive engagement and build trust, particularly for products and services that aren't yet familiar to your target audience, micro and nano influencers are wonderfully suited to the task.
Meeting the audience where they are
Of course, the present trend towards influencer marketing is possible only because social media has transformed the advertising world.
There are four times more active social media users in Southeast Asia than in North America. The region also includes more than 1.5 billion active mobile internet users – more than any other area in the world. Moreover, Thailand is an outlier even within such a prolific community of internet users; its average citizen spends an astonishing 9 hours and 11 minutes online every single day, far more than other countries in the region.
Additional statistics show with even greater clarity why Thailand is such a ripe area for successful influencer marketing, among other Digital PR initiatives. Although the country's population is just over 69 million, mobile subscriptions in the country currently exceed 92 million. Furthermore, 93% of Thai people aged 16 to 64 are active on Facebook.
These staggering numbers illustrate the ripe potential of influencer marketing for businesses in Thailand and Southeast Asia. Yet other methods of brand-building and audience engagement can also be used to excellent effect in our current cultural moment. One of these – omnichannel marketing – achieves its results through a special combination of preparation, coordination, and execution.
Staying omnipresent in a world of distraction
The rapid reshaping of the marketing landscape has forced companies to constantly adapt in order to stay relevant. Whatever you learned a year or two ago about marketing, it might just be obsolete as far as today's trends go. Even core metrics such as clicks, likes, follower counts, and overall reach might be fool's gold either now or in the future. Higher click rates are no help if they lead to more page bounces; Facebook and Instagram are considering hiding likes; Twitter has floated the idea of hiding follower counts; and total reach numbers simply track quantity over quality.
Social media may indeed evolve as much in the next decade as it did in the last one. Businesses can also use their own platforms in new ways, for an entirely satisfying and original user experience. For example, IKEA is already using Augmented Reality (AR) to help consumers see how their products would look inside their homes, without having to go to the store.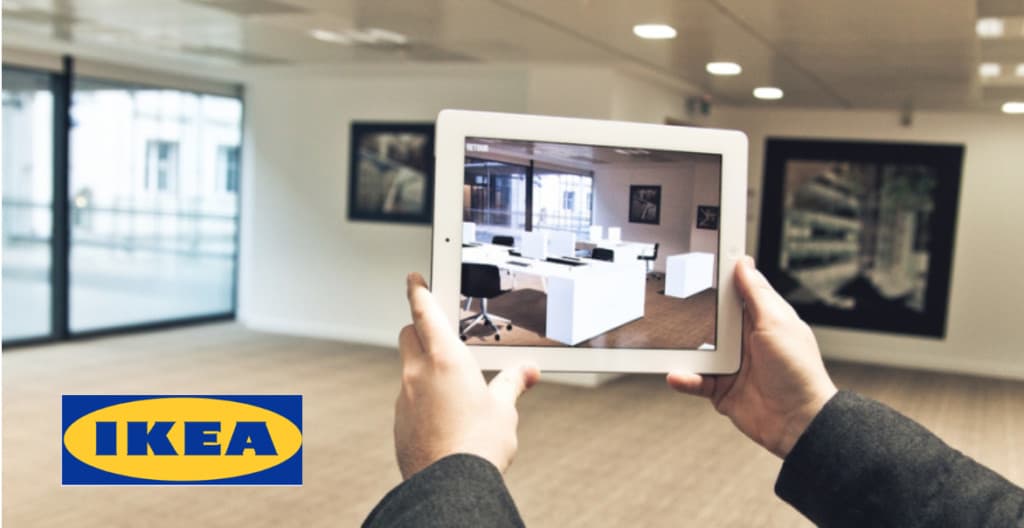 In a similar vein, Nike is allowing shoppers to customize their shoe sizes for both feet through the Nike Fit App, in order to get the perfect fit. For quite a while, Lazada and Shopee have also been "gamifying" their mobile platforms, as part of their effort to increase engagement with a new shopping experience.
At the present moment, a key focus shared by many businesses involves making the best use out of omnichannel marketing. This relatively new concept is often mistakenly lumped together with multichannel marketing, but the two are quite distinct.
Multichannel marketing brings brands and products to consumers through a variety of ways, including physical stores, smartphone apps, social media posts, and websites. Yet these delivery channels are not integrated; they all function more or less independently of one another. Omnichannel marketing, on the other hand, delivers a seamless user experience – providing consistency in both form and function across all channels.
Omnichannel marketing campaigns require a great deal more effort at the planning stage, but the overall effect is far more impressive. In such a system, a customer using their phone or laptop can do everything that an actual visitor to the store would be able to do – and the interactions would look and feel the same as well. This effect of total cohesion and synergy represents the ideal goal for all brands, which is to be able to present itself in a unified and standardized way to all of its customers, regardless of setting.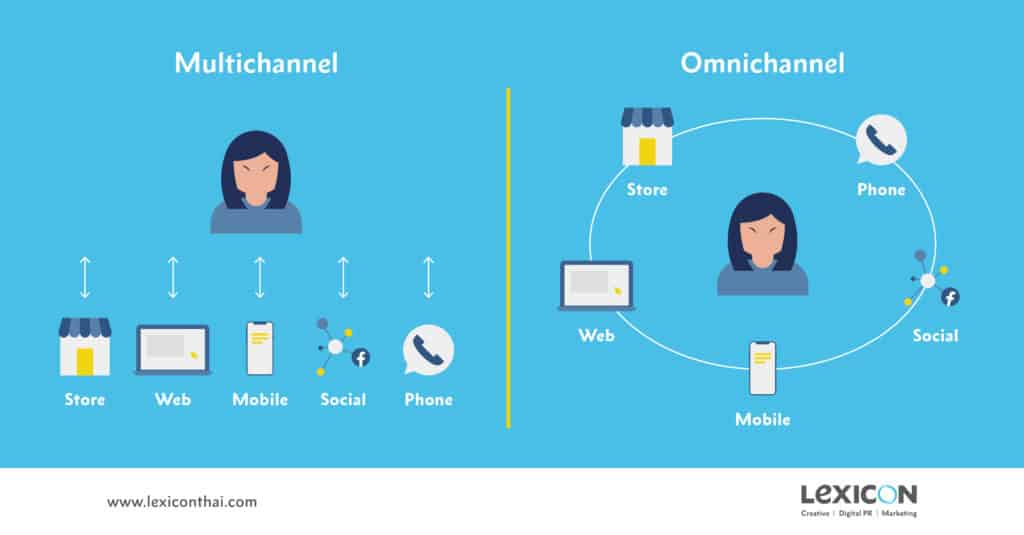 The view from the inside
David Norcross, Managing Director at Lexicon, moderated a panel discussion on influencer and omnichannel marketing at the recent AMCHAM luncheon. He was joined by marketing experts George Hartel and Louie Morante, and their remarks are included in the video below.
These experts examined the current state of Digital PR, including the role of influencers and omnichannel marketing in the industry. They also pointed out that marketing success for any business will always depend first and foremost on analyzing their brand objectives, and identifying the right target audience.
From there, however, creative and well-implemented marketing strategies can help smaller businesses rise up and defeat the Goliaths of their industries, without first having to invest a fortune in advertising.
Of course, strategy itself can only take you so far. Success in communication depends on having something interesting to say.
Storytelling is everything
Most businesses are already convinced that their products are great. Their target audiences, however, are the ones that really need to be convinced. That trust comes from connecting with customers at more than just a surface level.
People connect with stories – particularly when they are relatable. Show them that you understand their needs, interests, fears, and desires. Show them that your products and services were designed for people just like them. Show them how they can find greater happiness, with you as their guide.
With great storytelling comes great marketing results, provided that it is delivered the right way. The entire process can be conveyed in three basic steps: Identify the friction points of your business, study your audience, and use the most effective marketing trends to your advantage.
The right strategy will put your business in position to succeed. From there, execution depends on the creativity, coordination, talent, and experience within your marketing team. As the world of marketing grows ever more advanced and complex, the skill required for success likewise increases.
Yet so do the rewards. A unified brand message, aimed at the right audience and expertly amplified by respected influencers, can rapidly build strong brand awareness – gaining your business a valuable reputation for quality, and increasing overall sales.
To learn more about the importance of storytelling, click here