Executive Personal Branding in Bangkok, Thailand
Executive Personal Branding in Bangkok, Thailand
Executive positioning and CEO branding are major B2B marketing trends for the 2020s. As of 2023, 80% of marketing executives (such as CMOs) said they were actively developing their own personal brands. While 76.9% of B2B marketers indicated that "an executive's social media presence can help organizations' sales growth"..
A 360-degree approach is required to CEO Branding and Executive Branding strategies. Thought leadership needs to be the core of the strategy by positioning your leaders as  knowledgeable experts in their field. This goal can be achieved by the creation of white papers, pillar content and through podcasts and interview series.
We are LinkedIn management agency in Bangkok, specializing in executive branding for many of the leading business influencers in Thailand. This approach usually encompasses LinkedIn management, growing the leader's connection base, ghostwriting content and producing videos at our podcast studio in Bangkok.
EXECUTIVE PERSONAL

BRANDING
As an executive, your personal brand is one of the most valuable assets your business has. Start making the most of this asset with our executive personal branding on LinkedIn service.
We add up to 400 quality connections per month. At the same time, we will craft a bespoke personal branding strategy just for you: honing your tone of voice, researching your audience, analyzing your competitors, tailoring key messaging, and developing content pillars. The strategy then enables us to plan content – blogs, videos, infographics, text posts, and more – months in advance. We'll only need a couple of hours per month from you to shoot videos in our studio and sign off on content.
Lexicon already manages the personal brands of many of Thailand's leading executives, who have seen their audiences grow and their reputations flourish. We can do the same for you. With Lexicon's Executive Personal Branding on LinkedIn, you'll be positioned as a preeminent thought leader in your industry, helping you do what you do best: growing your business.
Watch
the video

to learn more
Executive Personal Branding in Bangkok, Thailand
Humanizing B2B brands is important as it is difficult for people to build positive relationships and associations with logos. However, by turning your leadership team into advocates for your business, and having them display their expertise, insights and character directly to their target audience of potential customers, you are able to build long lasting relationships.
However, LinkedIn Management in Bangkok is just the start when it comes to successful CEO Branding. You'll want to be executing a Big Idea, newsletter and ensuring all your content is optimized for SEO with good looking website design. With dedicated in-house video production, branding and animation teams, as well as our own video production studio in Bangkok, Lexicon is standing by to tell your story.
As the leading LinkedIn management and marketing agency in Bangkok, Lexicon has a proven track record of success. Get in touch to discuss your LinkedIn management needs and to view our successful case studies.
As you can see above, our executive branding and CEO branding solutions are ideal for the personal brand management of you and your company's leaders. We can also build packages for you bespoke to suit all budgets and requirements. Get in touch for a personalized quote.
Lexicon has helped me to connect better with my target audience on LinkedIn.
If you want to build your brand you must tell your story, and to tell your story, look no farther than David Norcross and his incredibly gifted storytellers at Lexicon. Their professional advice and support are helping me reach the audience I've been looking for.
Lexicon helped us to update our digital marketing strategy and the results have been impressive.
I have been very impressed with Lexicon's ability to take quite complex material and turn it in to highly readable and entertaining content, and with amazingly fast turnaround times.
Lexicon developed our thought leadership strategy, which has helped amplify our members through social media. They also played an integral role is setting up and facilitating our Digital Workshop series.
The Lexicon design team is highly creative and helps to encapsulate our brand in its modern incarnation.
Lexicon's creative video team helps ensure the BCCT story reaches its intended audience online.
It's a pleasure to work with the Lexicon website team.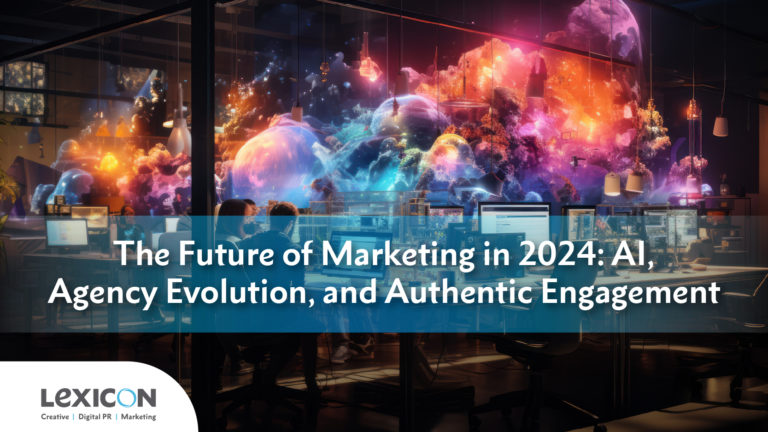 Introduction As we enter 2024, the marketing landscape is in an evolutionary epoch, driven by technological advancements and changing consumer behaviors. This evolution provides for
Read More