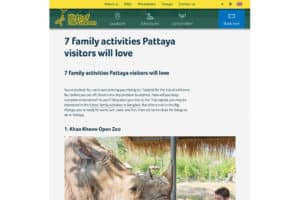 7 family activities Pattaya visitors will love
You're excited. You can't wait to bring your family to Thailand for the trip of a lifetime. But before you set off, there's one tiny problem to address. How will you keep everyone entertained? As you'll likely start your trip to the Thai capital, you may be interested in the 6 best family activities in Bangkok. But after a visit to the Big Mango, you're ready for some sun, sand, and fun. Here are some ideas for things to do in Pattaya.
1. Khao Kheow Open Zoo
While back home, zoos may not be anything special, Pattaya's take on the concept is quite unique. In Khao Kheow Open Zoo—a 1,400 acre, mostly cageless zoo home to 8,000 animals—you can get up close and personal with animals like you never have before. You can feed several of them, including giraffes, elephants, rhinos, and even tigers!
2. The Admirallica
Tour the Pattaya bay in the most unique way possible. On a pirate ship. Kids will love the themed atmosphere and swashbuckling fun, and parents can find their own source of entertainment with a chance to snorkel, swim, fish, and take in a magical sunset.
3. Flight of the Gibbon
Set free your inner child, alongside your own child. You and your kids are sure to share smiles, laughs, and memorable moments above the rainforest canopy as you whiz through the air on a zipline. This unique activity, which is located less than an hour away from Pattaya, will entertain children and adults of all ages. For an extra special day, upgrade your Flight of the Gibbon adventure with a combo trip to Khao Kheow.
4. Underwater World Pattaya
Curious to see Thai marine life? Make a trip to Underwater World Pattaya. The aquarium displays coral species and colorful fish native to the Land of Smiles, as well as large sea creatures like eagle rays, nurse sharks, and black-tipped reef sharks. Kids will enjoy the chance to interact with marine animals at the touch pool, and adventurous adults can dive in the shark tank.
5. Alangkarn Show
For a colorful musical performance that combines dance, flamboyant costumes, circus-style acrobatics and mesmerizing fireworks, Alangkarn Theatre is worth your consideration. This cultural show tells the story of Thai history and traditions through a lively theatrical performance.
6. Ramayana Waterpark
South East Asia's biggest waterpark offers a great way to relax and cool off for the day. Kids will love the lazy river and tube slides, and more adventurous family members can scream in excitement as they take on the aqua loop and freefall waterslides. When it comes to family activities, Thailand's Ramayana Waterpark offers a fun day out.
7. Sanctuary of Truth
With nearly 10,000 TripAdvisor and Google reviews averaging 4.5 stars, the Sanctuary of Truth is worth your consideration. Also mentioned on our list of the 25 Best Things to do in Pattaya Outdoors, this religious site is a constantly evolving wooden structure that features carvings influenced by the cultures of Thailand, India, China, and more. The picturesque ocean views and an opportunity to see the sanctuary's woodcarvers at work are sure to delight both kids and adults.
As you can see, when it comes to family activities, Pattaya has a lot to offer. But what will your family do on the rest of your Thailand holiday? When you're ready to see what awaits you in the north, check out 6 family activities Chiang Mai visitors must experience. In the meantime, contact us to book your Flight of the Gibbon zipline adventure now.
https://www.flightofthegibbon.com/en/blog/7-family-activities-pattaya-visitors-will-love