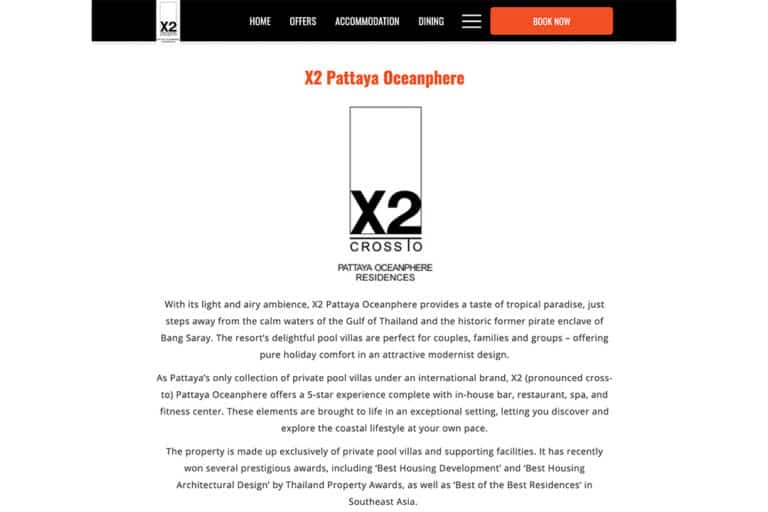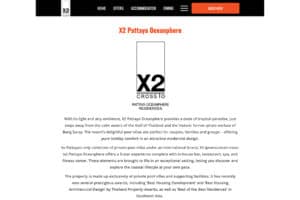 X2 Pattaya Oceanphere
With its light and airy ambience, X2 Pattaya Oceanphere provides a taste of tropical paradise, just steps away from the calm waters of the Gulf of Thailand and the historic former pirate enclave of Bang Saray. The resort's delightful pool villas are perfect for couples, families and groups – offering pure holiday comfort in an attractive modernist design.
As Pattaya's only collection of private pool villas under an international brand, X2 (pronounced cross-to) Pattaya Oceanphere offers a 5-star experience complete with in-house bar, restaurant, spa, and fitness center. These elements are brought to life in an exceptional setting, letting you discover and explore the coastal lifestyle at your own pace.
The property is made up exclusively of private pool villas and supporting facilities. It has recently won several prestigious awards, including 'Best Housing Development' and 'Best Housing Architectural Design' by Thailand Property Awards, as well as 'Best of the Best Residences' in Southeast Asia.
The property has won several prestigious awards and ranked in first place for New Hotel Construction and Design by International Property Awards in 2017.
https://www.x2pattayaoceanphere.com/