The world now has an estimated 5.22 billion unique mobile phone users – equivalent to two-thirds of today's global population. The number of users continues to grow, adding 93 million worldwide despite the pandemic keeping many people home for months at a time. As vaccines work their magic, and the world begins to open up once again, mobile use (particularly as compared to laptops) is likely to skyrocket.
To find out what this means for business marketing and strategy, our digital agency in Thailand has gathered insight from the Digital 2021 Report by Hootsuite and We Are Social. The picture painted by the data shows mobile phones setting the tone for the online environment, both now and for the foreseeable future.
The medium and the message
"Mobiles have become our 'first' screen," according to the official summary of the Hootstuite / We Are Social Digital 2021 Report, which notes that Android users alone have spent "more than 3.5 trillion cumulative hours using their phones over the past 12 months."
The writeup continues in this vein, noting that "the typical global internet user now spends 3 hours and 39 minutes each day using the internet on their mobile phone, compared to a total of 3 hours and 24 minutes per day watching television."
Nearly 97% of internet users aged 16 to 64 have a smartphone – and given the popularity of this medium even among people social distancing at home, the phone must now be considered the standard portal through which the internet is experienced.
This tendency to favor mobile use is especially pronounced within Thailand. The Digital 2021 Report found that the average Thai internet user (between age 16 and 64) goes online for a full 8 hours and 44 minutes every single day – and that 5 hours and 7 minutes of that time is spent on mobile. This puts Thai mobile use among the highest in the world (see image below, third from left):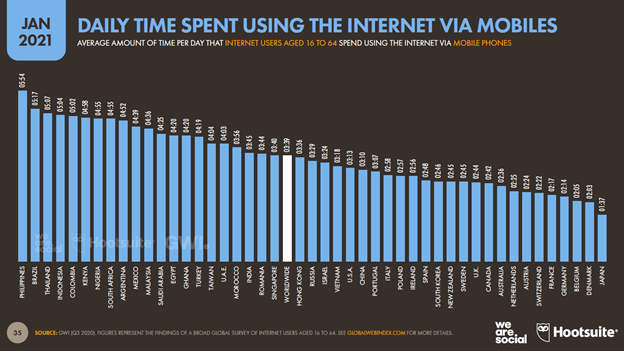 By comparison, Thai internet users use desktops, laptops, and tablets for a combined 3 hours and 38 minutes each day. Businesses in Thailand can therefore get the most bang for their buck by optimizing their content for mobile, rather than presenting material with only computer-based audiences in mind.
Moreover, as we see in the global data below, the preference for mobile very much looks like it's here to stay:
Indeed, since the most enthusiastic mobile users are the younger members of society, there is every reason to believe that the future will skew even more heavily toward mobile – particularly as smartphone producers continue to improve the quality of their products. See below for the demographic breakdown worldwide:
Nor is the love for mobile restricted to specialized apps, although those are popular also. Even when browsing webpages, mobile wears the global crown:
The biggest disparity involves social media, however, as we see mobile phones enjoying a virtual monopoly on platforms like Facebook:
The takeaway message for digitally minded businesses should be clear, especially as most marketing has at least some connection to social media. For your company to leave the best possible impression, its website and other assets should be presented with the mobile experience in mind.
Audiences are far more likely to engage with content that is easily readable on mobile, particularly if all of its features (such as e-commerce functions) are designed for today's smartphones. Of course, seamless mobile optimization is far from easy. To find out more about how it works contact our digital agency in Thailand today.