The world now has an estimated 5.22 billion unique mobile phone users – equivalent to two-thirds of today's global population. The number of users continues to grow, adding 93 million worldwide despite the pandemic keeping many people home for months at a time. As vaccines work their magic, and the world begins to open up once again, mobile use (particularly as compared to laptops) is likely to skyrocket.
To find out what this means for business marketing and strategy, our digital agency in Thailand has gathered insight from the Digital 2021 Report by Hootsuite and We Are Social. The picture painted by the data shows mobile phones setting the tone for the online environment, both now and for the foreseeable future.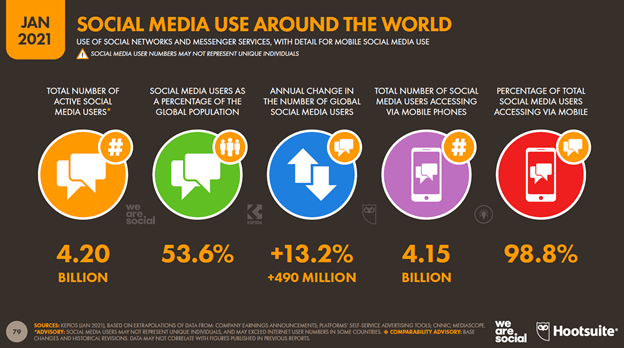 Catching up with old friends
Although the majority of social media users remain within the 18-44 age group, the demographic that is currently growing most quickly is not within this age range – nor is it among teenagers. Perhaps surprisingly, social media user numbers are increasing most rapidly among adults aged 65+.
2020 was an unusual year, and there may be many reasons for social media use to grow among elderly populations. In a time of social distancing, platforms like Facebook have perhaps been the safest way for older citizens to catch up with friends and family. Yet having already learned to use these platforms, older people may decide to continue with them even after the current health crisis is resolved.
An engaged audience
Among users aged 16-64, the worldwide average for social media use is 2 hours and 25 minutes per person per day. These users can be found across a variety of platforms; the average person has 8.4 social media accounts in total. As with many digital statistics, Thailand's social media numbers are higher than the world average. The average Thai person aged 16-64 is on social media for 2 hours and 48 minutes each day, and has 10 different accounts.
Worldwide, the three most popular reasons to use social media are: Staying up to date with news and current events, finding funny or entertaining content, and filling up spare time. Brands that publish content relating to these priorities are likely to experience higher levels of engagement.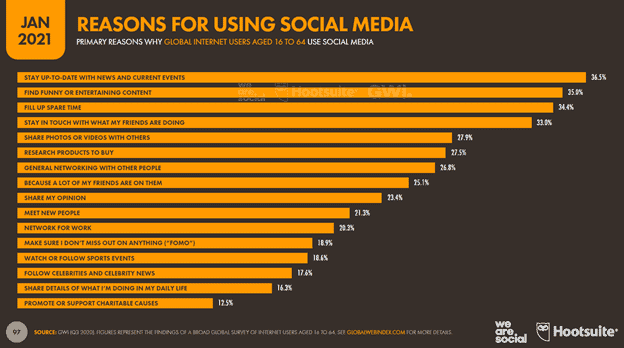 Just as importantly, the Digital 2021 Report found that 55.5% of internet users in Thailand aged 16-64 visit social networks to search for information about brands. This interest, combined with increasing levels of social consciousness and activism, could point to new opportunities for companies to assertively promote their mission and values.
Behind the numbers
The meteoric rise of social media in this young century has been nothing short of stupendous. As the published summary of the Digital 2021 Report observes, we are indeed hooked on digital dopamine: "Added together, the world's social media users will spend a total of 3.7 trillion hours on social media in 2021 – equivalent to more than 420 million years of combined human existence."
But from the marketer's perspective, the goal remains quality rather than quantity. Within the Report are these observations (slide 103):
Many brands miss the mark on social by jumping into conversations too soon. The smart ones will be those who sit back, listen, and then find creative ways of fitting into the social conversation instead of trying to lead it ….
Bold brands start in the boardroom, not the front lines of social. Strong CMOs will use intelligence gathered by social teams to help the organization adapt to new buyer beliefs while balancing the twin demands of building a better business and a better world.
The right creative agency in Bangkok can help your business take a sure-footed approach to social media, relying on solid market research and time-tested techniques to generate positive engagement.
After all, social media is all about connecting with people – and to do that, you need a strong combination of confidence and understanding. Mix those together with expert on-brand messaging, and you'll be in an excellent position to benefit from the current social media boom.
Nor is the love for mobile restricted to specialized apps, although those are popular also. Even when browsing webpages, mobile wears the global crown:
The biggest disparity involves social media, however, as we see mobile phones enjoying a virtual monopoly on platforms like Facebook:
The takeaway message for digitally minded businesses should be clear, especially as most marketing has at least some connection to social media. For your company to leave the best possible impression, its website and other assets should be presented with the mobile experience in mind.
Audiences are far more likely to engage with content that is easily readable on mobile, particularly if all of its features (such as e-commerce functions) are designed for today's smartphones. Of course, seamless mobile optimization is far from easy. To find out more about how it works contact our digital agency in Thailand today.