This series began with an introduction to Digital 2020, a landmark report released by Hootsuite and We Are Social to give a better understanding of our connected world. Here we look more closely at the numbers from that report, focusing on global trends while offering actionable analysis for marketers. Subsequent articles will shine a light on specific focus areas of the report – including Thailand – as we also explore hot-button issues that are driving conversation on the internet today.
60% of the global population is now online, including 298 million new netizens within the past year. As a social phenomenon, the digital world is rapidly transforming lifestyles, cultures, and entire economies. By changing the way we interact with those around us, the internet is also affecting how we view ourselves – with psychological effects that we are only beginning to understand.
Consider: The average person now spends 6 hours and 43 minutes online every day, with many of us connected to the digital world for far longer than that. Indeed, our digital lives are so compelling that it is now common for people to spend more time online than they spend sleeping each night.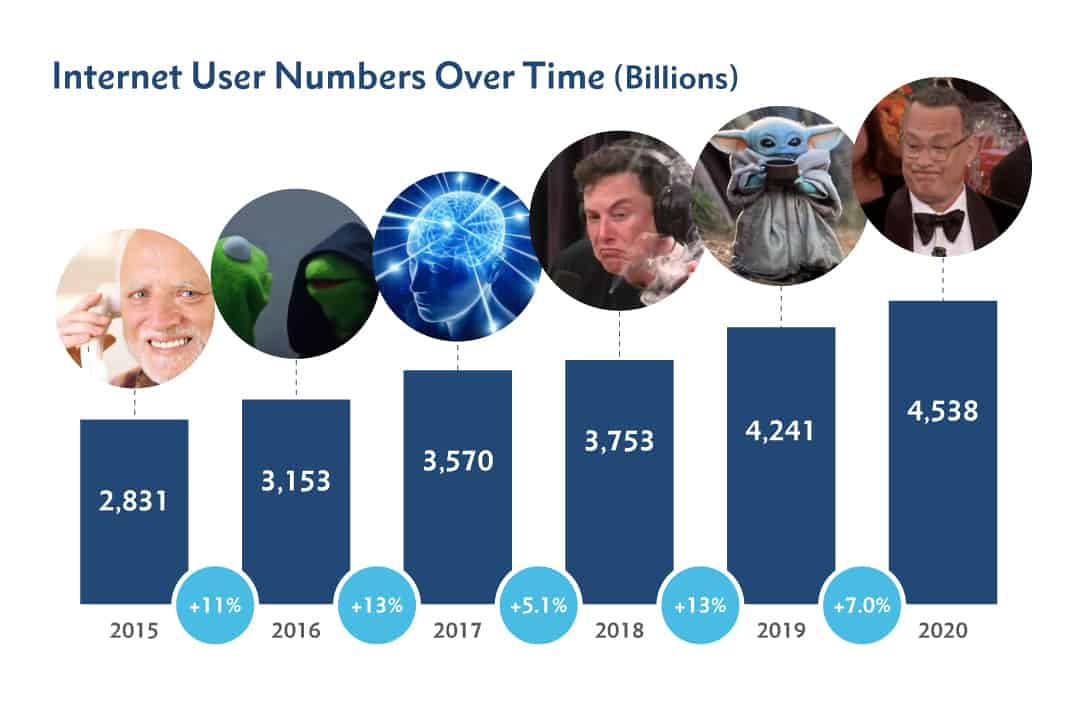 Small, fast, and convenient: The internet has gone mobile 
This increase in internet consumption can be traced directly back to the mobile phone. Although many of us take our phones for granted now, the achievement they represent is monumental: By making the digital world simple, portable, and effortlessly accessible, phones let people get online anywhere, within seconds.
The result of this innovation is that 92% of internet users can now access the web via mobile – and more than half of all time spent online is through mobile devices.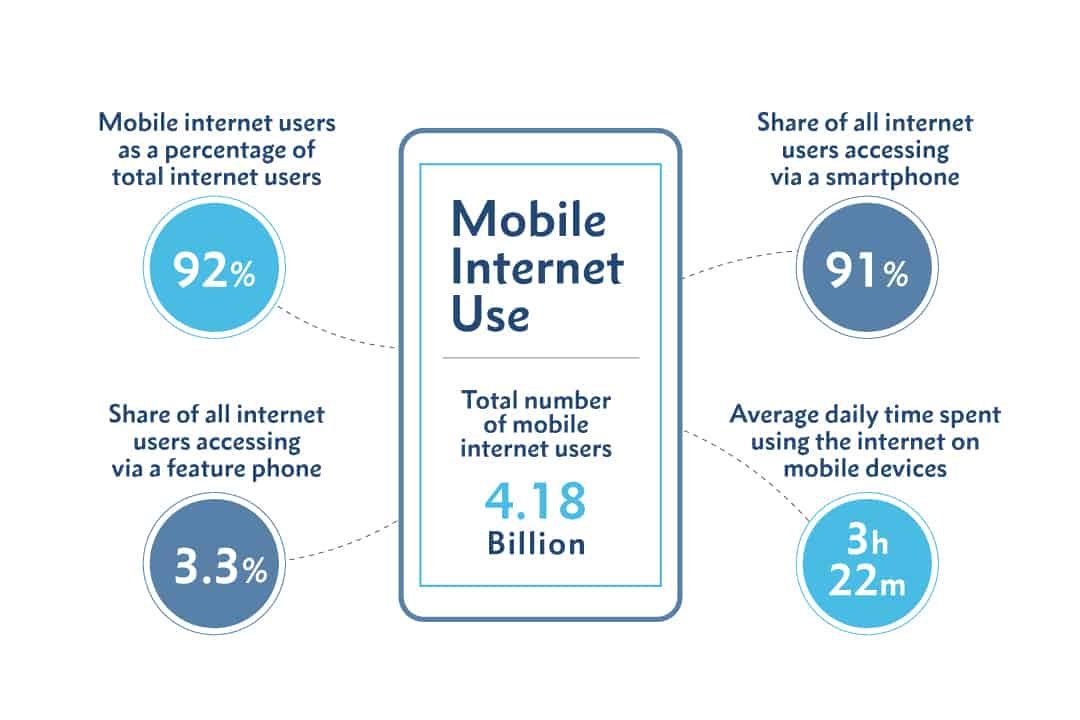 Popularity has brought dramatic qualitative improvement. Over the past year, the average mobile internet connection speed increased by 28%, and now exceeds 32 Mbps. At the current rate, streaming 4K video no longer requires buffering, and it takes only about 6 minutes to download a 1.5GB HD movie.
Other numbers are even more striking. Even though not everyone has a phone, mobile connectivity is measured at 103% of the world's population – a statistic that is all but guaranteed to rise even further in the years ahead. This figure reflects the fact that many people have multiple devices connected to an online network.
The rising number of mobile users has brought about sweeping changes to cultures around the world. Wherever you may live, being part of the daily conversation increasingly means staying up to date on events in the online world. The FOMO (Fear of Missing Out) phenomenon helps explain why more and more people see their portable connection as a necessity, rather than simply a nice-to-have.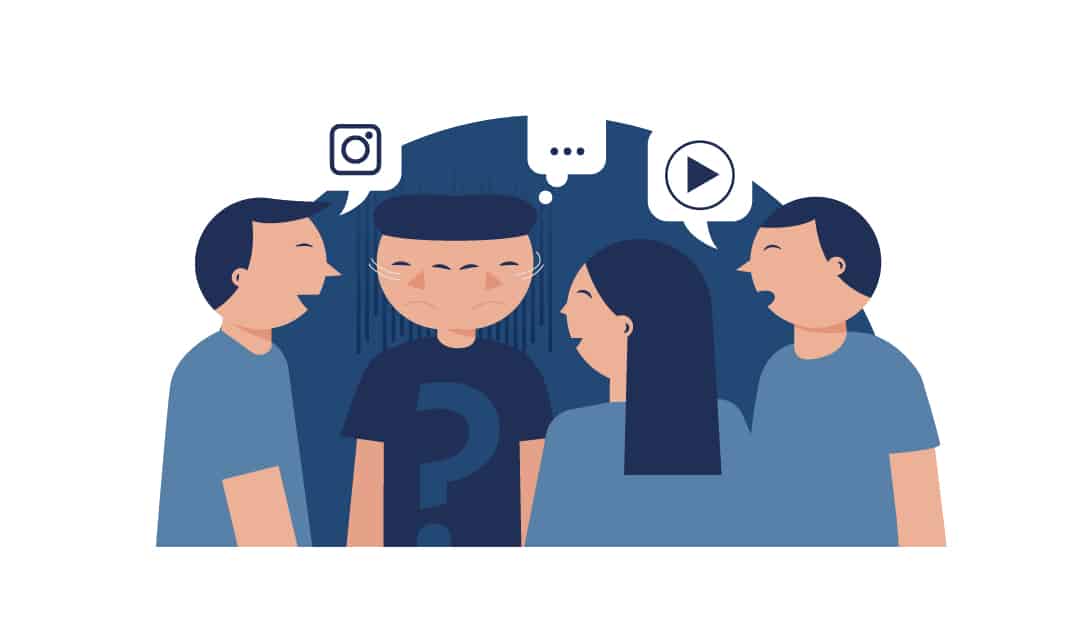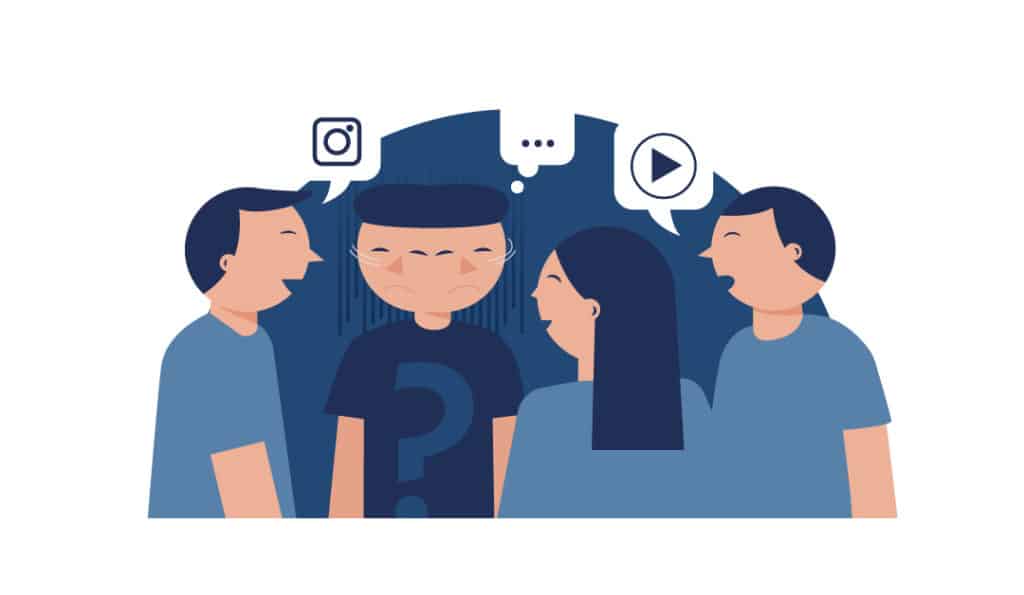 More access gives businesses a bigger market
The worldwide increase of mobile users reflects a steady rise in global income, which in turn means that vast numbers of people in developing countries are joining the middle class.
This economic achievement is remarkably timely, from the perspective of the digital economy. Most developed countries already have virtually universal internet access, leaving them at something of a saturation point. As emerging countries come online, the resulting internet connectivity explosion creates new opportunities for future growth throughout the coming generation.
New markets typically present a massive marketing opportunity for forward-looking companies, and the latest digital growth numbers indicate a similar window opening up right now. By creating content that appeals to specific audiences in developing countries, proactive businesses have the chance to get in on the ground floor. There won't be nearly as much competition in these emerging markets – and by playing your cards right, the right web agency in Bangkok can help you build a dedicated grassroots audience.
Social life
Around the world, 3.8 billion active social media users are posting pictures, commenting, sharing, and engaging in discussions on various platforms. An amazing 99% of social media users access these channels via mobile, further underscoring the connection between rising mobile connectivity numbers and increased participation in the digital world.
321 million new users joined social platforms in 2019 alone – the equivalent of adding the entire population of the United States to the international social media ecosystem. This increase represents a growth of 9.2% from the previous year.
Yet the rise in user numbers just scratches the surface of how far social media has integrated itself into our common culture. By way of example, consider that the average internet user now has 8.6 social media accounts. This total very often includes multiple accounts (personal profiles plus work accounts, for example) on multiple social media platforms.
With more active users than ever before, social media offers outstanding marketing opportunities. Businesses that are adept at taking advantage of user habits, as well as the distinct strengths and weaknesses of each popular platform, can generate the most impact in the present environment. As a means of establishing your brand, growing your audience, and showing off your expertise, there's no media like social media.
Making the connection
Of course, reaching the right people starts with knowing where to look. Not all social media platforms are created equal, and some are better suited to certain types of content than others.
If well-known social media channels were in a worldwide race, Facebook would be far in the lead right now, followed by YouTube, Instagram, TikTok, and Twitter.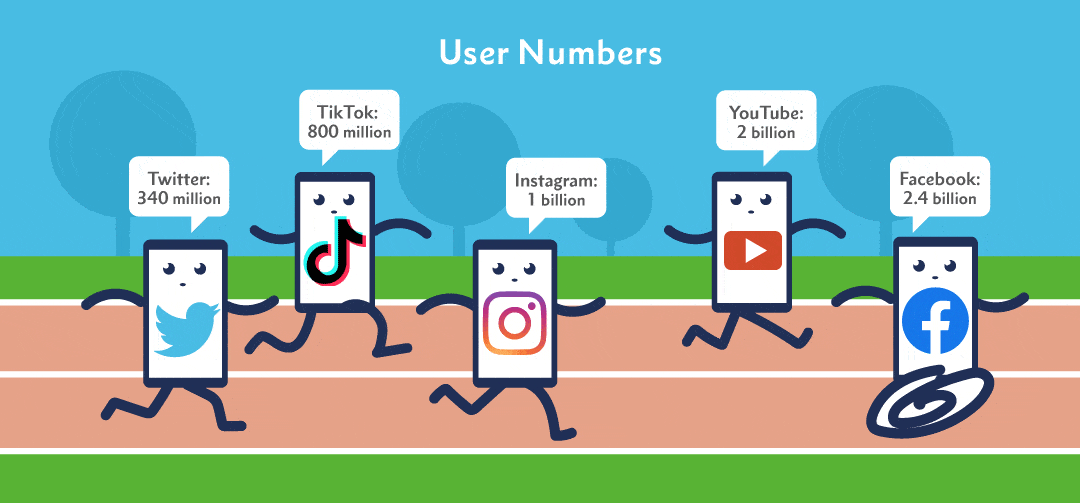 Numbers like these can help you get oriented, but they are far from the whole story. If your business caters to young customers, for example, a thought leadership article posted to Facebook will be far less engaging than a fun TikTok video. That's why, despite the availability of high quality data on digital trends, the new report by Hootsuite and We Are Social isn't (and doesn't pretend to be) a substitute for thorough market research.
Indeed, the summary given above – and in many other articles to follow – is based on statistical analysis. But an old adage is worth repeating here: The map is not the territory.
While posting on social media or anywhere else, remember that numbers are never the whole story. Having a big audience doesn't always translate to more engagement, and a simple 'Like' count may not indicate emotional attachment to your brand. Although the temptation to chase the numbers may be great, there is simply no substitute for understanding the concerns, thoughts and preferences of your target audience, to create content that will genuinely resonate with them.
Marketing success in the digital age is the result of effectively adapting old principles of storytelling to new (and ever-changing) media environments. Knowing your audience has always been key; the difference today is in recognizing that they are on mobile phones – and providing high-quality services for them there.
Of course, not every company has the ability to produce smoothly running apps and mobile-friendly websites in-house. Nor are quality writers, translators, visual designers and video teams always easy to come by. As new forms of media grow more complex, many businesses find outsourcing to be an increasingly appealing option. Our Digital PR & digital marketing agency in Thailand offers customized software development in addition to a variety of content-based services.
For professional support with any aspect of your digital marketing journey, think Lexicon. We'll help you navigate this vibrant new online world, delivering branded storytelling content to connect you with your ideal target audience on the all the right platforms.