B2B marketers are often undervalued and underappreciated. While the expertise of lawyers, consultants and accountants is not to be underestimated, their ability to communicate their value often leaves a lot to be desired, often with tired content from the pre-digital era.
And yet there has never been a better time to be in the B2B marketing space. Digital marketing makes it possible to build lucrative lead generation pipelines through various channels, and it's easier than ever to grow an organic audience for your thought leadership, brand storytelling and LinkedIn executive branding.
Our mission in this document is to give you a snapshot of social media trends in Thailand 2023, specifically with a focus on the B2B marketing landscape as of early 2023. This document's authors are based in Bangkok, so the data will be skewed heavily towards Thailand; however, we're confident that the B2B outlook is broadly similar all over the world due to the shared nature of the industries involved. Lawyers and accountants in Thailand do not dramatically differ from their American counterparts in their B2B media consumption habits based on the latest report from wearesocial.
This report draws heavily on the research done by wearesocial, which provides in-depth analysis of social media trends all over the world on an annual basis.
Allow us to give a quick walkthrough of what you can expect in this document. To get started, we'll take a look at the available marketing channels and assess their benefits and drawbacks for the B2B sector. Then, we'll make some recommendations on how to adopt a 360-degree approach to your B2B marketing. Finally, we'll explain how to take advantage of the most effective strategies to maximize connections, reach, and engagement with your ideal target audience, including the use of video marketing in Thailand.
B2B marketing is full of ever-evolving challenges, and juggling digital marketing strategies can become overwhelming. However, by leveraging our recommendations and bringing onboard the right support, you'll be ready to develop the best B2B marketing strategies for 2023, placing you ahead of the competition this year and in the future.
Best of all, it's free, so be sure to share this with anyone in your network who might find it useful.
Meta/Facebook trends in Thailand 2023
Facebook has lost its way a little in recent years, with the 2016 election scandal causing much harm to its global reputation for privacy.
As a result, in late 2021, Facebook rebranded as Meta. The goal of its current incarnation is to evolve the company and take ownership of the Metaverse concept, building on its acquisition of the Oculus virtual reality technology.
As of early 2023, this metaverse expansion plan has not been successful. The company recently announced that it was to seriously reduce expenditure on the project, which has so far cost the company over $100 billion in research and development.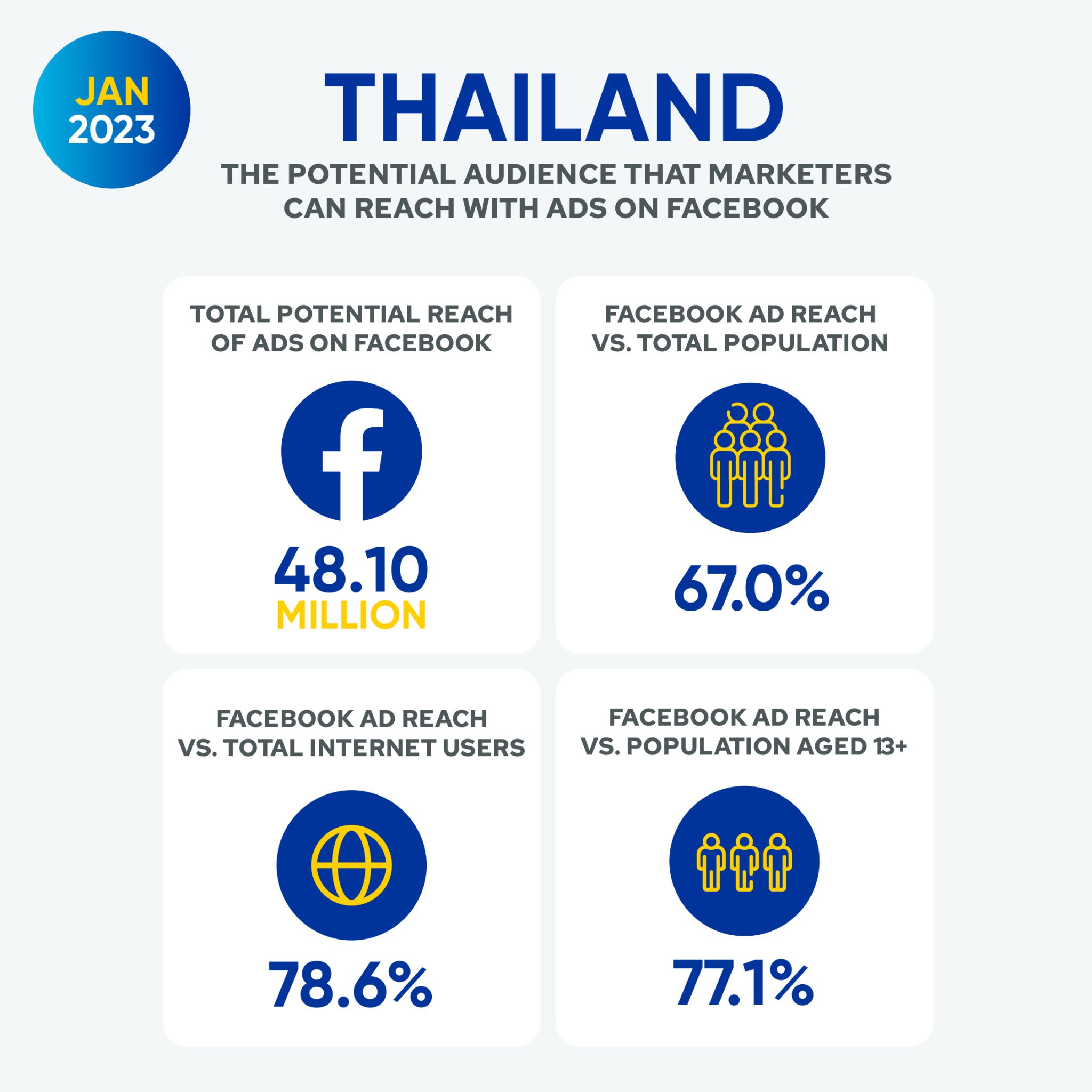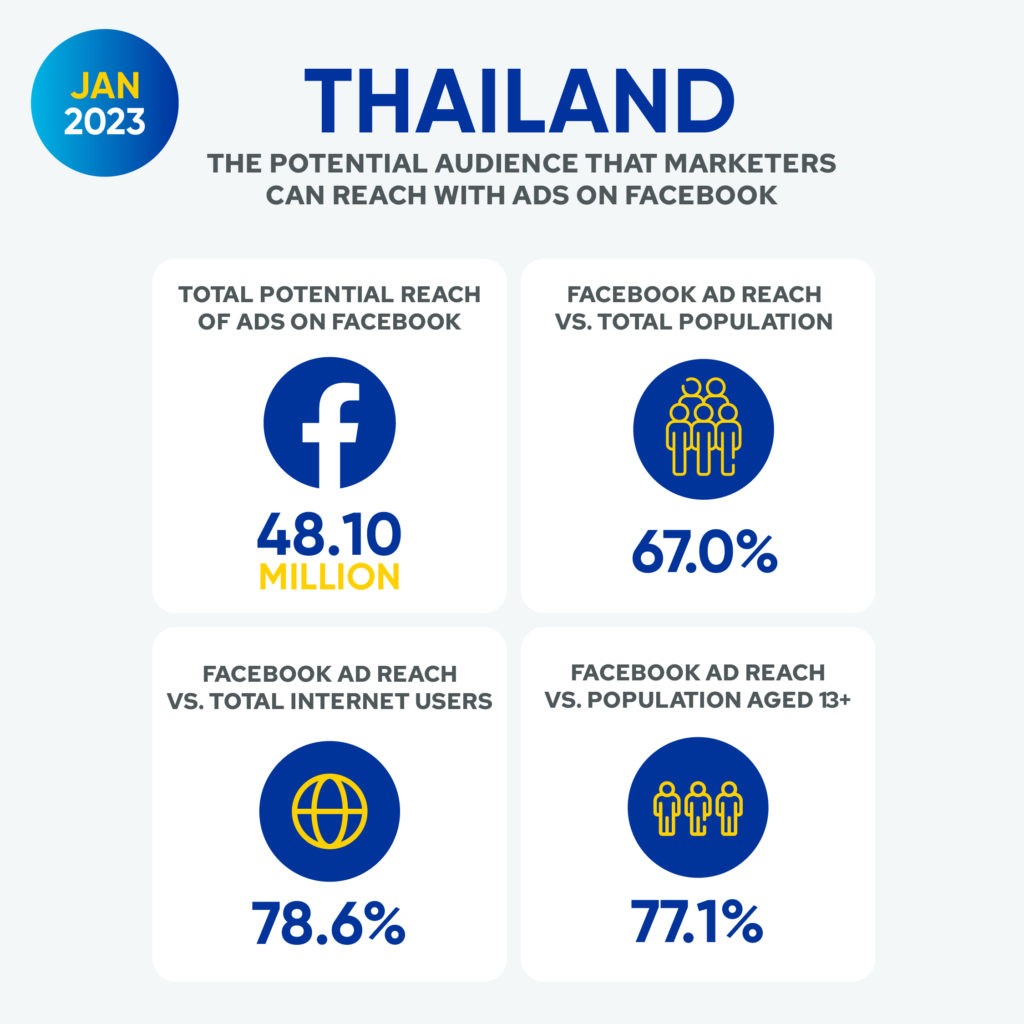 Apple & Google's shift to advertising opt-in privacy rules has meant more bad news for Facebook/Meta. The company's total advertising pool has diminished in response, especially in relation to accessing browsing habits and metadata such as geolocation.
Additionally, due to privacy concerns Meta removed many of its most effective targeting and retargeting options, such as the ability to target users by nationality and preferred newspaper or TV channels.
Nonetheless, Facebook/Meta social media trends in Thailand 2023 still provide a great advertising tool for SMEs and B2C organizations looking to target broad demographics, such as age and general interests.
From a B2B perspective, advertising choices are more limited, as it's not possible to target adverts to people based on job titles or industry. Nonetheless, Facebook is still very popular in Thailand and B2B businesses may consider using their corporate page as an internal branding or recruitment tool rather than a client-focused lead generation channel.
It is important to note that organic reach for business pages is throttled on the platform, with unpaid reach usually averaging below 1% in order to encourage businesses to pay for greater reach through advertising.
In Thailand, statistics show a drop from 69.88 million active users in 2021 to 48.10 million users as of Q1 2023. However, this large decrease actually represents a change in how the organization calculates its users. These days, 'potential reach of ads' is the primary calculation metric, which eliminates dormant accounts from the total.
TikTok trends in Thailand 2023
Thailand is ranked first globally for market penetration on TikTok, with 49.3% of social media users in the country using the platform at least once per month as of December 2023. This total represents more than double the global average.
TikTok's Thailand user demographics skew female and are much younger than the average user age of any other major platform.
However, at 118%, TikTok has one of the highest levels of organic reach of any platform. This is excellent news for SMEs, local businesses and influencers that are able to tap into the platform's simple video format.
Yet for large scale B2B organizations, there may be issues with ensuring brand compliance. In Thailand, as of Q1 2023, no global professional services firm is yet doing much of note through TikTok.
The platform has also come under significant political scrutiny, which may be a risk for businesses with operations or interests based in some regions. At the audience demographic level, measurable lead generation isn't well-optimized on TikTok at the moment – beyond enabling a simple form completion CTA – but the platform continues to grow rapidly, so it is certainly one to keep an eye on.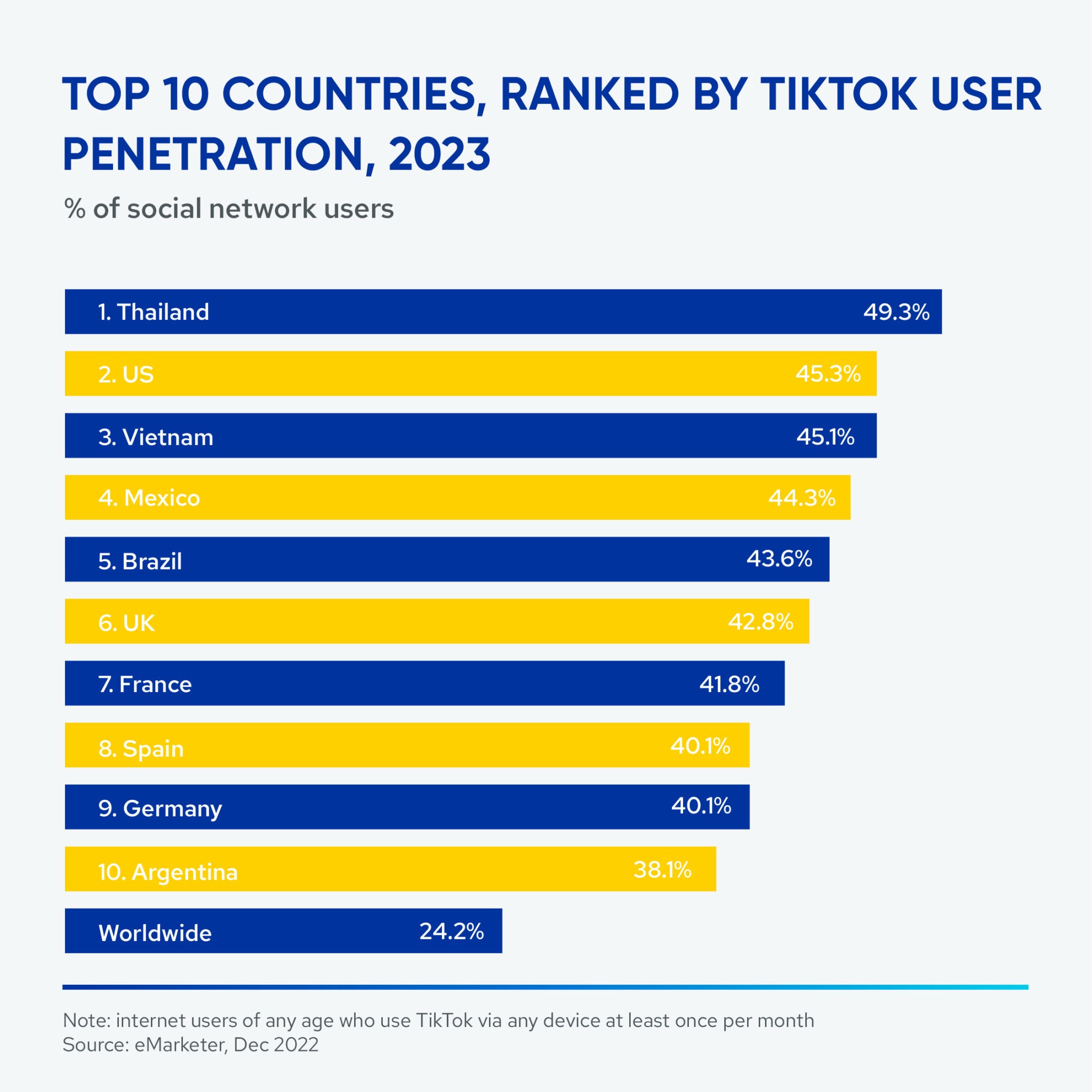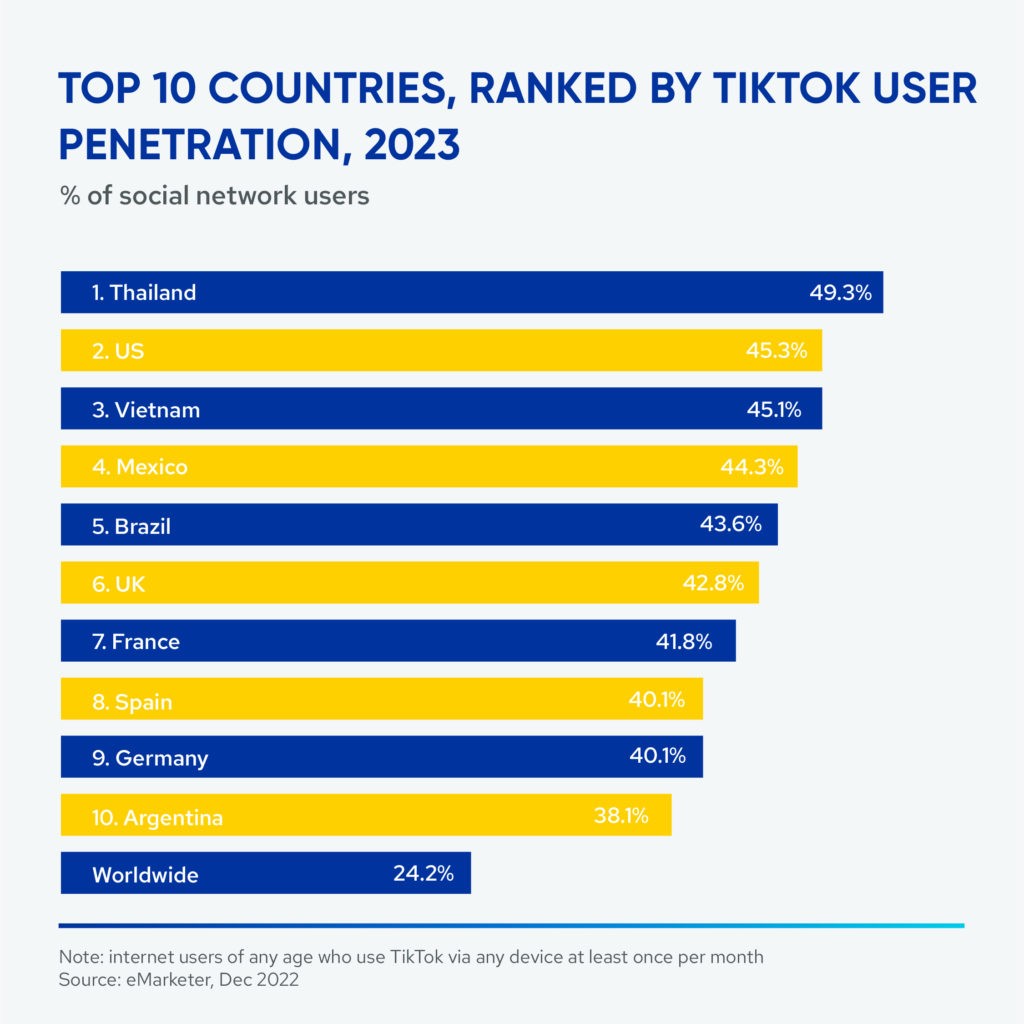 This is the first part in an ongoing series exploring social media trends in Thailand 2023. Next we'll explore more of the key social media platforms to keep an eye on. If you can't wait, you can download the whole series right now below:
Enter your email address to download the whitepaper