This is Part 5 of an extended series on the intersection between the concrete world and its digital counterpart. Each article is based heavily on the Digital 2020 Report (both the Global and Thailand versions), featuring original research conducted by Hootsuite and We Are Social. The first four articles in our series are:
Part 1 – Exploring Our Digital Planet
Part 2 – Good News for Marketers: The Digital World is Expanding
Part 3 – Where Will People See Your Content in 2020?
Part 4 – Sleepless in Siam
From a distance, the statistics look inviting indeed. Business-to-consumer e-commerce is a $3.43 trillion industry, with a remarkable 18% growth rate over the previous year. This total represents a full 16% of total global retail spend – and half of it was conducted via mobile phone. The average worldwide B2C e-commerce consumer spent $2,594 in 2019.
These numbers are backed by a solid customer foundation. 74% of all internet users between 16 and 64 years old have bought a product online in the past month, making digital payment a must-have for business.
With these kinds of numbers, perhaps it should be no surprise that Amazon is one of the world's only trillion-dollar companies, and shows no signs of slowing down. More surprising is how much room is still available for growth, particularly in Thailand.
Although Thai people spend the majority of their waking hours online, B2C e-commerce in the country amounted to just 1% of total retail spend – an average of $356 per digital consumer over the past year.
Reasons for Thailand's delayed e-commerce growth include a lack of trustworthy digital systems, large-scale delivery infrastructure, warehouse space, business investment, promotional experience, and cultural adaptation. But the opening of the floodgates is imminent, and may even be underway now given the COVID-19 pandemic. Even before shops began closing due to the virus, the whole region was marked for rapid growth; investors have forecasted that by 2025, the e-commerce market in Southeast Asia alone will be worth $200 billion or more.
Expectations for Thailand's digital marketplace are likewise sky high. Competitors for this space include Amazon, Lazada, Priceza, Alibaba, JD.com, Google Shopping, DHL, Tencent, Shopee, and Thailand Post – all of which are investing massively for the chance to get in on the ground floor of an industry with tremendous potential. Already, Thailand's digitally enabled consumer payment totals are growing at a rate of 23% per year – with 39.8 million residents actively making purchases online.
Areas where e-commerce growth in Thailand outpaces global growth include the following: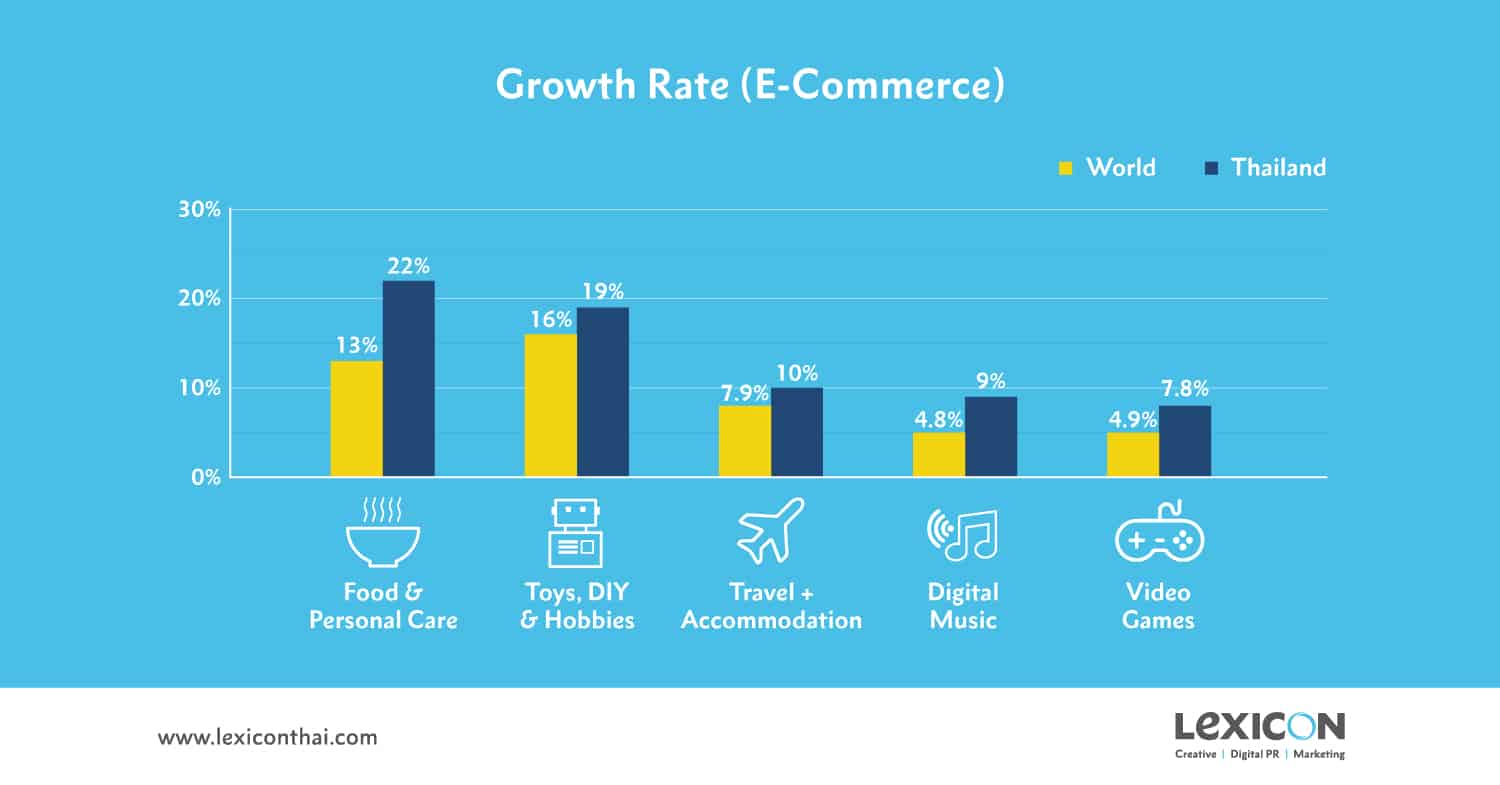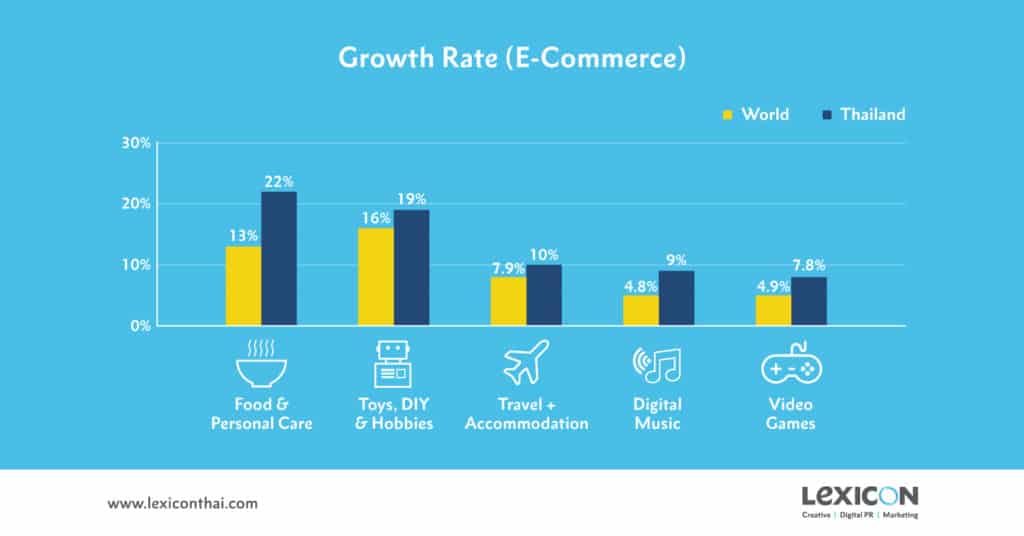 Who wouldn't want to swim in these waters?
High risk, high reward
Many new companies are indeed taking the plunge. Head-to-head competition with big e-marketers like Amazon and Alibaba is impossible except for the best-funded, best-connected few candidates that think they have a shot. But even for direct e-commerce – from business to consumer, with no giant online store acting as middleman – success is far more difficult to come by than one might expect.
In some countries, as many as nine in ten e-commerce start-ups fail within 120 days of launching. When asked why, the companies listed the top reasons for failure as follows:
Poor online marketing – 37%
Lack of online search visibility – 35%
Little to no market for their products or services – 35%
Running out of cash – 32%
Price and costing issues – 29%
Got outcompeted – 23%
Retail giants dominating a large share of the market – 19%
As we can see, poor online marketing and lack of online search visibility were the main culprits – and relatively few respondents blamed industry leaders like Amazon for their eventual downfall. Worldwide studies yield similar findings, citing poor Google rankings, website design, product placement, and overall user experience as barriers to success.
The bad news is that each of the problems listed above takes real expertise to solve, and a great number of businesses find themselves unable to work them out in time.
The good news is that all of the above issues are within your control (apart from the existence of industry giants, which are present in every field). Moreover, as we have seen, the e-commerce market can be quite lucrative for those who can stick around long enough to share in the spoils. The right digital agency in Thailand can manage this marketing effort to your advantage.
Disruption and adaptation
In the world of living creatures, survival and success go not to the strongest, but to the fittest and best adapted to their environment. And when the environment changes often, as it does in the digital world, slow-moving dinosaurs – as fearsome as they may have been in their prime – have a habit of becoming little more than fossils as the years go by.
In such a competitive environment, no detail is too small, and no problem can be safely put off until tomorrow. But businesses also need to know what to aim for, and the Digital 2020 Report from Hootsuite and We Are Social has answers. Here are their prescriptions, starting with Hootsuite – taken straight from the horse's mouth: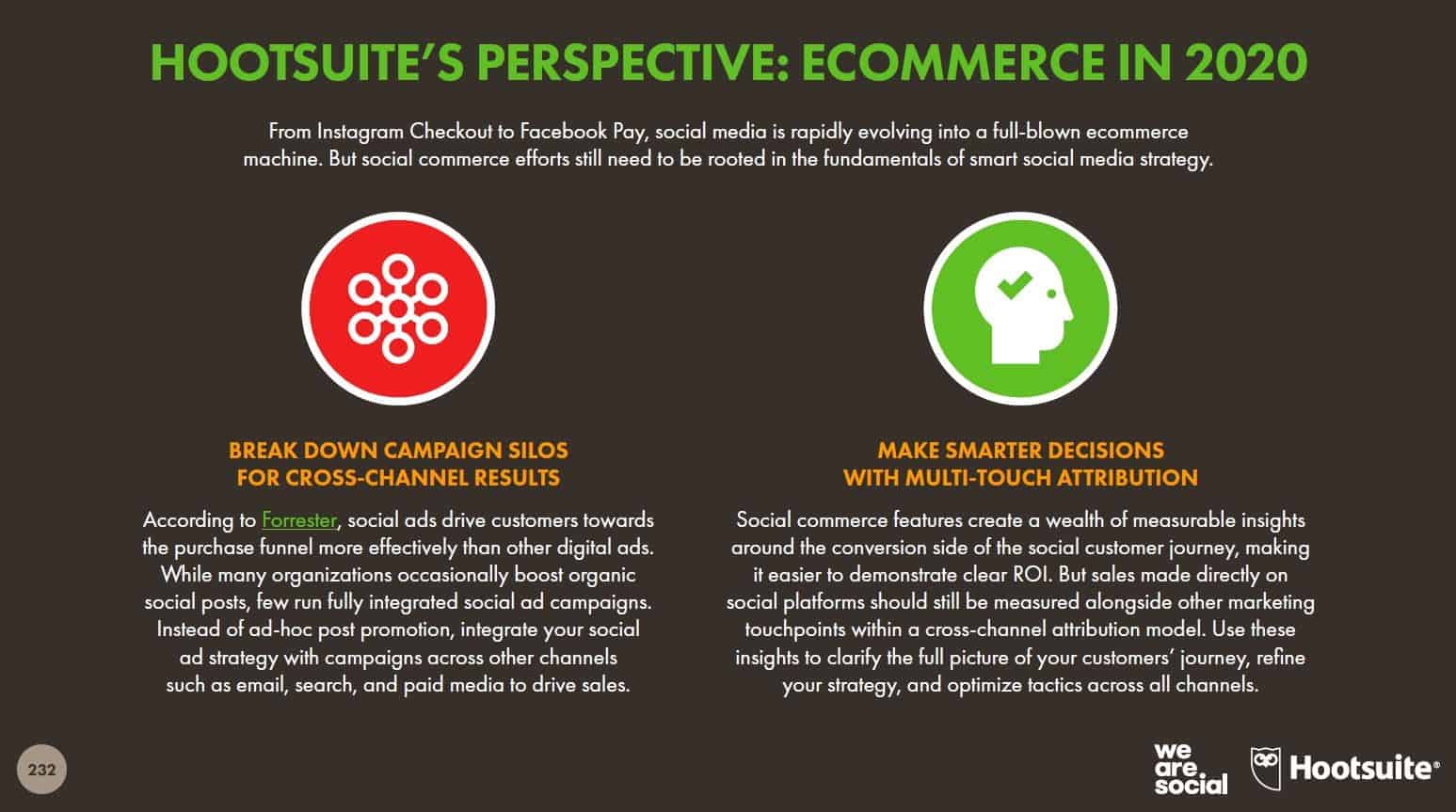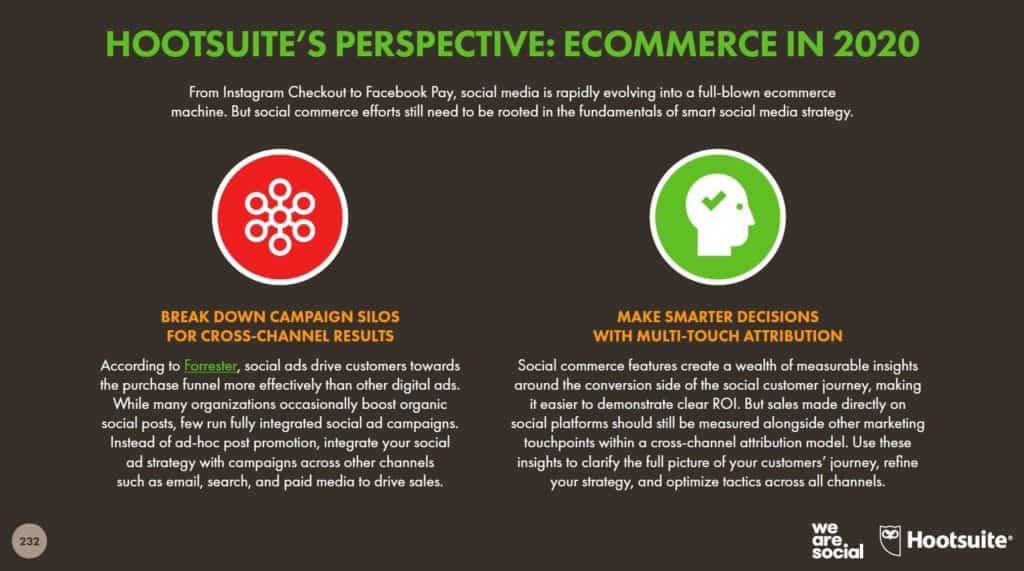 We will go into more depth on these themes in the next section, but it is worth highlighting the theme of synergy that runs through the above suggestions. Hootsuite recommends a focus on integrating social media ads with wider campaigns on all other channels, and expanding your metrics to include social platforms. Each of these initiatives can help you better synthesize your messaging, and improve the overall customer journey.
We Are Social's recommendations are as follows: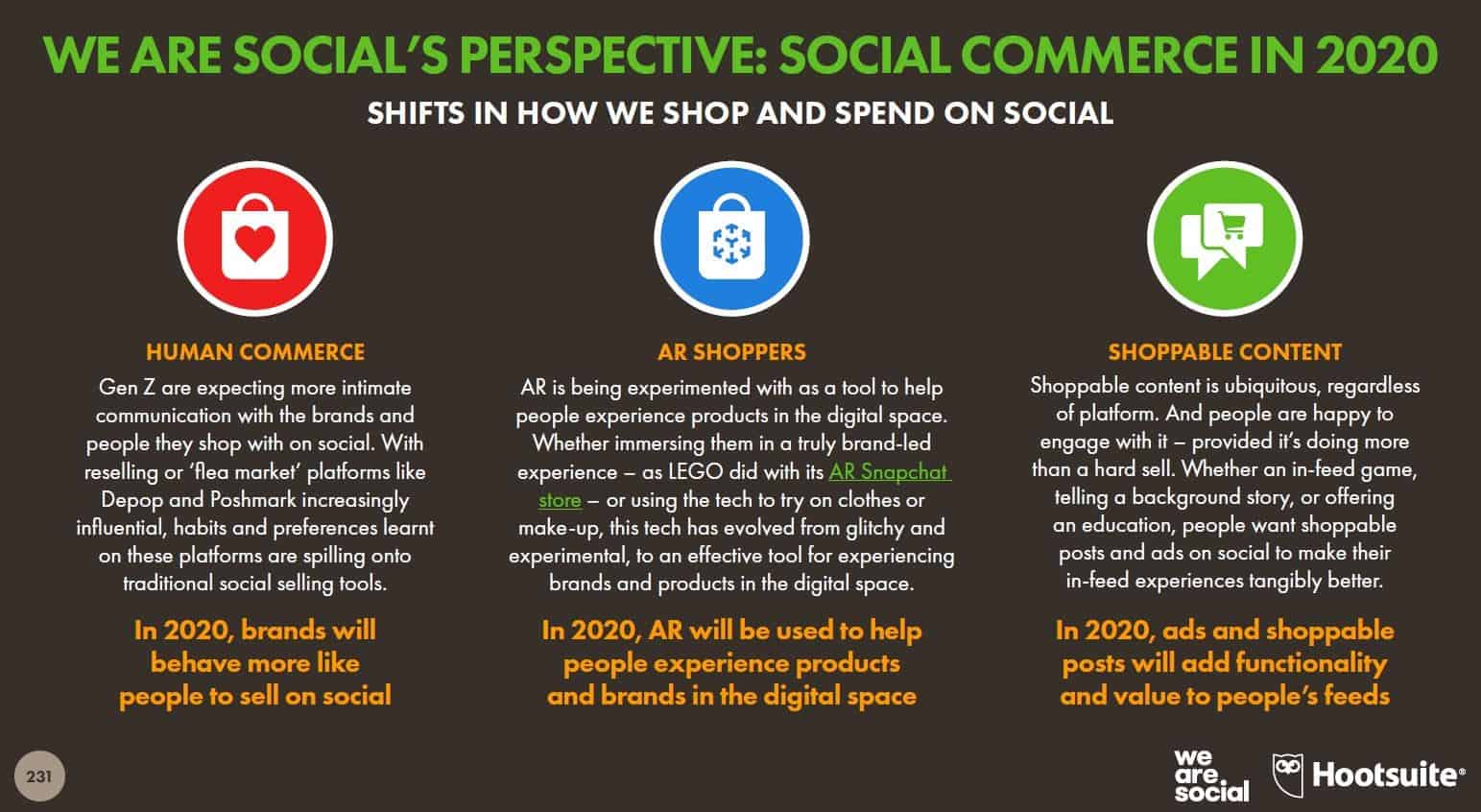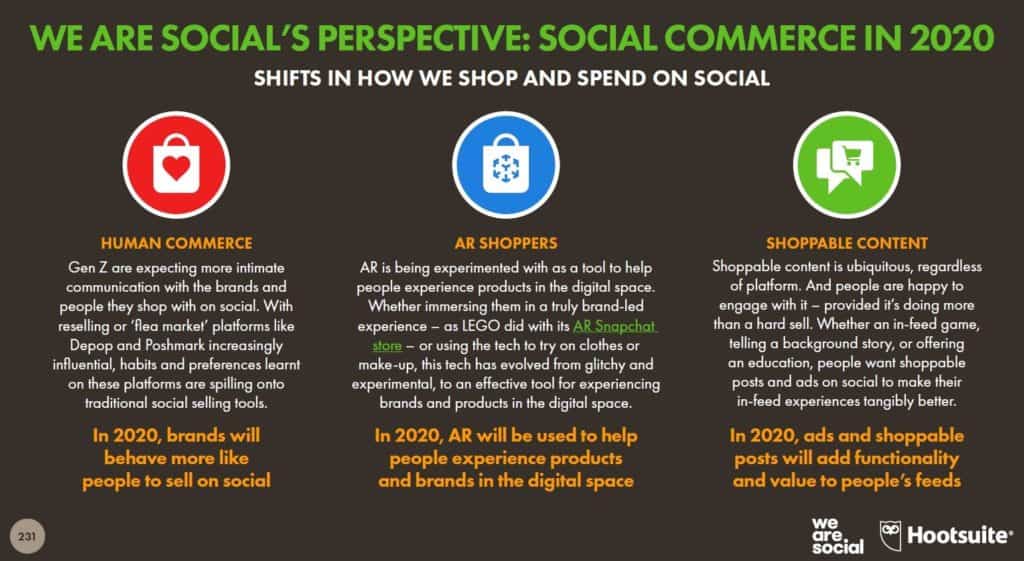 This set of guidelines focuses on how to frame your products and deliver the right message about them. Hootsuite emphasizes natural and comfortable human interaction as an essential approach in the social media age, as opposed to standard company-speak and hard selling.
They also point out that Augmented Reality is gaining momentum in the cultural space, and is an excellent tool to help shoppers visualize their next purchase. (Multiple new Apple devices are set for release this year, offering improved AR capability as a major selling point.) Ads that facilitate quick and easy shopping are likewise trending upward, as they go a long way toward satisfying the consumer impulse toward convenience.
With these guidelines and recommendations, Hootsuite and We Are Social have painted a clear target for brands that are trying to jump-start their e-commerce business. Of course, the practical matter of how to reach these goals is a separate issue entirely, and is best handled by a digital agency in Thailand.
Taking brand evolution one step at a time
The world of e-commerce provides several online sales channels for your business. Each of them has a different character.
E-commerce websites give you an online store of your own, keeping all customer data in your hands. Access to their preferences and purchase history means that you will know your customers best – as long as you collect, process, and analyze the data effectively.
This data lets you automatically tailor your website for each individual user. If a visitor has searched online for a particular product, whether on your site or not, you'll know. Your website's algorithm can then insert similar products into its 'Recommendations' section for purchase.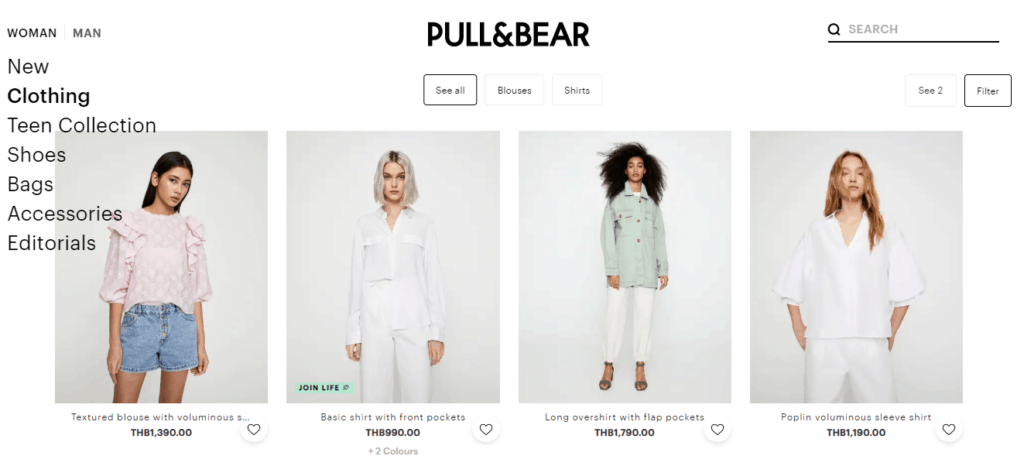 Social commerce is another potent sales channel for many brands, leveraging the enormous popularity of sites like Facebook and Instagram for the purpose of direct customer sales. In essence, these sites act as ready-made, third-party versions of the e-commerce sites described above; they collect data, tailor recommendations, and allow for direct transactions. The social commerce option lets you save the trouble of building your own site for the purpose, and sending traffic there – but the tradeoff is that part of the data (and profits) go to the platform instead of to you.
The huge user base of social media makes this sales option hard to pass up. But here, as elsewhere, if something is worth doing, it is worth doing well. Marketers should always remember than in addition to serving as a sales platform, sites like Facebook also represent a highly vocal community where anybody can comment on your brand and share the experiences they've had with your products and customer service. The 'social' part of social commerce must always be taken seriously, as reputations are formed quickly through word of mouth.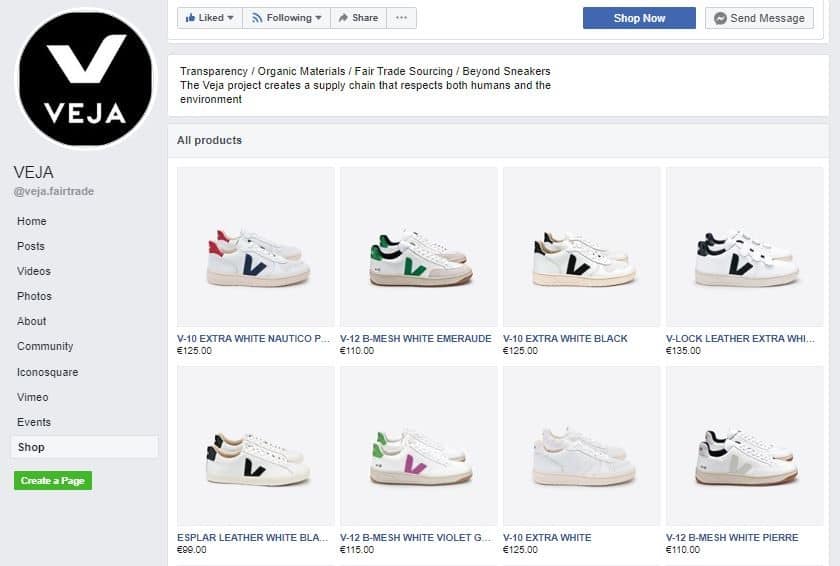 Going one step further, e-marketplace channels like Amazon, Alibaba and Lazada specialize in providing an all-in-one shopping experience. The most advanced online stores, digital transaction services and logistics come together here, while also providing tools that make store management easier.
The downside, of course, is that this option leaves very little in your hands. From unpredictable reviews, to limited options regarding product presentation, to seller's fees, to a relative lack of data about who your customers are, the e-marketplace option can help you conclude transactions with many customers, but will do little for the kind of brand-building that inspires real connection and loyalty.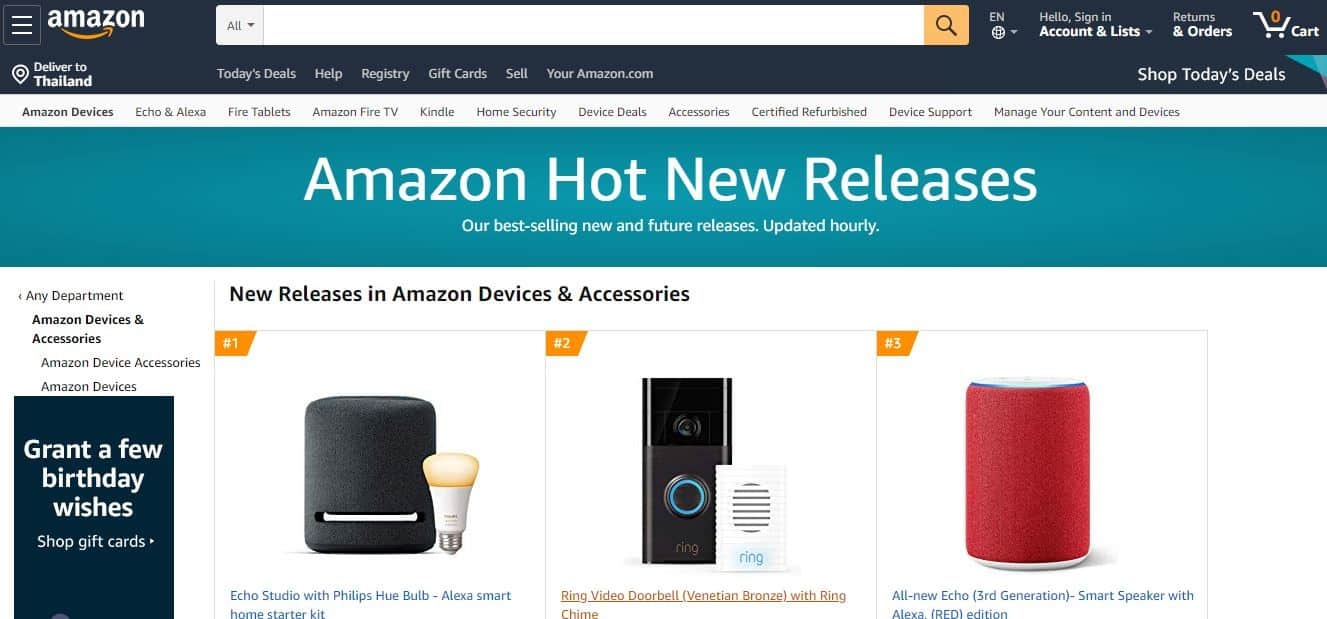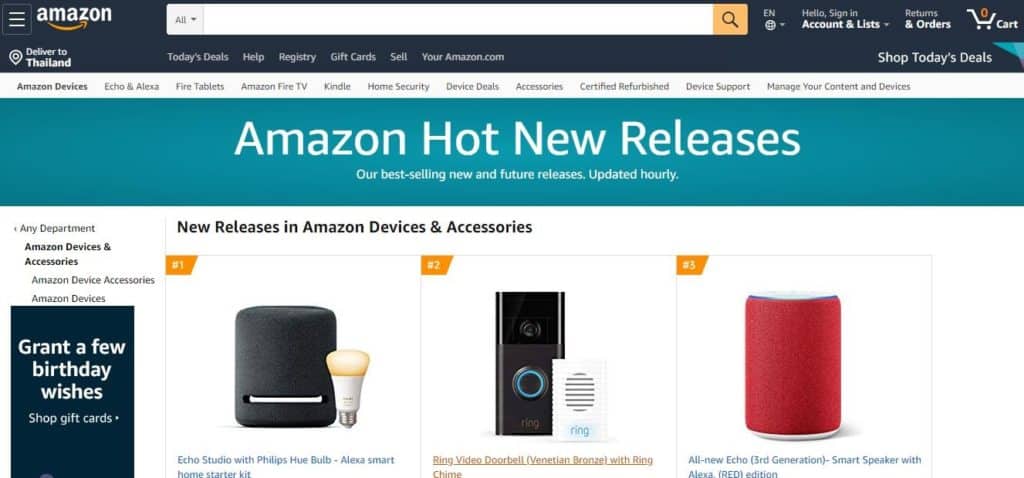 The primary sales channel for your brand will depend on the type of products or services you offer, your brand reputation, market niche, social media following, and how well your website can function as a home for profitable e-commerce.
As a rule of thumb, however, doing as much as possible in-house tends to be the best long-term solution. The e-commerce website approach provides opportunities for brand-building, emotion-based marketing, data collection, and direct interaction with your customers – in short, the strongest foundation for future growth. But this strategy depends on your ability to make a name for yourself, which in turn requires other steps to be taken.
In a digital universe filled with content, yours will need to stand out. Everything that follows will depend on this step: The best-designed website will fail if it has no visitors, and the finest product will sit on the shelf if nobody knows about it.
Search engines like Google, both in Thailand and elsewhere, rank as the most common source for new brand discovery. The most effective ways of boosting your search engine rankings are all free: Produce original content continuously, adapt it to your ideal keyword phrases, and make the most of meta tags and other technical tools at your disposal.
Apart from improving SEO, good content also adds significant value to your brand. After all, SEO can only help people find you – but content is what keeps them on your page.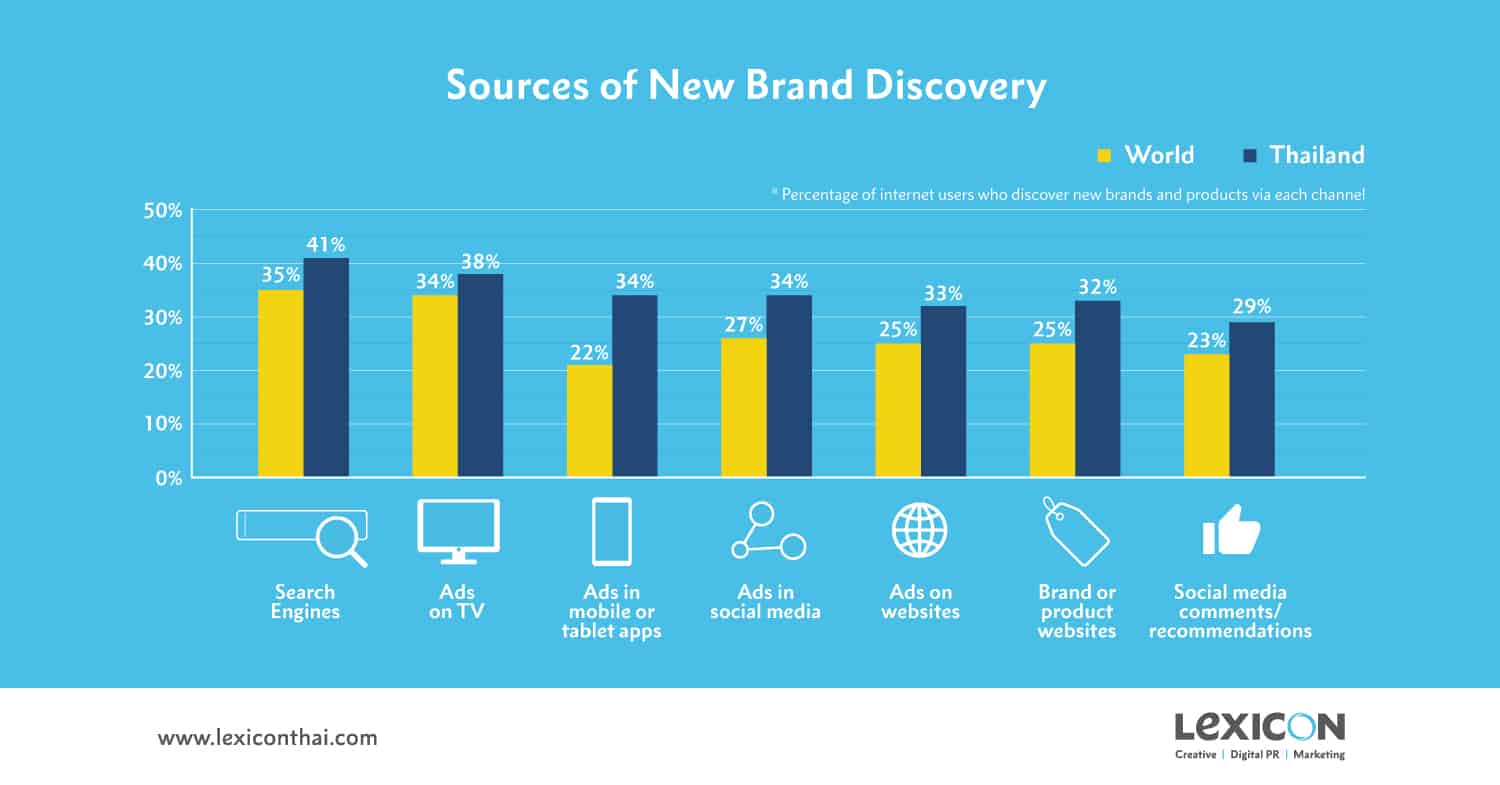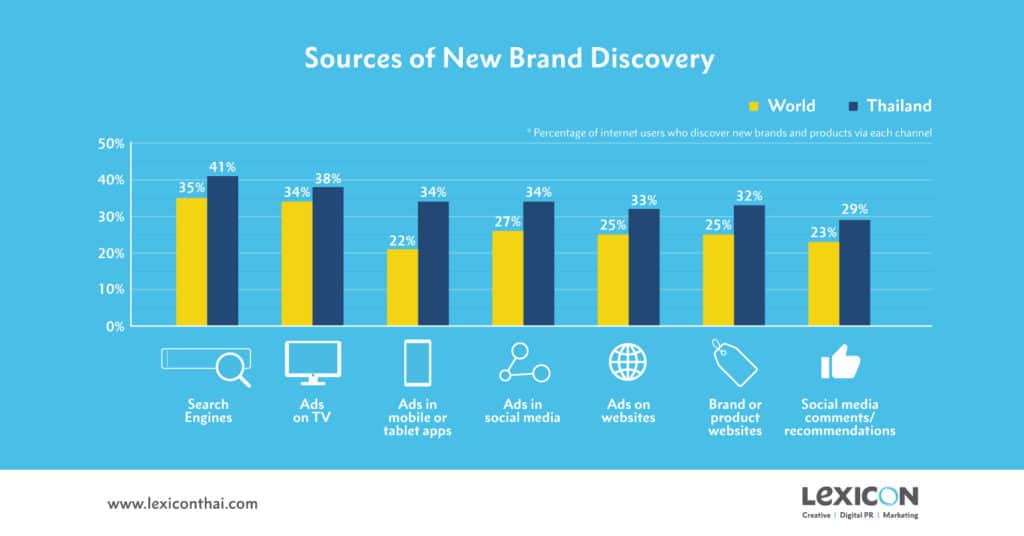 Paid advertising can also bring visitors to your corner of the virtual world. Search engines, social media platforms, along with other websites and applications can all be used to promote your brand. Both online and offline ads remain effective for this purpose, and skilled social media posting is likewise an excellent way to raise awareness of who you are as a company.
Even before COVID-19 kept us all indoors, brick-and-mortar shops had a hard time competing with online stores that let us lie around in our pajamas and buy anything we wanted with just a few clicks. When it works the way it ought to, online retail offers an extraordinary leap in convenience for shoppers. But many businesses have a hard time designing a checkout process that performs as well as people have now come to expect, and the resulting technical issues can turn into a real annoyance for the very customers you are trying hardest to keep.
Website delays, malfunctions, and poor interface design are a bigger problem than many businesses realize. In fact, almost 70% of all online shoppers abandon their online shopping carts without completing the checkout process. The reasons they give are highly instructive, and the majority of them amount to unforced errors: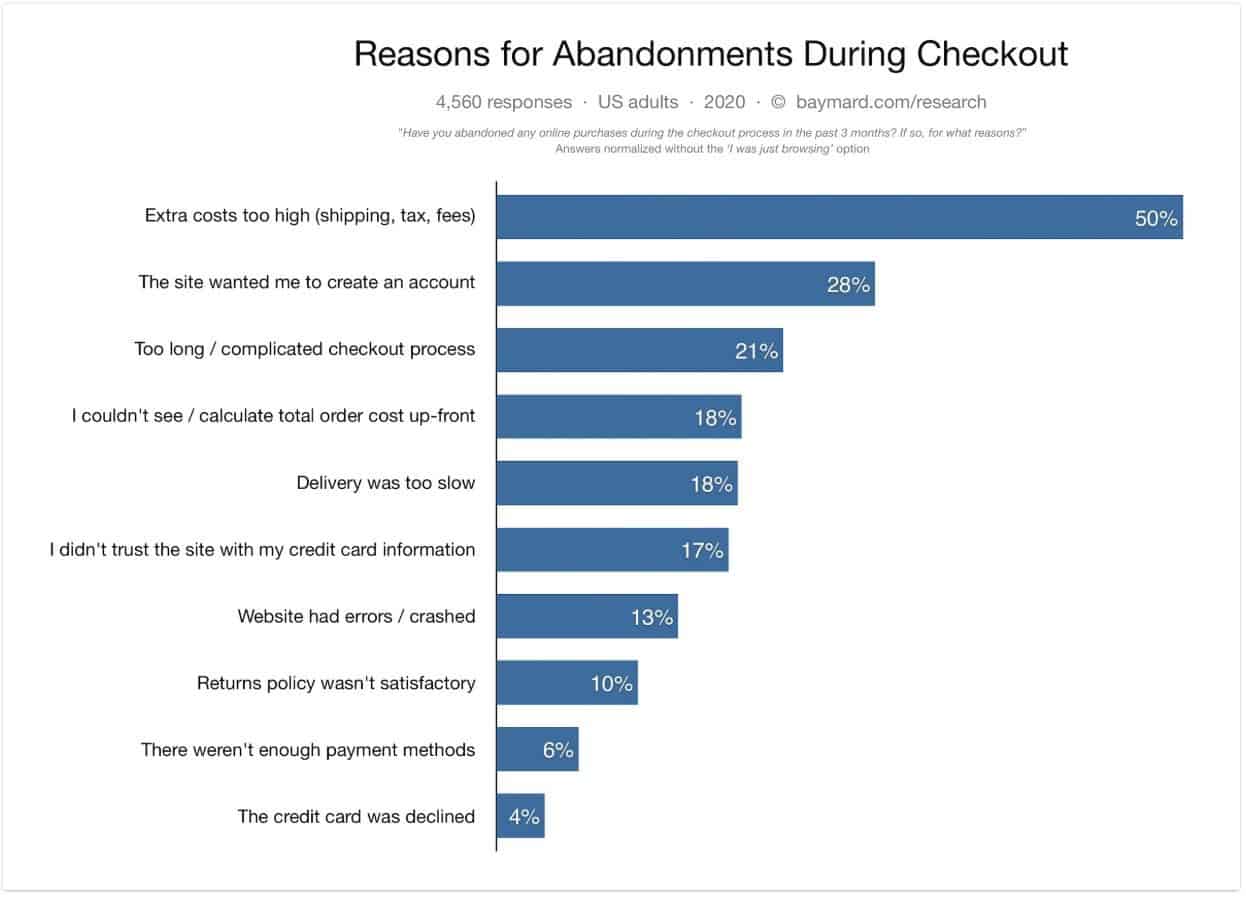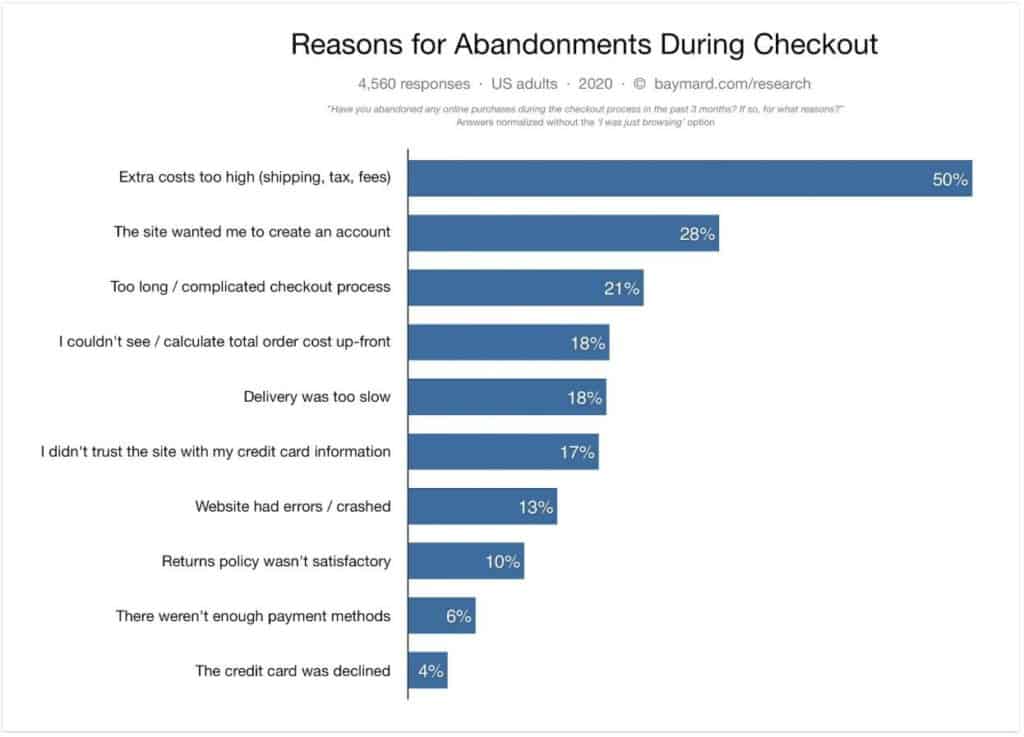 Play to your strengths as an e-tailer, making the user experience smooth, pleasant, and as easy as possible. Success will increase sales automatically even without any additional advertising, because you will lower your customers' shopping cart abandonment rate.
A variety of payment options, a short and simple checkout process, and (as we will soon see) a human rather than transactional tone of voice will preserve momentum at every step, letting you close more sales and leave a far better taste in the mouths of your customers.
Embrace natural selection
The main difference between shopping in person and shopping online is the experience of real human interaction. As we've argued elsewhere, the art of listening and conversation can make all the difference between an empty consumer experience and a satisfying one. The more time people spend on their devices, the more they crave human connection. When faced with the choice of a dispassionate brand and a compassionate one, selection of the latter becomes the natural choice.
Trust comes from meaningful relationships, which in turn are founded on common experience and shared values. The following Instagram post from Lush Cosmetics makes for a nice example; the company shared this photo from a customer to promote their Boxing Day sale: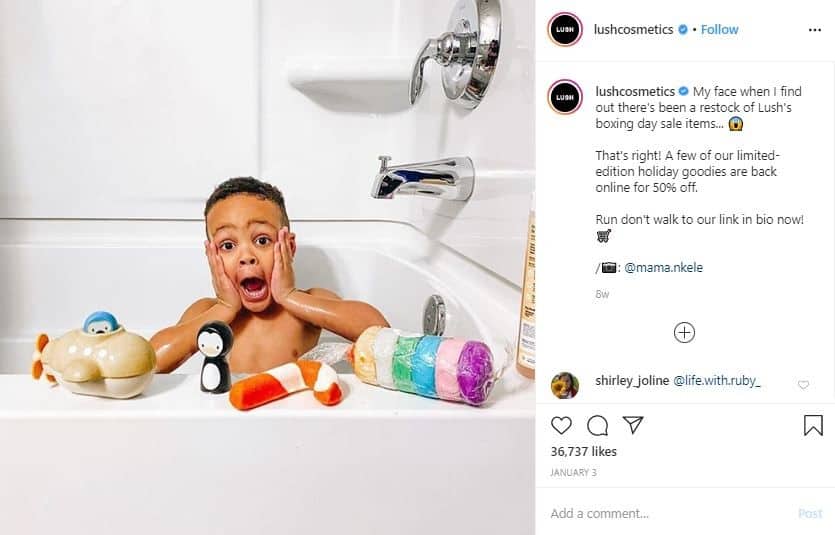 Another brand might have put the discount details front and center, or highlighted some of the features of their products. But Lush had the right instinct in this case, letting the child's face do all the talking.
Sharing user-generated content like this can generate smiles, show that you value your customers, and inspire others to post similar photos in hopes of being featured on your feed. Also, by ensuring that all of the content and language in this post stays playful and lighthearted, Lush was able to generate positive emotions and a sense of intimacy around their brand. 
Learning to swim in a crowded sea
From its humble beginnings just over a generation ago, e-commerce has since grown into a very competitive (and extremely lucrative) industry. In a sea of possibilities, you'll need to decide whether to partner up with big fish like Amazon and Facebook – or try to catch your customers directly.
Particularly for the latter approach, the product itself is only the beginning; brand identity and customer experience are just as important if you want your business to thrive in this new digital world. E-shoppers have certainly set a high bar for expectations, given their smooth experience with online marketplaces, as well as other easy-to-use apps like Grab and Airbnb.
Not everybody survives this competition. But the path forward is there for all to see, and the rewards for following it are impressive indeed. You simply need to keep up with the current, stay alert to changes in your environment, and adapt quickly to each new situation. As long as you know the rules, the digital world is there for the taking.