In this five part series, Lexicon will walk you through the key data from this year's Digital 2019 Report, particularly the sections focusing on Thailand. The online space in Thailand continues to go from strength to strength with incredible levels of online penetration and more active smartphones than people across the country. As a Digital PR agency in Thailand, we keep an close eye on this social trends in order to help our clients to build effective campaigns.
————
As audiences embrace new media consumption habits in the digital age, businesses are trying to catch up by moving to online platforms. An effective digital marketing campaign typically centers around Facebook as the primary point of contact with consumers. Despite its PR struggles in recent years, Facebook continues to reign supreme as the king of the social media world, with the largest number of active users (2.3 billion profiles) of any social network.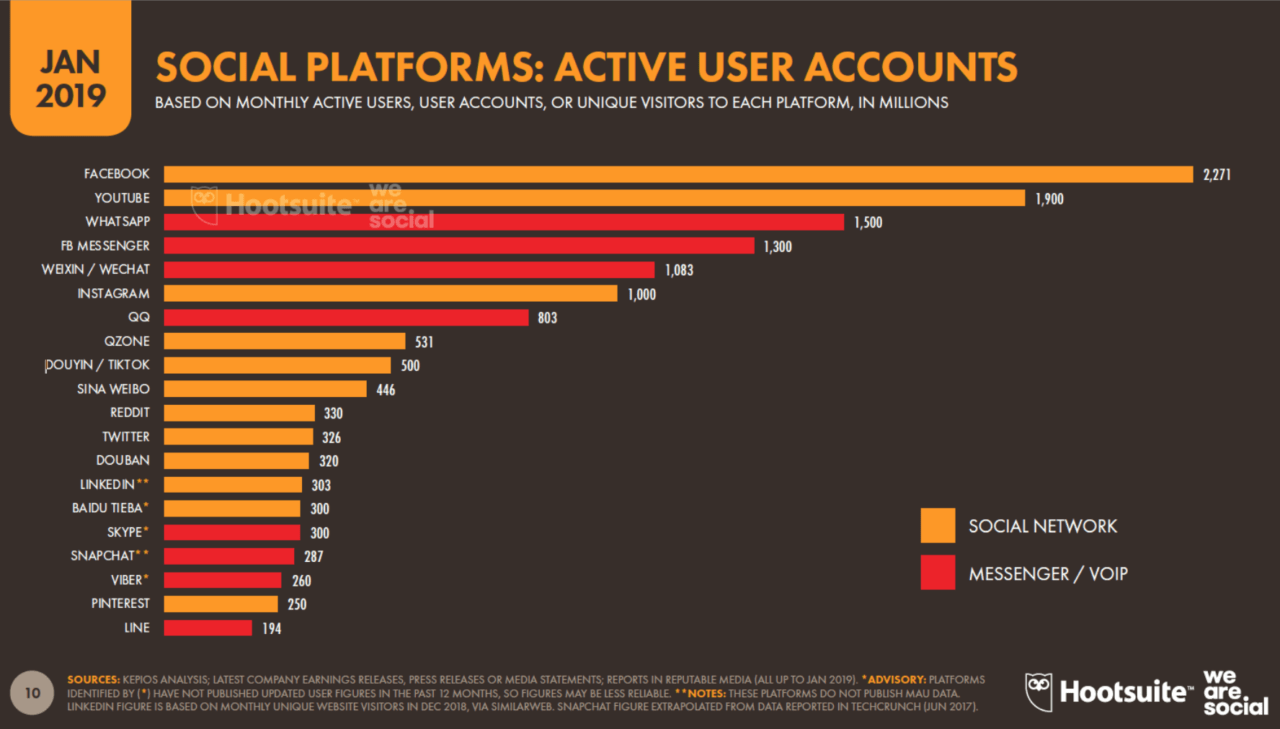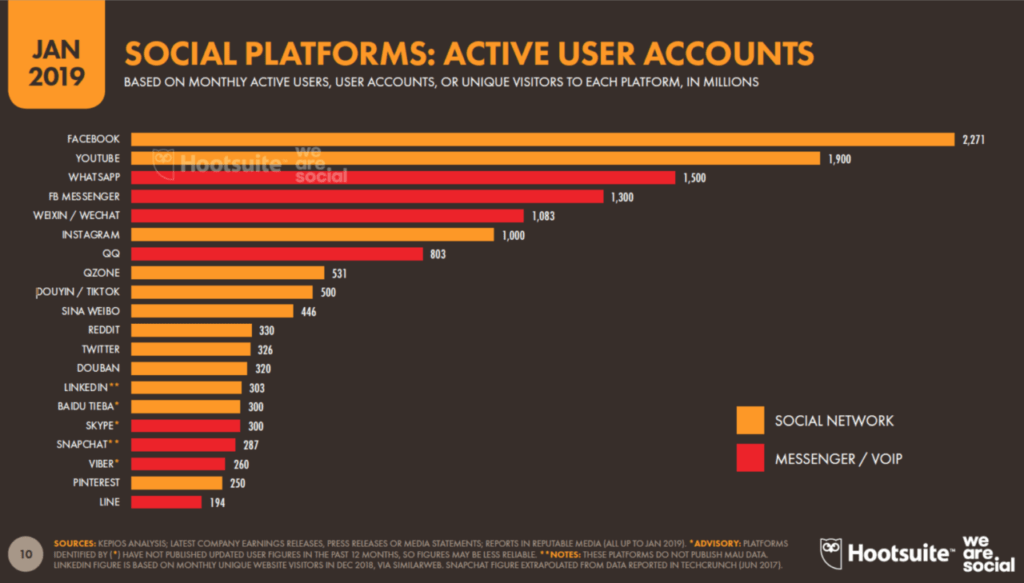 Although audiences from all major demographics use Facebook, marketers must nevertheless make great efforts to ensure that their content stands out from the rest of the regular and sponsored material on the site. People's attention spans have dropped precipitously in the modern age, and marketers therefore need to continue coming up with updated strategies to connect with their audiences and inspire them to take action. For its part, Facebook makes this effort possible through an innovative, marketer-friendly toolset that includes the ability to sift through mountains of data and precisely target the intended consumer group for each piece of content.
One of the most common ways marketers use to select the right demographic is through age ranges. Globally, the age range with the greatest number of combined users for Facebook, Instagram, and the Messenger app is between 25-34 years old, with nearly one-third of all users falling between these ages. 13% of all users are females between 25-34 years old, and 19% are males of the same age group.
In spite of Facebook's dominance as a social network, its Messenger app finds itself in second place worldwide behind Whatsapp. However, there is plenty of variance from country to country, and things look somewhat different in Thailand.  
Facebook Usage in Thailand
Within a total population of 70 million people in Thailand, 50 million are Facebook users. Of these, the number of males and females is virtually equal. As elsewhere, the most popular age range among users is between 25 and 34 years old.
According to a report published by Similarweb, Facebook is currently ranked first in terms of monthly traffic inside Thailand. Perhaps unsurprisingly, Facebook is also listed as the most widely used social media platform in the country. Nonetheless, for online chatting, LINE is the country's preferred application. Thai people use LINE mainly to communicate with individuals or groups of people who have similar interests.
Moreover, Facebook may have reached its audience limit within the country. Although 50 million users in a country of 70 million is nothing to be ashamed of, the number of Facebook users in Thailand within reach of advertisers decreased by 2 percent over the previous year.
Behavior of Facebook Users in Thailand
With 50 million users available in Thailand, marketers need to carefully select the ideal target audience – a process that requires excellent market research. The following facts provide an interesting bird's eye summary of how these audiences typically interact with content on the Facebook platform:
Thai users tend not to click 'like' for entire Facebook pages, limiting themselves to an average of just 1 'like' in each user's entire profile history.
While page likes are valuable, these numbers suggest that marketers could more wisely spend their efforts trying to encourage users to 'like' or otherwise interact with individual social media posts rather than entire pages. These other actions may include shares, comments, or click-throughs, any of which can lead to greater overall engagement. Statistics show that the average paid reach of any given post is 30 percent of the total reach.
User data shows that the average organic reach of any given Facebook post is a mere 7.9% of the overall number of page likes. Naturally, this number increases when paying for sponsorship of these posts. On average, each user in Thailand interacts with 12 sponsored posts each month, making sponsorship a highly worthwhile effort.
Data also allows us to quantify other forms of interaction with material on Facebook (including non-sponsored posts).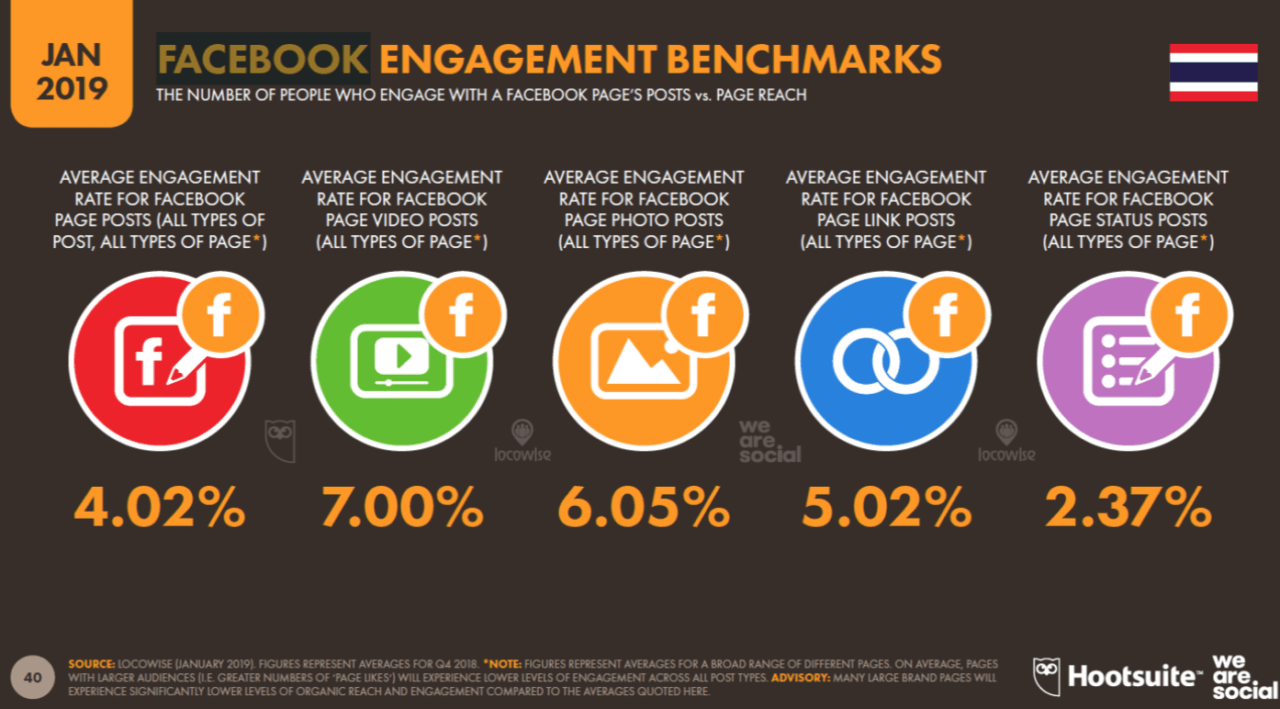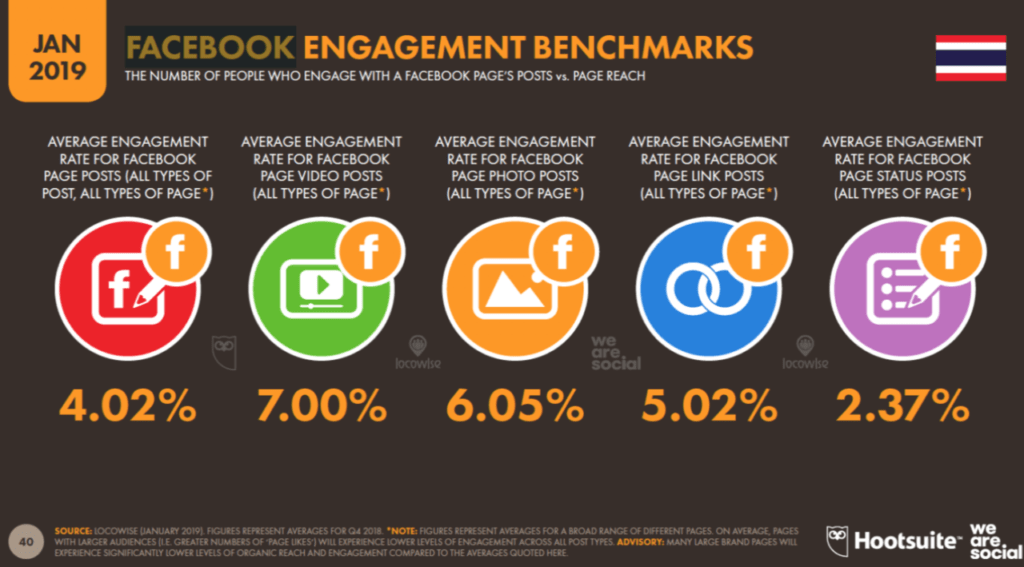 The average user clicks 'like' 7 times, writes 6 comments, and shares 2 posts each month. The report also states that female users interact with content on Facebook more than male users. This comparison includes all kinds of Facebook interaction.
Video content earns the largest audience engagement rate on Facebook, followed by photo-based posts. Status updates receive the lowest engagement rates.
Facebook Messenger is the most downloaded application for mobile phones in Thailand, with Facebook itself in third place.
While the above research gives an effective overview of user activity on Facebook, businesses will need to conduct their own research to determine which demographics are most likely to respond positively to their products and services – and how best to reach those users through sponsored content.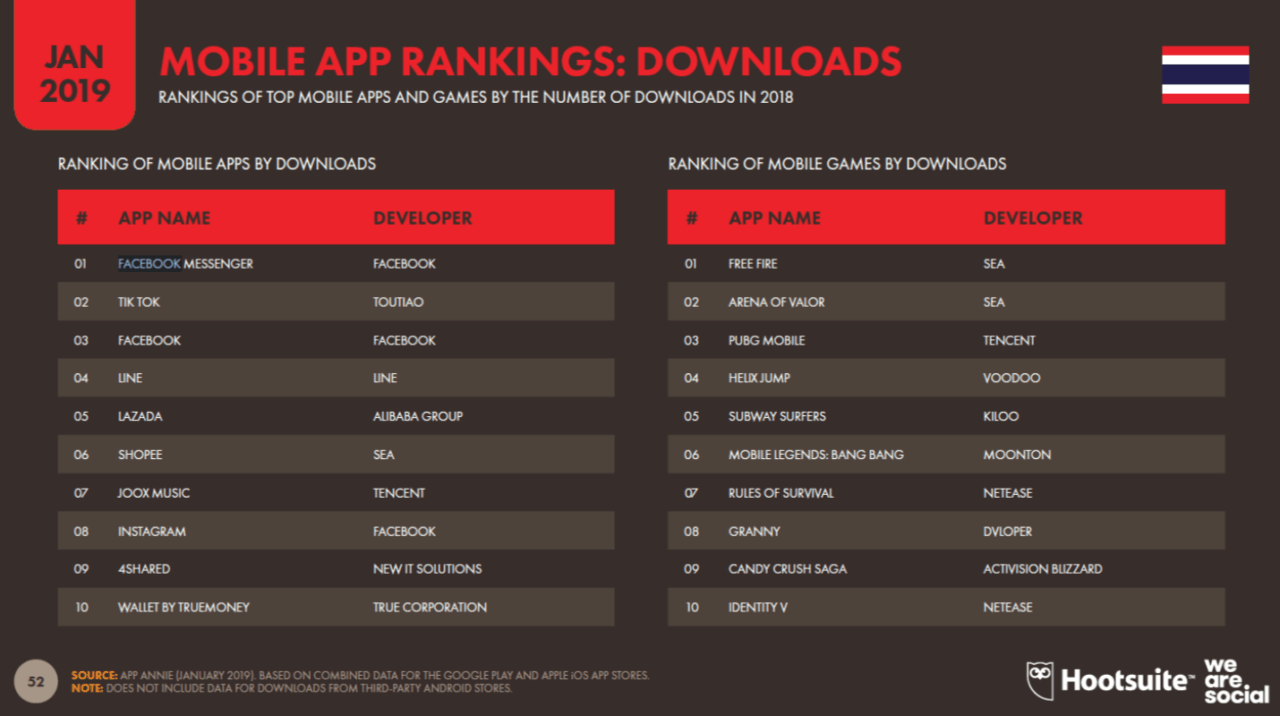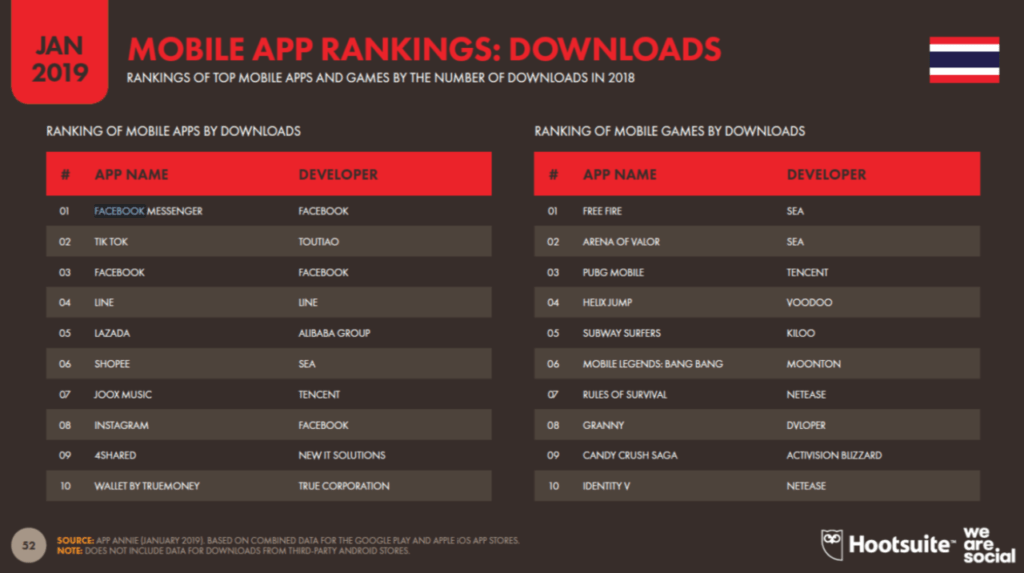 Facebook offers audience targeting at a level of precision that far exceeds the scope of research referenced by this article. Maximizing ROI on your marketing campaigns depends on accurate identification of the ideal target audience, followed by publication of content that consistently strikes a chord within that consumer group. If your business needs help at any stage of this process, contact Lexicon today.
Lexicon is a full-service digital marketing agency in Bangkok, Thailand. We specialize in corporate storytelling and produce all of our content in-house, including branding,  copywriting, video production and graphic design. We bring all of our services together and use Digital PR and social media marketing storytelling to connect our clients with the ideal target audience.
Related Articles