Digital marketing is all about meeting your customers where they are. And in Thailand, most of them are likely on LINE.
Just the 20th most popular social app in the world, LINE nevertheless enjoys tremendous popularity in Thailand. The service originated in Japan, where its makers designed a distinctive chat environment based heavily around stickers. These stickers proved to be wildly popular in Thailand, where users found them to be a fantastic way to express their emotions. Before long, extensive collections of LINE stickers became something of a status symbol in Thai society.
LINE's two main messaging platform competitors are, perhaps unsurprisingly, Facebook and WhatsApp. What is surprising is how effectively LINE is holding onto its #1 position in Thailand, despite such well-funded rivals.
Users
From its very beginning, LINE has been an improbable success story. It was initially developed in 2011, as a highly specialized communications app that was intended to be used in disaster situations when regular telephone service was unavailable.
However, its convenience and simplicity as a general messaging app were soon recognized by an appreciative public, and by early 2013 the app had been downloaded 100 million times worldwide – a number that would continue to grow at an impressive rate.
The growing popularity of LINE in Thailand over subsequent years has been remarkable to watch. There were already 22 million LINE users in 2014, which has since doubled to 44 million – a significant feat in a country whose entire population is less than 70 million. By the start of this year, LINE was the #1 most popular mobile app of any kind in Thailand, in terms of active users as well as overall revenue.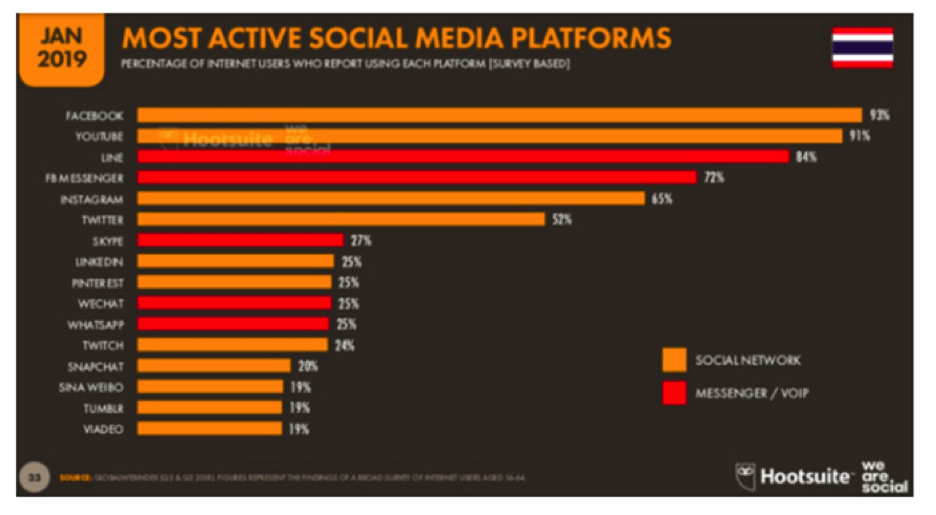 Hootsuite Analytics found that by 2019, fully 84% of Thai internet users have active LINE accounts, making it the 3rd most popular social media platform of any kind. This puts LINE directly behind Facebook (93%), and YouTube (91%). Yet when compared solely to other messaging apps, LINE is the clear champion – well ahead of Facebook Messenger (72%), and light-years beyond the third-place candidate, Skype, which is used by 27% of all Thai netizens.
The gender ratio for LINE users is 53% female and 47% male.
Usage
Though LINE began as a messenger platform, it has since found great success by branching out with its digital commerce service. Recent statistics show LINE's commercial transaction volume growing by more than 70% y-o-y for each of its industries – a reflection of the massive popularity of such services, as well as their value in the world of digital marketing.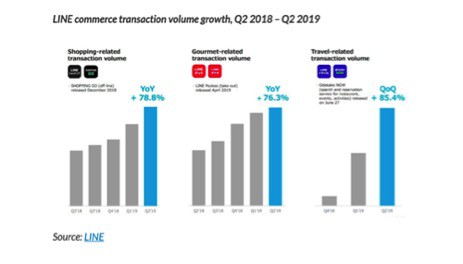 LINE's 78.8% growth in shopping transaction volume year-on-year is largely a result of LINE SHOPPING GO, released in December 2018 to allow for offline shopping. Food transaction volume showed a similar increase of 76.3% year-on-year, thanks in large part to the April 2019 release of LINE Pockeo. Travel-related transaction volume has increased by an even more impressive 85.4% quarter-on-quarter, following the release of Odekake NOW on June 27.
LINE Pay recently showed 10.1% year-on-year growth worldwide, while LINE Pay Global Monthly increased its base of active users by 181.1% year-on-year.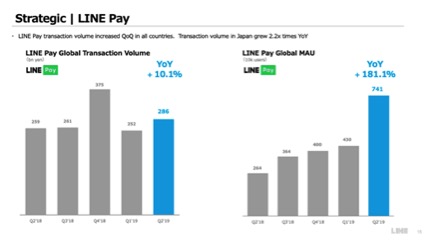 The above figures reflect a keen commercial sensibility which is also put to excellent use in other areas. Beyond simply connecting users with vendors, the platform is also committed to improving its analytics, while continuing to maintain and develop its core features. LINE's "Smart Channel" feature allows users to receive personalized information based on their location and history. This feature has already been deeply integrated into the LINE experience, with billions of Smart Channel impressions made each month – making this customizable tool a valuable resource for increasing brand awareness.
As these commercial advances improve users' overall shopping experience, the core features of LINE are as popular as ever. In 2018, Thai people sent more than 10 billion stickers – an average of around 31 million stickers a day.
Such a mature business plan – retaining essential features while also using points of leverage to expand into suitable new areas – has led to success for LINE as well as the marketers who use it. Q2 2019 brought the company a 24.8% y-o-y increase in display ads, an 11.6% increase in account ads, and a 12.9% increase in other ads.
LINE's own ambitions don't end with advertising, however. The company unveiled its "Life on LINE" strategy at a conference in 2019. Its aim is to provide a more comprehensive infrastructure for the lives of its users. The focus is on three areas: Finance, offLINE, and AI.
The finance initiatives include an investment platform, LINE Pay, and onLINE banking. OffLINE functions include food delivery and takeaway services. Artificial intelligence from LINE is expected in the near future, featuring a virtual assistant which is rumored to be called Clova.
Less than a decade old, LINE's initial burst of growth occurred without anyone even trying to promote it as a mainstream tool for communication. Its early years as a business were characterized by moderate growth in most countries, and a wildly popular reception in a few others – notably Japan and Thailand.
The company is just beginning to flex its marketing muscles, with its shopping services and other business-friendly features, such as LINE BCRM (Business Connect for Customer Relationship Management). The future of LINE looks very bright indeed, particularly as Thai consumers have embraced the service so enthusiastically.
For its unparalleled reach within Thailand, its excellent tools for marketers, and its proven effectiveness as a marketing and sales platform, businesses around Thailand have every reason to make LINE a central part of their advertising campaigns moving forward.
Lexicon offers valuable BCRM services for our clients, allowing vastly superior marketing capabilities within the LINE app. Click here for details.