This is the 10th installment in our running series of articles based on the Digital 2020 Report from Hootsuite and We are Social. This comprehensive report is an incredible resource for facts and figures – but at 247 pages, it isn't exactly easy to digest. As a leading digital marketing agency in Bangkok, we've taken it upon ourselves to bring you the insights behind the information. The previous articles in our series are as follows:
Part 1 – Exploring Our Digital Planet
Part 2 – Good News for Marketers: The Digital World is Expanding
Part 3 – Where Will People See Your Content in 2020?
Part 4 – Sleepless in Siam
Part 5 – How to Survive in an E-Commerce Red Ocean
Part 6 – A Region Primed to Explode (online)
Part 7 – Winning Over the Digital Crowd
Part 8 – Reality Anxiety and the Paradox of Trust
Part 9 – Advertising in Video Games: A Great Way to Level-Up Your Digital Marketing
In 2020, brands will look beyond likes, followers and reach to generate genuine engagement.
– We are Social
The above message from the Digital 2020 Report should serve as both a prediction and a recommendation. Throughout the 2010s, social media platforms largely played host to popularity contests. For many of us, the superficial novelty of social media has worn off. We're looking for something deeper now.
We've written before about how being liked is much more important than getting likes. Of course, attracting attention will always be crucial considering the vast amounts of content produced each day. But once you have a potential customer's attention, the best way to hold it is by offering something of actual value. If you can tell an interesting story and better yet, build a community that actually helps people while you're doing it, your brand will earn the engagement it seeks – and customers will reward you with their loyalty.
Under the influence
Influencer marketing remains one of the most effective ways to reach a target audience. The right influencer can lend clout and credibility to your brand while greatly expanding your reach. Companies have proven themselves willing to spend big on influencers, a trend that shows no signs of slowing down. According to some estimates, brands will spend up to $15 billion on influencer marketing in 2022 – up from the $8 billion they spent in 2019.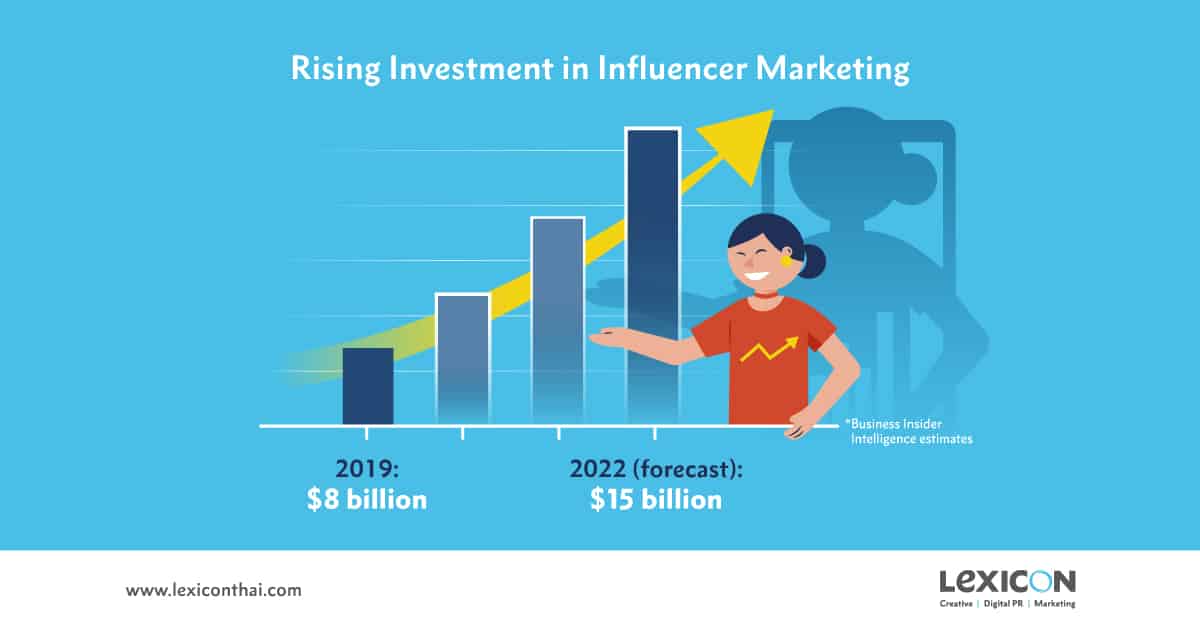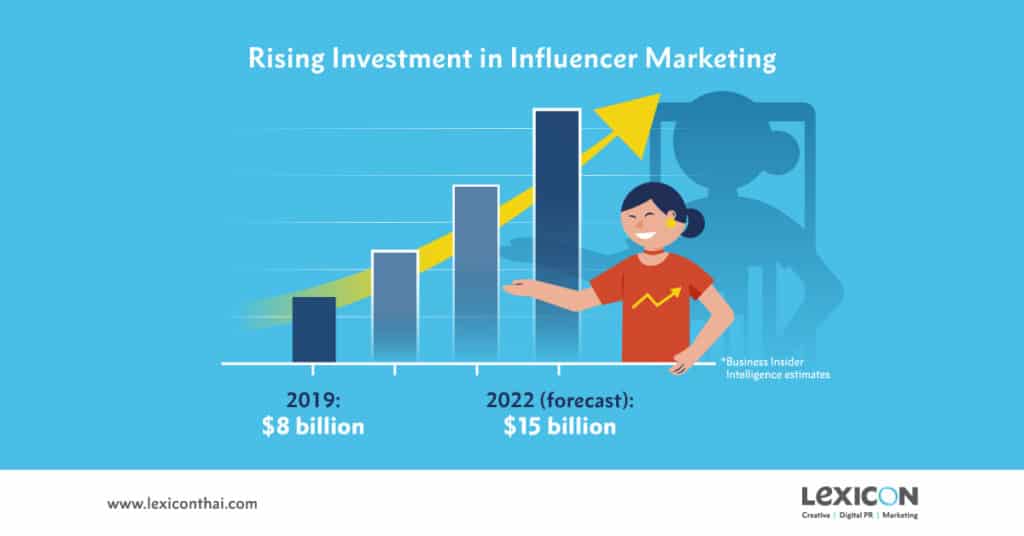 After so many successes, it's easy to understand why businesses are making this level of investment in the influencer format. After all, several influencer-brand pairings have proven to be both popular and inspirational.
Take for example Nike's award-winning ad campaign: "Just do it – Dream Crazy", which expanded on their previous (and phenomenally successful) collaboration with Michael Jordan. Nike's tagline 'Just do it' feels just as motivating as it did 30 years ago.
As before, these ads remain focused on lifestyle and competitive spirit, rather than the granular design features of each piece of Nike footwear. They feature Colin Kaepernick, Serena Williams, LeBron James, and one-handed Seattle Seahawks linebacker Shaquem Griffin as role models for ambition and principle – effectively using influencers to tell a story about real values and perseverance.
The Nike campaign is about much more than a random celebrity holding up a shoe. It is instead about leadership and identity, mixed with inspiration and encouragement. It tells you that your 'crazy' dream is worth pursuing, and that you are the star of a story that will someday become legendary. Nike's ads didn't sell shoes, they sold dreams – and delivered this message through a finely sculpted narrative. The campaign was a big hit; Nike stock rose by 5% in the following weeks, and later bagged the Outstanding Commercial award at the Creative Arts Emmys 2019.
Commercial and critical success, favorable media coverage, solid brand building – what's not to like? As marketers, we applaud Nike's vision, courage, and initiative with this campaign. Yet we also agree with the following observation, expressed by We Are Social in the Digital 2020 Report: "There's a growing backlash against influencer culture and the metrics that drive it."
At first glance, these two positions may seem in opposition to each other. But teasing them apart can lead to true insight within the field of marketing.
Empty calories
To begin with, it's important to understand why Nike's campaign works so well. The influencers are an important part of the equation, to be sure – just as A-list actors and actresses are necessary to play the leads in a blockbuster movie. Continuing the analogy, however, we soon realize that those Hollywood celebrities don't just stand around their movie sets, looking at the camera and smiling. They need to be given clever lines to say, and engaging stories to be a part of.
Hollywood itself occasionally forgets this lesson; most 'worst big-budget movies of all-time' lists consistently feature movies that had tons of star power, but zero storytelling originality. Each time this happens, it carries significant reputational costs for both the studios and the stars themselves. People like eating cakes because they're sweet, but if you start making them with all sugar and no flour, you usually end up with a mess.*
* Okay, okay, it's possible – but you really need to know what you're doing.
The aforementioned backlash against influencer marketing is occurring because brands have learned the wrong lessons from past influencer successes. They saw the lucrative collaboration between Nike and Michael Jordan, for example, then failed to notice the storytelling / values aspect of it, and consequentially decided that success was all about having a big name attached to their brand.
As we will see, this 'all surface, no substance' approach often leads to regrettable results.
Misadventures in celebrity endorsement
The 2010s saw some serious influencer marketing blunders. Perhaps the most well-known misstep in recent memory was the infamous Kendall Jenner Pepsi commercial, but we've been over that one before. Fortunately, when it comes to illustrating the potential pitfalls of influencer marketing, the Kardashian-Jenner family is a gift that keeps on giving.
Kendall's older half-sister Kim Kardashian has been no stranger to controversy, and her social media activities have often been the source of it. When Kardashian was pregnant, she posted a photo on Instagram promoting the morning sickness medication Diclegis. The reality TV star had previously claimed that she never used her social media to promote brands that paid her, and this endorsement led to well-founded charges of hypocrisy. Moreover, she neglected to list the drug's potential side effects, some of which are very serious. After some intense public criticism, she was eventually ordered by the FDA to delete the post.
Keeping up with the Kardashians can be tough, but trust us … we could keep going. Still, they are far from the only offenders. For another look at how influencer marketing can go wrong, consider how supermodel Naomi Campbell landed in hot water over a sponsored Instagram post for Adidas.
Her caption – obviously copied and pasted from her contact at Adidas – read: "Naomi, so nice to see you in good spirits!!! Could you put something like: Thanks to my friend @gary.aspden and all at adidas – loving these adidas 350 SPZL from adidas Spezial range. @adidasoriginals."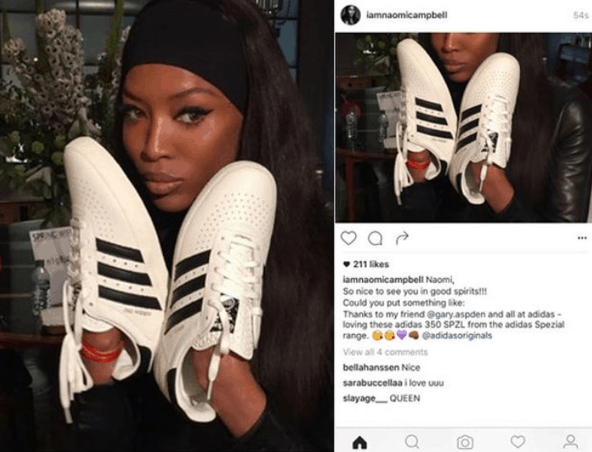 The purpose here isn't merely to have a laugh the expense of celebrities – although that is part of it. The greater point is to illustrate that if you're going to hire an influencer, it helps if they genuinely care about your product or service. They should also be given a clear understanding of the role they play in your brand's story.
Audiences, quite understandably, don't enjoy being taken for granted through the kind of lazy and directionless sales pitches that characterize much of today's influencer content. The alternative – an inspired collaboration with a genuinely interesting message – may take more effort to put together, but the rewards are well worth it.
Value comes from values
Here's a great example of brand and influencer alignment: In 2018, Old Navy teamed-up with retired New York Yankees legend Alex Rodriguez. For every $1 pair of Cozy Socks sold by Old Navy on Black Friday, the company pledged to donate $1 to the Boys & Girls Clubs of America – up to $1 million.
Rodriguez, himself a BGCA alum, went on camera, donned Cozy Socks, and encouraged people to buy the product. He then read a special version of 'Twas the Night Before Christmas (the video is unfortunately no longer available). The former baseball star also took to Twitter to promote the campaign: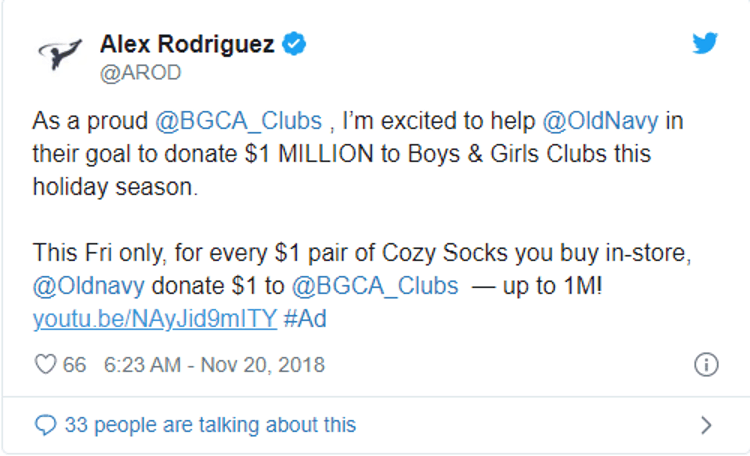 Old Navy quickly reached the $1 million mark, contributing to a good cause and earning some well-deserved positive publicity while doing it.
Of course, brands have a range of messaging needs which the right digital marketing agency in Thailand can help you meet. Superstar influencers are hard to beat when you're trying to reach the widest possible audience. But when you're trying to build credibility, micro-influencers are often more effective. They have smaller audiences, but tend to have higher engagement rates and are generally considered more trustworthy than their A-list counterparts. In fact, 82% of consumers say they would be highly likely to buy products or services recommended by a micro-influencer they follow.
As just one example, clothing retailer Forever21 saw a significant spike in engagement rates when it teamed up with Instagrammer and plus-size model Kristal Heredia. Kristal has nearly 150K followers now, but at the start of the partnership she had just under 14K. Her Instagram feed features several photos of her wearing Forever21 apparel and striking confident poses.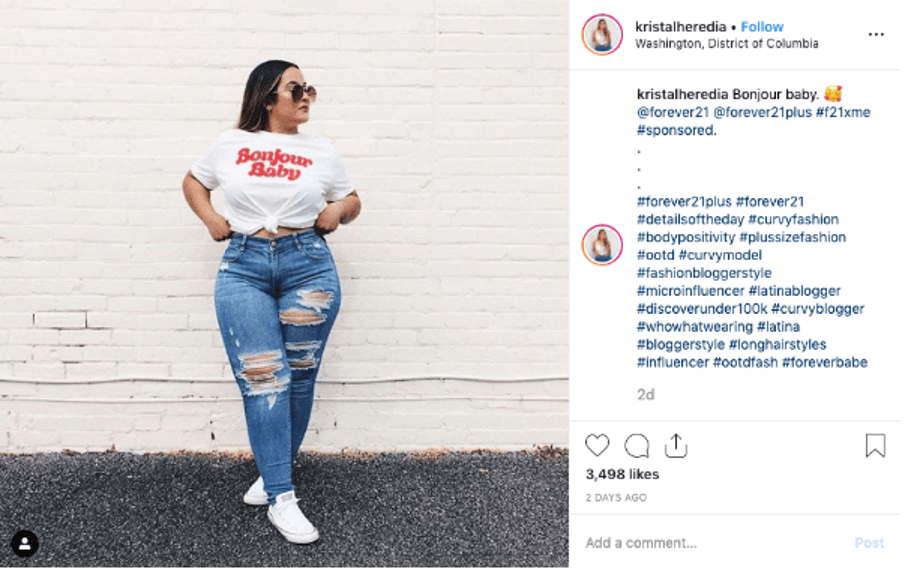 While Kristal isn't much of a caption writer either, she cheerfully replies to most of her followers' comments. She and the brand have been duly rewarded: Her Forever21 posts have an outstanding engagement rate of 25.1%.
Campaigns work best when they highlight specific themes, based on company values. Although influencers – both micro and macro – can significantly boost reach, engagement and credibility, they can't always provide the depth you need to maintain that credibility. Always remember that influencers are just one piece of a larger puzzle. A solid marketing strategy can be summed up like this: Come for the influencer; stay for the content.
Building a community through content
Indeed, if you have the right story to tell, there may be no need for an influencer at all. And if, as part of that story, your business can take a stand on important issues and actually help people, your audience will have all that much more reason to follow you.
To take a local example, the Thai ice cream brand Guss Damn Good never shies away from expressing strong viewpoints through their products and social media activities. They produced a special flavor called "Equality", with rainbow sprinkles and packaging to show support for the LGBTQ community.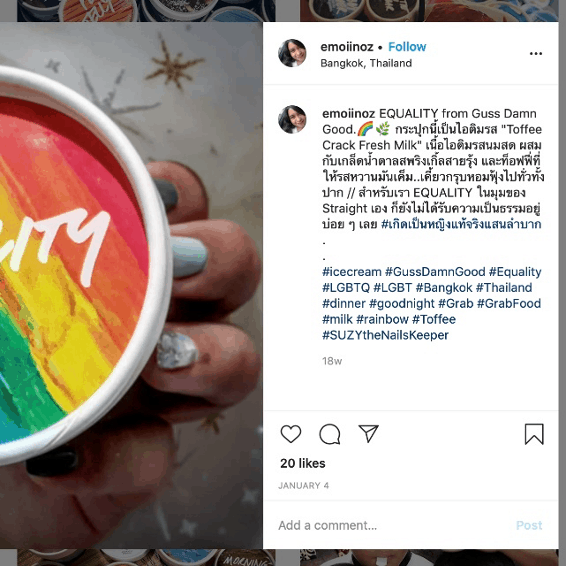 These kinds of efforts helped put the Guss Damn Good brand on the map, and earned it great respect among its audience. This achievement came entirely from marketing initiatives, without any need for influencers.
Yet there is also a middle ground, neatly positioned between the 'no influencers' approach and the strategy of investing in public figure influencers to boost your image. Moreover, every company in the world has access to this valuable resource.
Your people are the face of your brand
Employees can (and should) play a central role in your brand's storytelling and community-building efforts. As Hootsuite notes in the Digital 2020 Report:
Employees expect their organizations to lead the way in making the world a better place. Progressive organizations are amplifying their company purpose with employee advocacy on social media, putting to work the inextricable link between employee and customer experience.
So, let your employees and representatives speak out through social media, blog posts, podcasts, videos, and other channels. The right format is likely to depend on your identity as a brand; TikTok, for example, could be great place to reach the next generation of social media users – particularly if your company aims to inspire young people.
In Part 7 of this series, we provided several examples of effective employee advocacy. But you can also take it a step further, encouraging employees to show how your organization helps improve people's lives. Make it easy for employees to spread the word of your brand's good deeds, and you will also give those employees a greater sense of purpose: 86% of employees involved in their company's advocacy programs say it had a positive effect on their careers.
When it comes to building a community that cares for customers, employees, and the planet, perhaps no company does it better than Patagonia.
The outdoor clothing brand has been recognized by the United Nations as a Champion of the Earth. 70% of the company's products are made from recycled materials, and by 2025, Patagonia plans for that number to reach 100%. Each year the company donates 1% of sales profits to environmental causes, and in total it has donated more than $100 million to various charities and grassroots organizations.
The company is itself involved in myriad environmental activist causes, and encourages employees to do their part too. Patagonia also takes extremely good care of its employees, as attested to by the 4% turnover rate and its listing as one of Fortune's 100 Best Companies to Work For.
With ads like the famous Don't Buy This Jacket, Patagonia has been known to flip traditional marketing on its head. The company's slogan "We're in business to save our home planet" may sound grandiose, but they definitely walk the talk. All Patagonia products come with a lifetime guarantee, and they always encourage repair over replacement. They even repair clothing themselves – regardless of the brand.    
Patagonia's official blog, The Cleanest Line, features compelling stories produced by independent creators, employees, and customers. Aside from the blog, the company is also extremely active on social media. Their Facebook, Instagram, Twitter, and LinkedIn pages likewise feature posts and content from every part of the Patagonia community.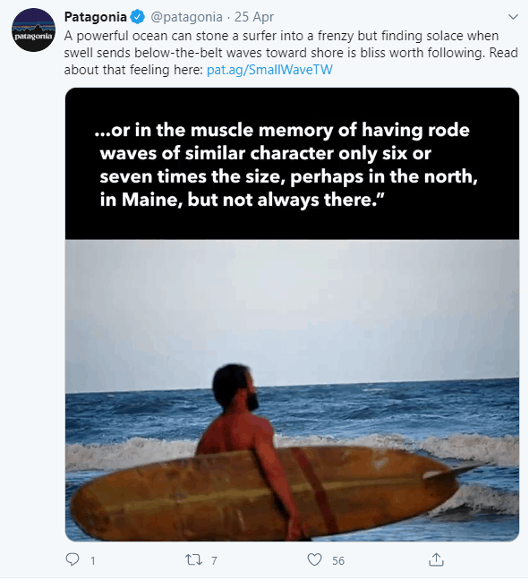 The company hasn't been afraid to get political either. In 2018, Patagonia sued the Trump administration in the US in an attempt to block the Department of the Interior's plans to dramatically reduce the size of the Bear's Ears rock formation monument in Utah.
This commitment to public well-being continues on to the present day, as Patagonia is doing its part to help reduce PPE shortages during the COVID-19 crisis.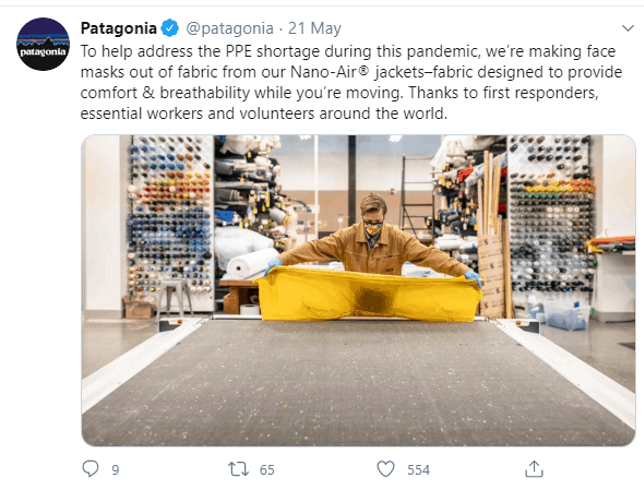 Of course, Patagonia is still highly profitable, generating an estimated $356 million in net sales in 2018. But the clear implication is that those profits are secondary to everything else they're doing.    
Patagonia has managed to move beyond being just a brand. They're a community of employees and customers who share common interests, common goals, and even a common identity.
Through its association with nature and the outdoor lifestyle, Patagonia has something of an advantage when it comes to community building. But that doesn't mean other companies can't follow this gold standard. Most people – whether online or offline – are searching for camaraderie. And, everyone has different interests. So it doesn't really matter what you're selling – toys, makeup, mountain bikes, ice cream, car insurance, or accounting services – if you can provide genuine connection, people will happily flock to your brand and advocate on its behalf.
Onward and upward
Despite We Are Social's misgivings, we expect influencer marketing to continue going strong throughout the 2020s. But brands should remember that influencers are just one aspect of a strategy that must be multifaceted to truly succeed. A creative agency in Bangkok can use your market niche as a jumping-off point, helping you add substance and inspiration to every campaign.
By demonstrating, and actually living, clear values and a positive mission, you'll not only attract the right influencers, you'll also attract dedicated employees as well as loyal customers. Put those elements together, and you'll have the makings of a powerful community – all living in a compelling story that you can write together.
That's the type of influence money and star power can't buy – even if you're a Kardashian.